61 gifts for writers because they don't need another notebook
Nisha Tuli
March 21, 2022
April 20, 2023
Do you have a writer in your life? You might recognize them because they never answer your texts, don't really seem to be a part of reality, and drink way more tea/coffee/booze than any reasonable person ever should. More importantly, do you have a writer in your life who needs a gift? Then I'm here to help, because if there's anything I love more than writing, it's shopping. Let's face it, the writer in your life who just realized they accidentally left one of their characters pregnant for two years needs all the help they can get. Listed below are some gifts for writers that'll be sure to please your budding author.
Notebooks
I know, I know. The title of this article literally says your writer doesn't need another notebook. That doesn't mean they don't want one, even if it's going to sit on a shelf untouched next to all the other blank notebooks they own. It's about a lifestyle and an aesthetic at this point, okay?
1. You can never go wrong with the classic Moleskine notebook.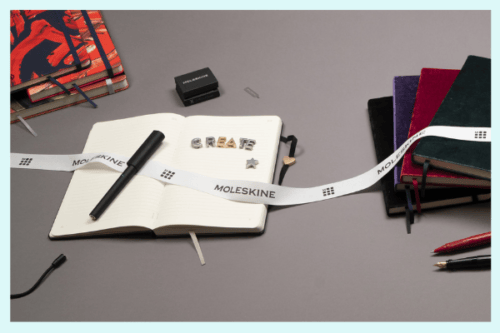 2. Or its slightly hipper cousin, the Leuchtturm1917 A5 with dotted pages.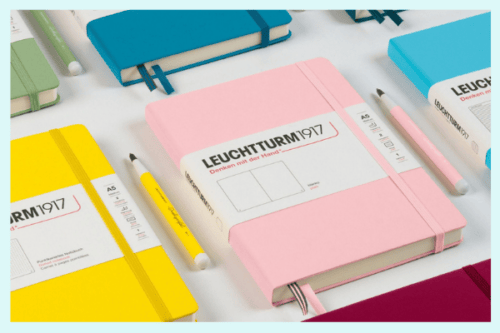 3. There's also this Amazon Basics notebook as an affordable option.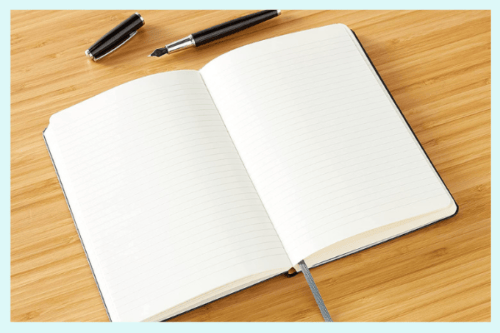 4. Go old school with a Mead Composition notebook that'll also make a perfect Burn Book.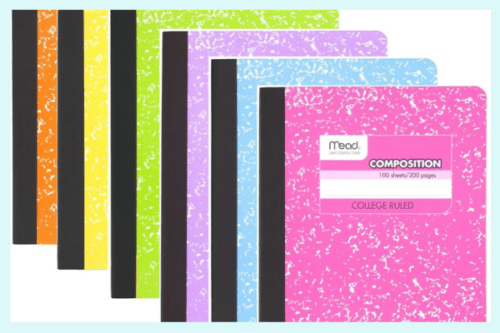 5. For the eco-friendly, the Dingbats Earth A5 notebook is made from FSC certified paper. So it's not exactly GOOD for trees, but it's better.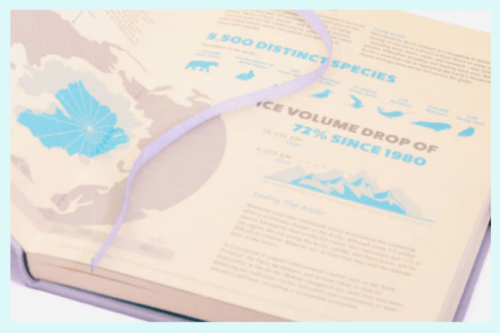 6. Etsy.com also offers thousands of options for beautifully decorated, sometimes handmade, notebooks that suit any style.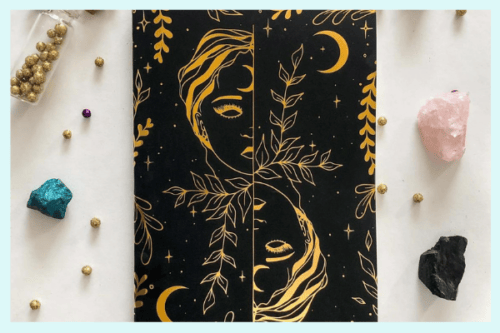 7. If you want something a little fancier, check out these lovelies from Do Good Paper Co.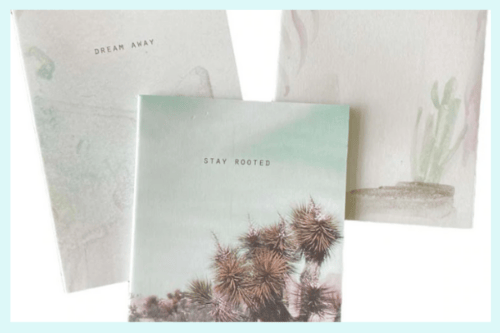 8. You can go wrong with these beautiful stitched notebook sets from Rifle Paper Co.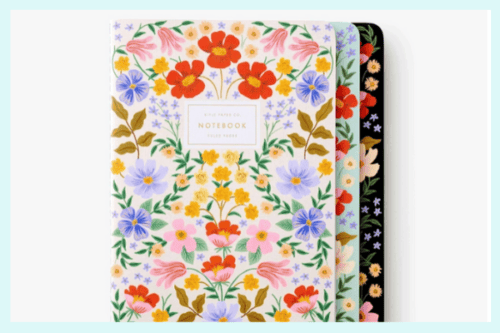 9. For the renegade writer, a waterproof notebook is perfect for surviving any setting and the pages are made from stone paper. I don't know; it sounds weird, but I'm intrigued.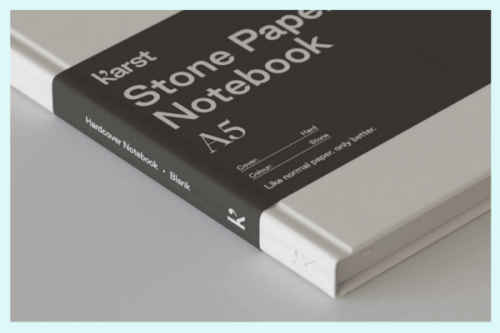 10. Or speaking of water… how about a notepad designed to be used IN the shower? So when inspiration strikes (as it always does when wet), your writer doesn't lose their brilliant idea down the drain.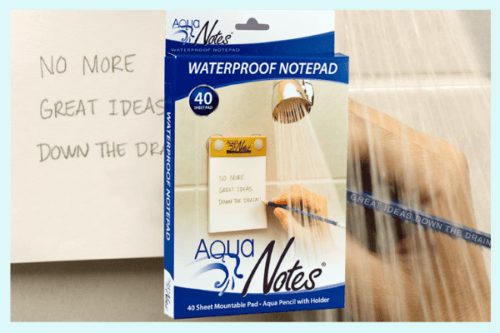 11. Really wow them with a digital notebook tablet thing from reMarkable. They really won't be able to justify another paper version again. But they will. I promise they will.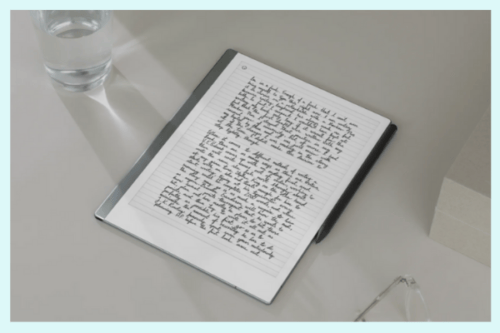 Actually Writing
At some point, a writer needs to write. I'm sorry if that hurts the feelings of any writers reading this. Luckily, there are some tools that can help with that.
12. You didn't think we'd write an article on the Dabble blog without mentioning Dabble, did you? A subscription to the very best writing app ever, catered specifically to fiction authors, will make you a gift-giving hero.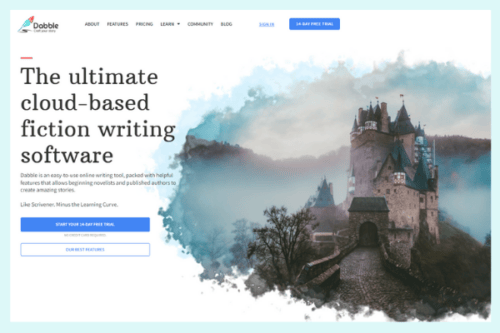 13. ProWritingAid is the leading online grammar checker and is a necessity for every author's toolkit. (Psst, it comes built in with a Dabble subscription. How handy.)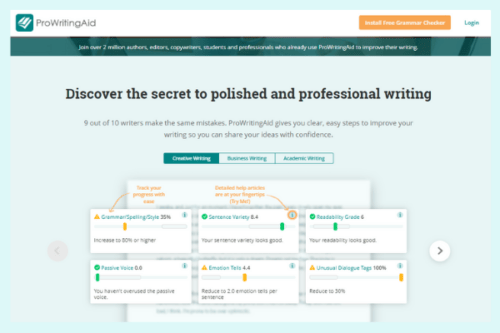 14. One of my personal favorite resources are the various thesauri… thesauruses (that sounds like a type of dinosaur) published by Writers Helping Writers, including the ever popular Emotion Thesaurus. There are also a bunch of other thesauri there, too.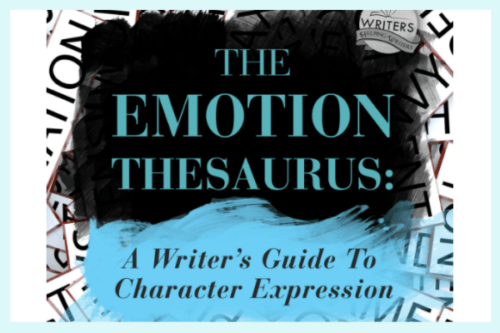 15. While they say there are no original plots, Storymatic Studios begs to differ. Their storytelling cards prompt, I kid you not, TRILLIONS of stories, characters, scenes, situations, and plots. Okay, seriously I just bought one while writing this article.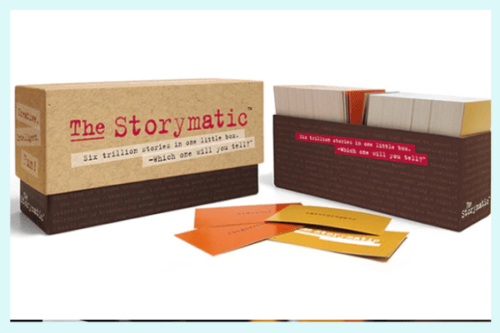 16. One could argue that a set of literary device posters could act as de facto cheat sheets, thereby improving one's writing by their mere presence.
Books
Maybe this goes without saying, but writers are readers. (Don't even get me started on writers who say they don't like reading—that's a post for another day.) Gifts can entail books in their preferred genre, books from another genre, or books about writing. The sky's the limit. Hint: if they have a Goodreads profile, go and look at what's on their 'want to read' list.
17. Since it can still be hard to know what they specifically want, a gift card to any bookstore is always an option. Find out if there's a local indie store they like to support.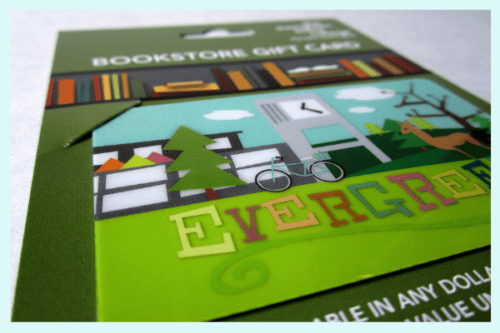 18. You could also opt for a Kindle Unlimited or Kobo Plus subscription where a small monthly fee gets them access to thousands of books on the fly.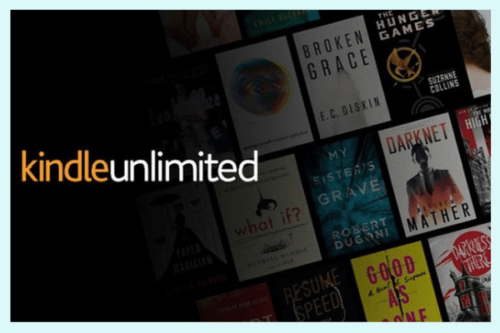 19. In addition, if they don't already own an e-reader, this is a great way to show the writer in your life you care. There are dozens of options on the market and the Kindle Paperwhite and Kobo Clara HD are two of the most popular.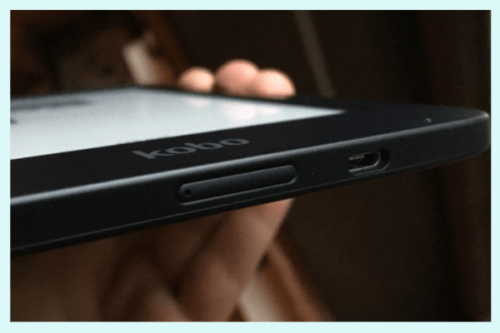 20. You could also sign them up for a monthly book subscription box like Illumicrate, Book of the Month, or Books that Matter. They often come with special editions and other book related goodies. Who doesn't need more clutter in their house? Kidding, I love book boxes.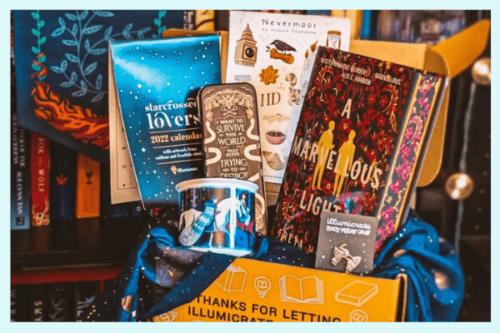 21. Here is a list of craft writing books that are popular with authors:
The Emotional Craft of Fiction by Donald Maass
Save the Cat! Writes a Novel by Jessica Brody
Story Genius by Lisa Cron
On Writing by Stephen King
Craft in the Real World by Matthew Salesses
Bird by Bird by Anne Lamont
The First 50 Pages by Jeff Gerke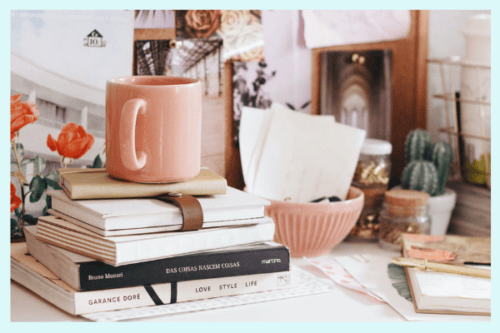 Focus and Inspiration
Look, I'm just going to say it—as a mom with two young kids and not a lot of time on my hands, the best writing gift I ever received was a solitary weekend away where I could do nothing but focus on myself and my book. I didn't cook, pick up after anyone, or shower… okay, this just got weird. Nevermind. I did shower. I think.
22. So with that in mind, book an AirBnB or a hotel room for your writer and give them the ultimate gift—space and time. Bonus points for something in the woods and extra points for something that's haunted.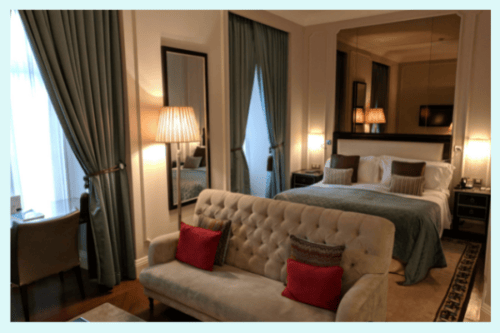 23. Give them the gift of inspiration with the Writer's Toolbox—64 pages of activities designed to challenge the mind.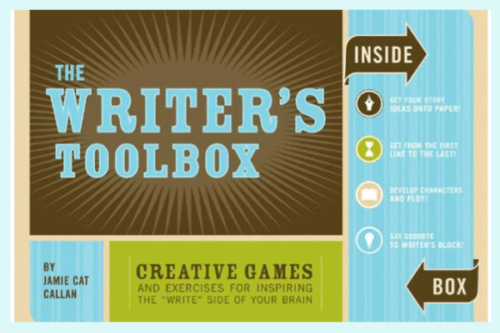 24. The FreeWrite Traveler allows writers to block out all distractions with this handy tool.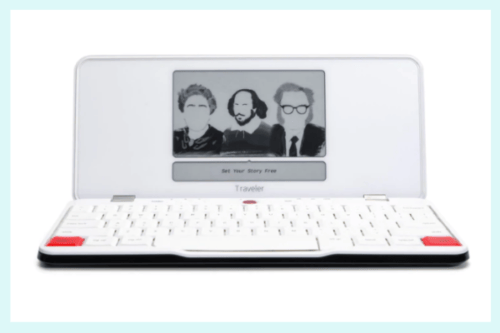 25. Give them the gift of silence with noise canceling headphones. PCMag has this handy list of the best options for you.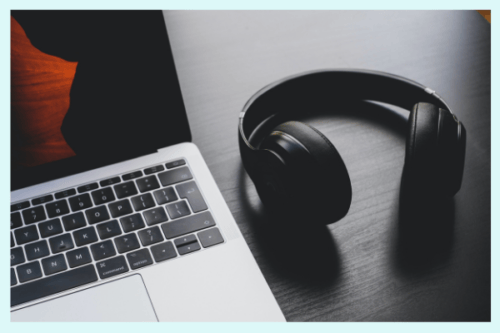 26. There are lots of focus apps for your phone and computer out there. I personally love using the Forest app, and this is a nice, inexpensive gift to offer your eternally distracted writer.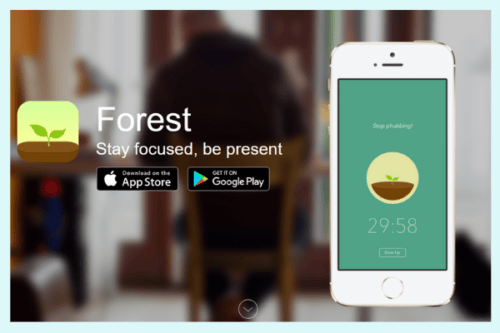 Gifts for a writer's desk
What's a writer without a writer's space? The more cluttered and tortured, the better. Eh… maybe? Help them make it less cluttered and tortured with stationary, mugs, and other fun things.
27. This moodboard starter kit is perfect for your writer to hang over their wall.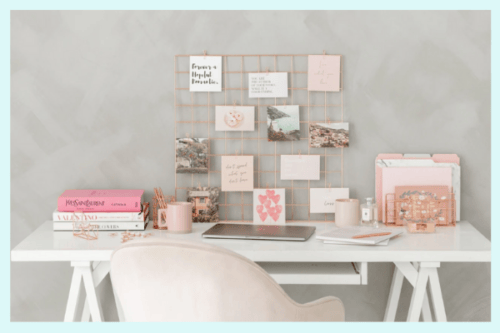 28. A dry erase board is perfect for jotting down ideas at any moment.
29. How about a writer's clock that will remind them to edit and maybe consider a new career?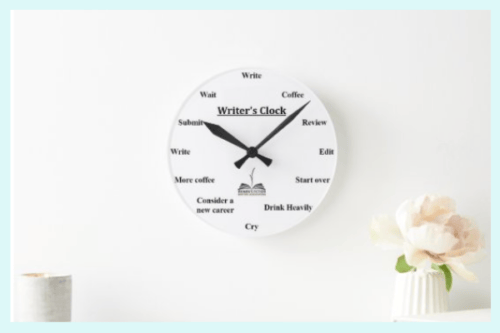 30. I debated on whether this should go in the desk or random section, but really it doesn't matter because bookish candles are perfect for your writer anywhere and anytime. Check out these based on fandoms:
Rhysand (listen, if you know, you know)
Kaz Brekker (wow this is the second post in a row I mention him, I swear I'm not obsessed)
Jamie Fraser (The scent is what lies beneath a kilt. I'm kidding. Maybe.)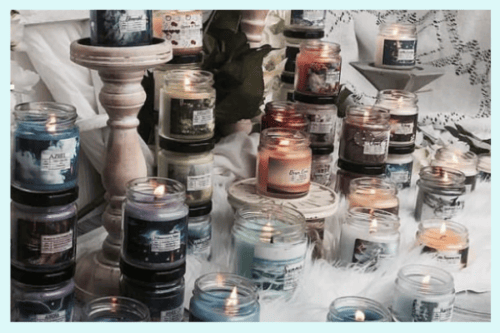 31. If anyone who knows me is reading this, my birthday is coming up and I would really like my own personalized embosser.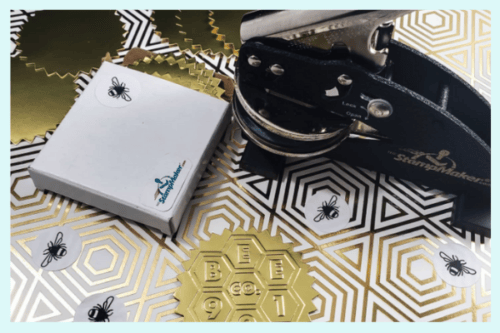 32. If you don't like your giftee very much, consider an actual physical writer's block with their name right on it. That isn't a self-fulfilling prophecy or anything.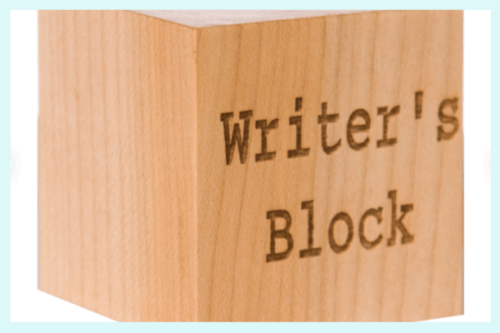 Random things they absolutely need
Not everything needs to be practical. Or make sense. Or contribute to the writing life other than to be nice to look at. Remember, one must fake it until they make it.
33. A writer isn't a writer without a writer's coloring book. Right?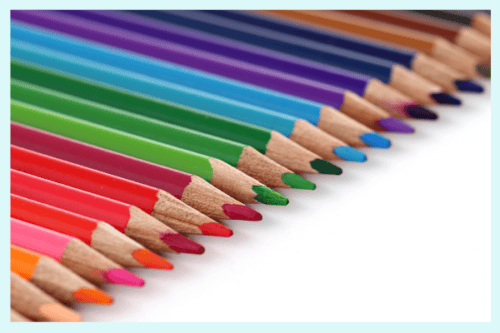 34. To be a writer, one must drink a copious amount of a preferred hot drink, whether that's coffee, tea, or one's own tears. So they'll need a pithy little writer's mug to go with. Go for something whimsical, something controversial, something refined, or something perhaps on the curve of aggressive.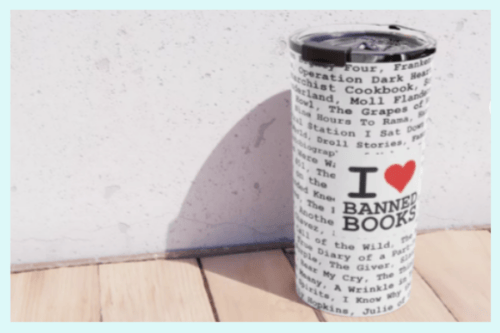 35. Fingerless writing gloves are basically a writing necessity and a writer can never be successful without them. I don't make the rules.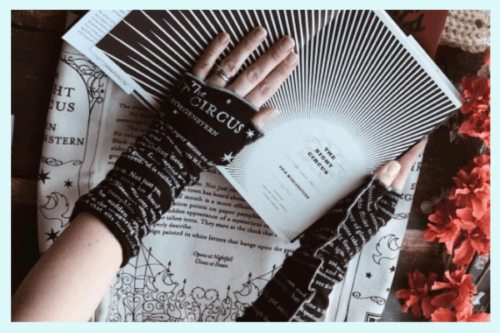 36. Pair them with a Jane Austen literary-inspired scarf and that bestseller list is basically begging for them.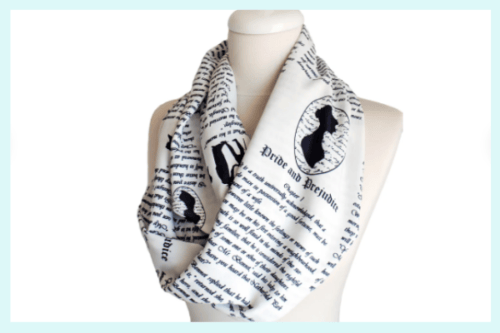 37. And we don't think anyone can live without this book print dress.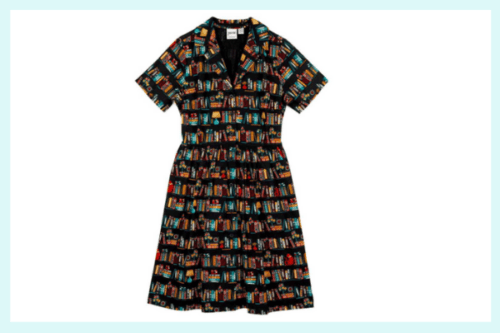 38. Fuel their caffeine addiction with a bag of Novel Teas where each canister resembles a beloved book. They think of everything these days, huh?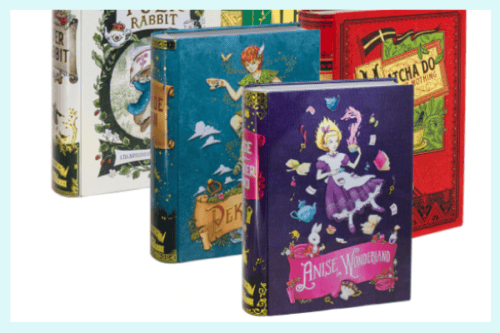 39. NGL, the idea of a literary action figure weirds me out a little, but I'm not here to judge. This company also makes yodeling pickles, so take that for what you will.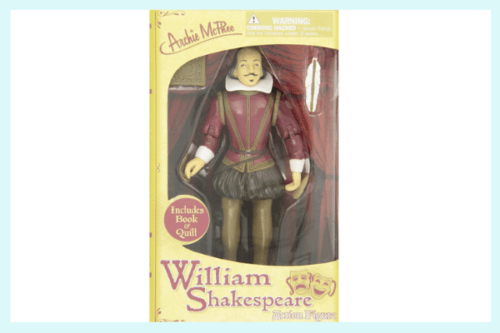 40. A writer's messenger wood box with spaces for your pens and notebooks and it turns into a handy little writing desk.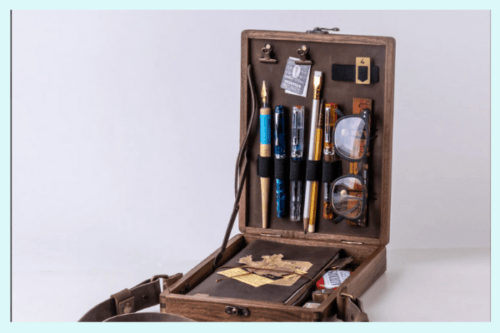 41. I'm not sure there is a more apt gift for a writer than a set of literary-themed shot glasses. Your Great Writer can also become a Great Drinker.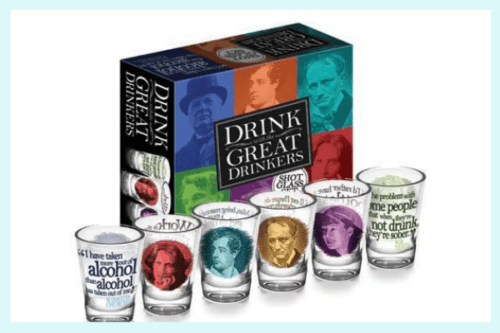 42. We recommend pairing them with a bottle of Writers' Tears Whiskey. One of our writers, Doug, has personally tasted it and gives it an enthusiastic nine thumbs up.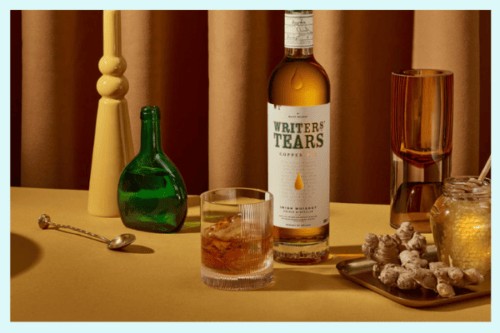 43. If your writer has a morbid streak, consider some Dead Writers Perfume. It brings to mind the scent of old libraries and ghosts* and not desiccated corpses, in case you were worried.
*Also, what do ghosts smell like, I wonder?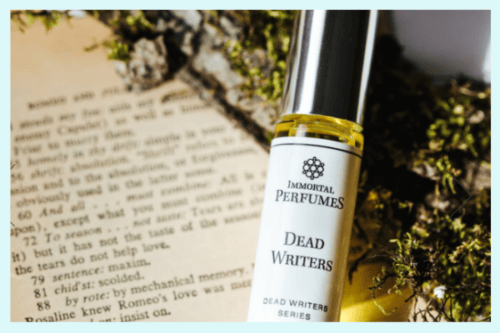 44. How about a cute little open book charm necklace you can personalize with their first initial?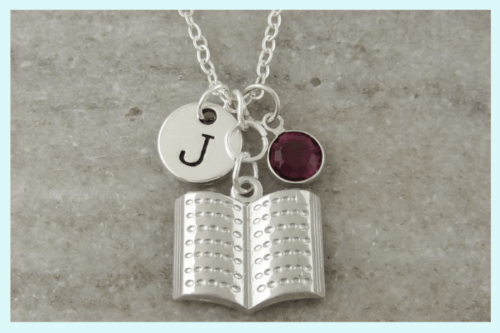 45. Forget what I said about the embosser. What I really want is this pink vintage typewriter. I don't know if anyone likes me this much, though.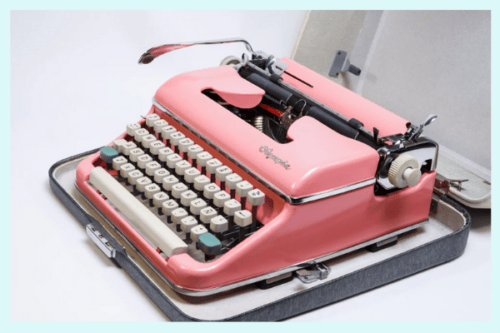 46. If you want to offer the retro feel without the retro paper and ink, give them a Qwerky keyboard that mimics the clickyness of typewriter keys but, you know, works with a computer. I own one of these and I can attest I can type 34.567% faster on it.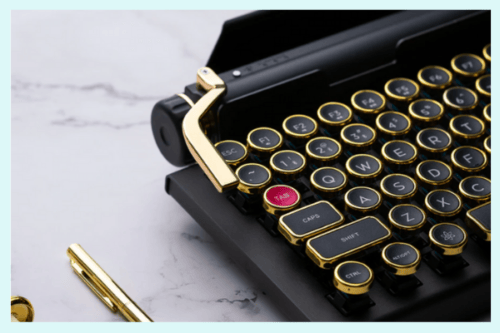 Online Courses
There are a million things to learn when you're a writer. While lots of people think it's easy to write a book, it's not. And anyone who thinks so has never actually tried it. I don't want to point fingers, I'm just saying.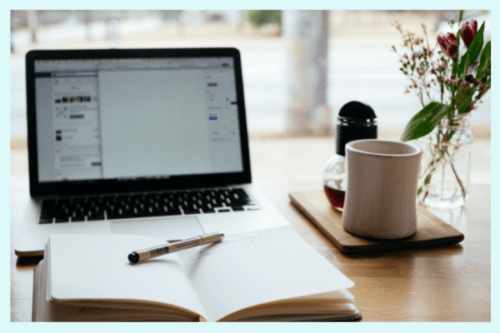 Anyway, even the most gifted of writers can elevate their craft, so here are a few courses you can give your budding writer to help them level up their craft.
47. Give them the gift of time with the Novelry's Book in a Year writing course.
48. A subscription to Masterclass connects them with some of the best writers in the world like Amy Tan, Roxanne Gay, and NK Jemison.
49. If they're past the actual writing (it can happen), help them invest in themselves with a marketing course from Mark Dawson, a self-pub guru.
50. Help them level up their writing with a copyediting class to figure out where all those commas are supposed to go.
51. Gotham Writers offers an entire suite of fiction writing classes that focus on various aspects of the process. This has nothing to do with Batman, though.
52. While these courses from the Editorial Freelancers Association are aimed at editors, many of them are useful for writers, too, especially since a lot of writers ‌work as editors, also.
53. The Publishing Mastermind Course can help take your writer from conception, to creation, to delivery in this all-encompassing program.
54. You can also give them a class on writing a short story if they're not into novel writing. (Short stories are good for those with completion issues.)
55. A writers' retreat is another great way for your budding Hemingway to hone their skills. This handy database lists a whole bunch so you can look for one in your area.
Things that don't have anything to do with the actual writing
Being a writer is a business these days and there are a lot of expenses that writers incur you may never have thought of. Since writing also doesn't tend to pay a lot for the most part, I'm sure many, many writers in your life would love some help with all the extras.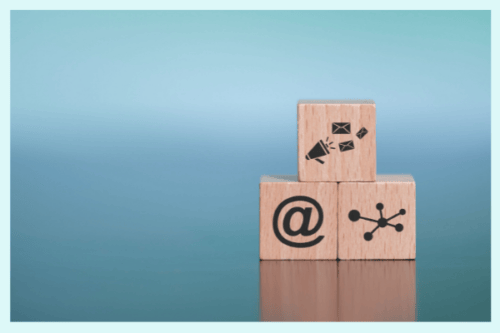 56. You might not know this, but querying to get a literary agent is literally one of the most painful things a person can try to do. Help your budding writer with a query consultation from the Manuscript Academy.
57. Most writers need a website if they want to publish, so you can buy them a domain name for their website from sites like GoDaddy, Ionos, or Domain.com.
58. Or help with their website hosting. A lot of authors use Wordpress, Wix, or Squarespace, for example.
59. There are other tools that many authors use, like Book Funnel, Story Origin, or BookBrush. Basically, these all help them get eyes on their published writing and help them market their work. And they all cost money.
60. Authors also often have newsletters and this costs money too. A subscription to MailChimp, MailerLite or MadMimi might be appreciated.
61. A ring light so your budding writer can make videos for social media with ease. They can't go viral on TikTok without it. Trust me.
TAKE A BREAK FROM WRITING...

Read. Learn. Create.

Social Media Marketing for Authors
Book marketing. Those two innocuous words instill fear and loathing into the hearts of so many writers. You just want to write your books and have them sell themselves. Why do you have to tell people about it? Well, Susan, because you do. I know you want to write, but if your goal is to write, publish, and make money from your books, then you're going to have to find a way to make them visible. Thousands of new titles are uploaded to Amazon every single day. Millions of books are being published every year, and no matter how good your story is, without marketing, there's not much chance very many people will find it. 
keep reading
To Pants Or To Plot: Which One is Best For Your Story?
What kind of writer are you? Are you the sort who writes a meticulous outline that tips into the five digits or the type who sits down in front of a blank sheet of paper and lets the words pour out of you like a runaway train? Did you know there are specific terms for this kind of writing? Writers will come up with words for anything, I swear. Plotters are the first type of writer. They like to have detailed outlines that tell them exactly where their story is going. Pantsers are the other type of writer, which is kind of a weird name, but the term was coined by Stephen King (a famous pantser) to describe writing by the seat of your pants. Cute, eh? There is no right or wrong way to write your book, and I'm going to repeat this so many times. The right way is the way that works for you. 
keep reading
30 Dystopian Plot Ideas for a Terrifying Future
Dystopian fiction is one of the darker subgenres of science fiction and fantasy. It takes us into dark, foreboding worlds, where oppression and bleak landscapes are the norm. Books like 1984 by George Orwell, The Hunger Games by Suzanne Collins, and Brave New World by Aldous Huxley have become classics that shine a light on political corruption, environmental disaster, and societal collapse.Why do we love these stories? Maybe it's because dystopian fiction allows us to explore worst-case scenarios, to grapple with the idea that the world we know and love could be lost forever. It's a way for us to confront our fears and anxieties about the future, to see what could happen if we continue down a certain path.
keep reading