Dabble vs. Atticus: Tools for Authors
Nisha Tuli
April 20, 2023
When you're writing a book, there are more things to consider than just the words that end up on the page. There's planning, plotting, outlining, editing, formatting, and so much more—especially if you're planning to be an indie author. If you're a self-published author, a lot of these tasks fall on your shoulders… well, all of them really… and it can be a lot.
Luckily, there are lots of tools out there to help make this process a little easier. The question you now need to ask is: which one is right for you?
Today we're going to look at two popular tools available: Dabble Writer and Atticus.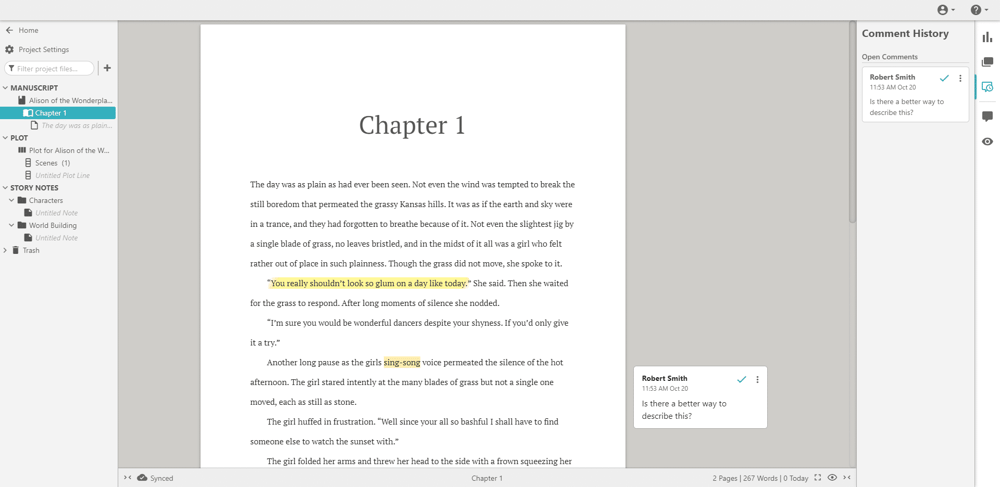 Dabble Writer
Dabble is a drafting and plotting tool intended for writing your novel from start to finish. It offers a variety of outlining, editing and structuring options below, in addition to cloud storage and access.
Access and Storage
Dabble saves and stores all your work in the cloud, allowing you to access it from anywhere on any device. There is a desktop app for Windows and Mac, as well iPhone or Android, or you can make use of the web browser on any other device without app compatibility.
Dabble can be used in airplane mode when you're traveling or without internet access and will automatically update across every platform once you're reconnected. Backups are stored securely offsite with storage updated daily.
Organization and Plotting
Dabble's Plot Grid offers a tool to plot and organize your story by creating detailed, visual outlines that you can drag and drop as needed. Keep track of your plot, characters, and other relevant story details.
Save your story notes within the app to keep track of characters, worldbuilding, and other important details. These are displayed on the screen while you're writing for easy access. You can also export them into a Word or text file for sharing.
Dabble allows you to include prologues and epilogues within your novels, as well as subtitles to help organize your stories.
Goals and Motivation
Dabble offers a variety of tools to keep you on track including a daily word tracker, as well as project word counter. Set deadlines and mark your days off to help keep tabs on your progress. Word counts adjust automatically if you write more or fewer assigned words on a given day.
Additionally, during NaNoWriMo (National Novel Writing Month), a writing challenge that takes place every November, you can tie your word count directly into your project on their website.
Stay focused on your writing using focus mode where you can turn off everything on the screen except the page. Dabble also offers dark mode if that works better for your concentration or your eyes.
Editing Tools
Dabble integrates with ProWritingAid to check your spelling, grammar, and style to write and edit cleaner manuscripts.
During the editing or drafting phase, Dabble offers a variety of options to keep yourself organized so you never miss an important detail. Keep track of in-the-moment thoughts and reminders with in-line comments, or make highlights of portions of your work to track important sections for revisions or editing. You can also leave comments and notes to yourself with color-coded sticky notes.
Make it easy to identify deleted scenes, paragraphs, or phrases with strikethrough. Reorganize any portion of your book by splitting and joining scenes anywhere in your manuscript. Chapter dragging allows you to move chapters around by dragging them into a new position.
You can also use find and replace to change a character or place name within a chapter, scene, or the whole document.
Other Features
Project formatting options: Choose from different font themes and adjust your line spacing and margins to suit your preferences.
Import through paste: Paste directly into the editor to import your work.
Co-authoring: Work with your writing partners and co-authors in real time to get feedback and make revisions. Track each author's changes throughout your document.
Duplicate projects: Keep old drafts or your story notes by duplicating projects.
Export to Word or text file: Export either a section or your full manuscript into a text or Word file for easy sharing with editors, publishers, agents, and beta readers.
Free trial: Dabble offers a free 14-day trial.
Community Support and Advice
In addition to their software, Dabble also offers tools and support to help you connect with other writers and build a community. They offer a variety of free resources intended to help you write your novel:
DabbleU: Explore hundreds of free articles and posts to help improve your craft and hone your story. Updated weekly with new content.
Story Craft Café: Join this online community to meet other writers, participate in writing sprints, take part in events, and get support for your writing journey.
Live chat support: Get questions answered quickly with live chat support, along with email support.
Atticus
If you're an indie author, one of the things you'll need to do to publish your book is format it, whether you're publishing it in digital or print. Atticus started out as a formatting tool, meant to compete with Vellum, which is only available to Mac users. Since then, it's started to branch out into some other features.
Accessibility: Atticus is accessible either via web browser or desktop app on a wide variety of platforms, including Windows, Mac, Linux, Chromebook. They offer cloud storage backup for security and access across devices.
Formatting: They offer 17 different themes to choose from and you can customize your own headers, page numbers, font, line spacing, page breaks, and format chapter openings with full page images. You can also insert maps and artwork with full bleeds to help make your books look gorgeous. It also offers the ability to create large print books.
Other formatting options include drop caps, text anchoring for ebooks, paragraph indenting options, widow and orphan control, and first sentence formatting. You can also preview how your book will look on a number of e-readers, tablets, or phones, as well as how it will look in print.
Importing and exporting: Atticus allows you to import your book by uploading a Word file. Their website says that both EPUB and MOBI uploading are also going to be available soon. You can export your files as EPUB, MOBI, and PDF files for easy uploading to Amazon and other self-publishing platforms. As well as distribution platforms like BookFunnel.
Editing: Use Atticus as a drafting tool with a word counter and goal setting feature. You can also drag-and-drop chapters to easily move things around. The new find and replace tool also allows you to find what you're looking for or change up an important detail throughout your document.
Customer support: Atticus has an active Facebook group where you can post questions and ask for advice, as well as email support where their team can help you work out any issues you have.
Comparison
Dabble and Atticus largely serve two different functions. Dabble is the tool you'll want to draft your novel with its ability to create outlines, plot structures, and store your research as you're writing. While Atticus does offer the ability to write within its editor, those tools are about as basic as they come and you'll likely need another place to keep track of all those extra details.
What Atticus does that Dabble doesn't is give you a flexible, easy-to-use option to format your novel to be both pleasing to look at, but also meets the technical requirements needed to upload your book to Amazon and any other book publishing site. If you plan to self-pub, you will need to format your book and your options are to hire a formatter or opt for a program like Atticus.
Pricing
Dabble
Dabble offers monthly or yearly subscriptions with a yearly one saving you 20% off the price.
Basic: for beginners just getting started
$10/month USD
Unlimited manuscripts
Cloud backup and sync
Access on any device
Goals and stats
Manuscript Organization
Spell check
Text highlighting
Email support
Standard: for those wanting a bit more
$15/month USD
Includes everything in Basic plus:
Plot Grid
Story notes
Focus mode
Dark mode
Sticky notes
Comments
Premium: For those working on a publishing track.
$20/month USD
Includes everything in Standard plus:
Advanced grammar and style checks
Co-authoring
Priority support via chat
Atticus
Atticus is a one-time purchase of $147 USD. It includes all updates and upgrades to the program. They don't offer a free trial, but they do offer a 30-day money-back guarantee if it isn't right for you.
Conclusion
In this case, Dabble and Atticus are less of an either/or comparison and might work best in tandem. It's ultimately up to you if you think you need all the extra plotting and editing features that Dabble offers, or whether you plan to do your own formatting, meaning you might not need a formatting program at all.
‍
Don't forget that you can try Dabble free for 14 days and try out all those fantastic features for yourself.
‍
TAKE A BREAK FROM WRITING...

Read. Learn. Create.

Social Media Marketing for Authors
Book marketing. Those two innocuous words instill fear and loathing into the hearts of so many writers. You just want to write your books and have them sell themselves. Why do you have to tell people about it? Well, Susan, because you do. I know you want to write, but if your goal is to write, publish, and make money from your books, then you're going to have to find a way to make them visible. Thousands of new titles are uploaded to Amazon every single day. Millions of books are being published every year, and no matter how good your story is, without marketing, there's not much chance very many people will find it. 
keep reading
To Pants Or To Plot: Which One is Best For Your Story?
What kind of writer are you? Are you the sort who writes a meticulous outline that tips into the five digits or the type who sits down in front of a blank sheet of paper and lets the words pour out of you like a runaway train? Did you know there are specific terms for this kind of writing? Writers will come up with words for anything, I swear. Plotters are the first type of writer. They like to have detailed outlines that tell them exactly where their story is going. Pantsers are the other type of writer, which is kind of a weird name, but the term was coined by Stephen King (a famous pantser) to describe writing by the seat of your pants. Cute, eh? There is no right or wrong way to write your book, and I'm going to repeat this so many times. The right way is the way that works for you. 
keep reading
30 Dystopian Plot Ideas for a Terrifying Future
Dystopian fiction is one of the darker subgenres of science fiction and fantasy. It takes us into dark, foreboding worlds, where oppression and bleak landscapes are the norm. Books like 1984 by George Orwell, The Hunger Games by Suzanne Collins, and Brave New World by Aldous Huxley have become classics that shine a light on political corruption, environmental disaster, and societal collapse.Why do we love these stories? Maybe it's because dystopian fiction allows us to explore worst-case scenarios, to grapple with the idea that the world we know and love could be lost forever. It's a way for us to confront our fears and anxieties about the future, to see what could happen if we continue down a certain path.
keep reading