Dabble versus Chapterly
Nisha Tuli
February 6, 2023
April 20, 2023
When you're writing a novel, one of the things you'll want to consider is how you're going to write it. And by this I mean, the more nitty gritty of getting words to paper. Or the screen.
Are you a purist who likes to write everything by hand? Or do you prefer to get comfortable with your keyboard from the start?
There are dozens of writing tools out there that can help you with this task, offering features like outline templates, plotting features, notes, syncing, and so much more. But what is the difference between them and which one is right for you?
Today we'll break down two of these programs. Dabble Writer and Chapterly. In this article, we'll discuss the features of both, do a comparison, look at the price, and then offer our conclusion on which might be right for you.
Features of Dabble
Dabble Writer is meant for fiction writers and serves as a word editor with added tools that allow for you to store notes, create outlines, and so much more. Below is a list of some of Dabble's key features.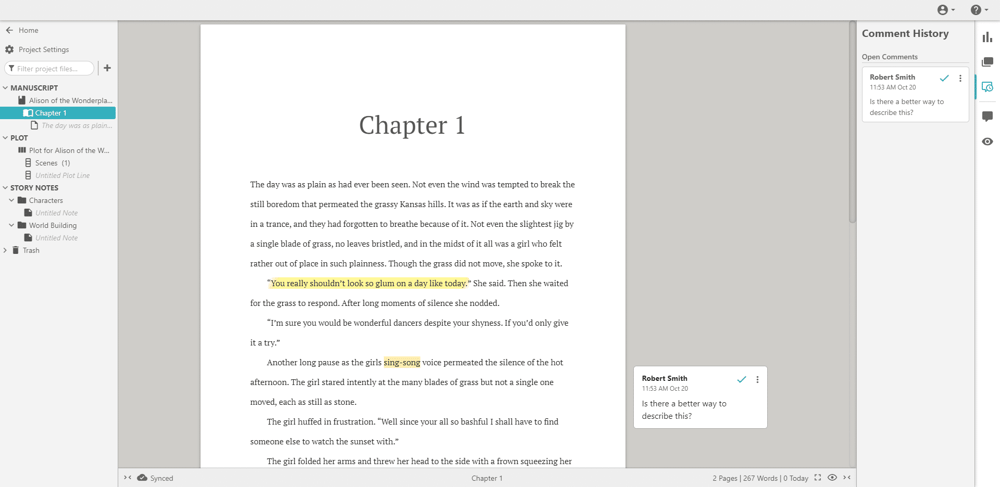 Dabble account and cloud storage: Create an account and automatically store your work in the cloud. Access your work anywhere at any time and work collaboratively with others. Write on your phone, computer, or tablet.
The Plot Grid: This plotting tool allows you to organize your story and create detailed, visual outlines. Keep track of your plot, characters, and any other relevant story elements.
Export to Word or text file: Export to in a variety of formats—either in parts or all of your manuscript—including Word, to share with editors and others.
Word tracker: Keep track of your daily word count in real-time.
NanoWrimo word tracker: Dabble gives you the option to track your word count for National Novel Writing Month (NaNoWriMo), a writing challenge that takes place every November. It ties directly into their website and automatically updates your projects.
Prologues and epilogues: Organize prologues and epilogues within your projects.
Novel subtitles: Organize your novel with subtitles.
Goal setting and stats: Dabble has a goal-setting feature that gives you the tools to track your goals and progress. You can take days off and watch your word count rise as you near the end.
Dark mode: Adjust your color scheme of the interface to a darker, more comfortable setting for writing in low light environments.
Store daily backups securely offsite: Dabble stores daily backups of your work securely offsite from the main databases for added security.
Find and replace: Find and replace feature allows you to quickly find and replace specific words or phrases in your work.
ProWritingAid integration: Dabble's spelling, grammar, and style checking is powered by ProWritingAid to help improve your story.
Project formatting options: Customize the formatting of your projects, including line spacing and margins. There are also a variety of font themes to choose from.
Import through paste: Import your work by pasting it directly into the editor.
Co-authoring: Collaborate with multiple users in real time to get feedback and make revisions. Track author changes to see who improved (or ruined) a particular scene.
Comments: Insert comments and feedback anywhere in your project to help track your thoughts.
Text highlighting: Highlight specific parts of your work to identify important sections or make revisions.
Strikethrough: The strikethrough feature allows you to identify deleted or revised sections.
Sticky notes: Add sticky notes to leave yourself comments or reminders throughout your project.
Split & join scenes: Split and join scenes within your project to easily reorganize and structure your work.
Duplicate projects: Create multiple versions of your projects by duplicating them.
Export Plot & Story Notes: Export all your Plot and Story Notes to Word or text files.
DabbleU: Free articles and posts to help you write your best novel, with multiple articles posted every week.
Story Craft Café: An online community where you can meet like-minded writers for support and inspiration, as well as writing events.
Live chat support: Along with email support, Dabble also offers live chat support for those who need some extra help.
‍
Features of Chapterly
Chapterly functions quite similarly to Dabble, offering tools and a space to plot, plan, and draft your novel. Some of the features of Chapterly include: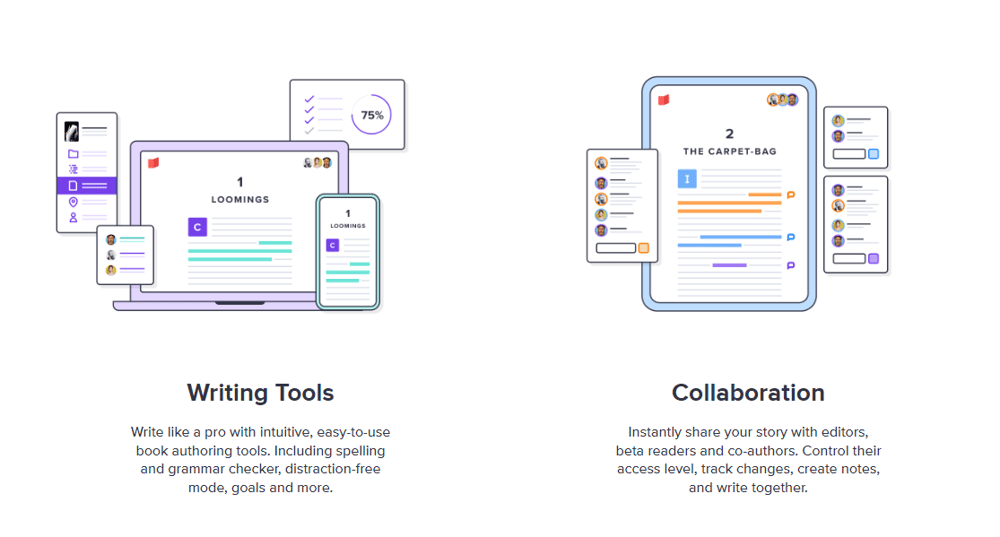 Automatic saving: Syncs across all devices with a cloud-based word processor that saves instantly.
Organize your book: Organize your work by creating outlines and plots and saving your research.
Take notes: Add notes to your manuscript, research, or outlines.
Track locations & characters: Build your world and keep track of its inhabitants with character and location templates.
Goal tracker: Set targets to track your progress.
Smart outlines: Make use of popular plotting methods to help develop your outline.
AI: Use AI integration to generate titles, names, characters, or finish a paragraph.
Real-time collaboration: Smart syncing allows you and your editor to make changes where you can see updates in real-time.
Comments & suggestions: Allow others to leave comments on your pages or chat with them in real-time.
Unlimited collaborators: Add as many collaborators as you need for your story.
Book templates: Choose from a range of built-in templates to format your book.
Download files: Get print and digital formats of your book in pdf, mobi, and epub.
Royalty-free images: Browse royalty-free stock images for your cover or to illustrate your content.
Cover designer: Use Chapterly to design covers for e-books, paperbacks, hardcovers, and special editions.
Revision history: View a complete revision history of your work.
Visual boards: Use drag and drop visual boards for research and outlining.
Spelling & grammar: Includes a built-in spelling and grammar checker.
Customizable typesetting: Set up your line spacing, drop caps, justification, and more.
Comparison
Both Dabble and Chapterly serve similar purposes in providing a place to write your novel while creating outlines and plots and storing your research notes. They both offer cloud syncing and the ability to store your work anywhere, and are compatible with various devices. You can also co-write and leave notes.
The differences will be in a matter of the interfaces and which one offers a smoother workflow for you.
Dabble offers more support via the live chat option and email, and its grammar checker is powered by ProWriting Aid, one of the most trusted grammar checkers on the market. Their comprehensive archive of articles that offer advice on everything writing related is a real bonus to help on your writing journey. And their online community provides a supportive environment that extends well beyond the page.
Chapterly offers a few different features including AI integration, the ability to format for print and digital books, and some added export options like pdf and epub formats. The formatting feature is useful for basic formatting, but in the long term, you might want more features and flexibility with your formatting options and a program that is specifically dedicated to it. But for some simple formatting options, it's a great choice.
It also offers the ability to add images to your plotting boards and build covers within the tool, though the design capabilities are limited and probably won't produce a professional-looking cover. It's a fun option to play with though, if you need inspiration.
Both platforms offer a free two-week trial to sample their features for yourself.
Pricing
Prices listed below are current as of January 2023. A reminder that both Dabble and Chapterly offer a free two week trial that you can access via the links provided above.
Dabble
Dabble offers monthly or yearly subscriptions with a yearly one saving you 20% off the price.
Basic: for beginners just getting started
$10/month USD
Unlimited manuscripts
Cloud backup and sync
Access on any device
Goals and stats
Manuscript Organization
Spell check
Text highlighting
Email support
Standard: for those wanting a bit more
$15/month USD
Includes everything in Basic plus:
Plot Grid
Story notes
Focus mode
Dark mode
Sticky notes
Comments
Premium: For those working on a publishing track.
$20/month USD
Includes everything in Standard plus:
Advanced grammar and style checks
Co-authoring
Priority support via chat
‍
Chapterly
Chapterly offers an introductory rate of $9.99 per month which then goes up to $14.99 per month. At the time of writing this article, there was no clear indication how long the introductory rate was valid for, nor did there appear to be any concrete way to contact them to ask. Their Twitter page doesn't exist and their Facebook page hasn't been updated since 2020. My message asking about the introductory rate was never answered.
Final Thoughts
Both platforms offer similar tools to help you organize and write your novel while staying on task. Chapterly offers a few more bells and whistles, but you'll have to consider if those are actually features you'll use in the long run.
‍
The same goes for the added resources and community available with Dabble. If you'd make use of the forums or articles, then they'd be a great addition to your writing journey.
‍
TAKE A BREAK FROM WRITING...

Read. Learn. Create.

Social Media Marketing for Authors
Book marketing. Those two innocuous words instill fear and loathing into the hearts of so many writers. You just want to write your books and have them sell themselves. Why do you have to tell people about it? Well, Susan, because you do. I know you want to write, but if your goal is to write, publish, and make money from your books, then you're going to have to find a way to make them visible. Thousands of new titles are uploaded to Amazon every single day. Millions of books are being published every year, and no matter how good your story is, without marketing, there's not much chance very many people will find it. 
keep reading
To Pants Or To Plot: Which One is Best For Your Story?
What kind of writer are you? Are you the sort who writes a meticulous outline that tips into the five digits or the type who sits down in front of a blank sheet of paper and lets the words pour out of you like a runaway train? Did you know there are specific terms for this kind of writing? Writers will come up with words for anything, I swear. Plotters are the first type of writer. They like to have detailed outlines that tell them exactly where their story is going. Pantsers are the other type of writer, which is kind of a weird name, but the term was coined by Stephen King (a famous pantser) to describe writing by the seat of your pants. Cute, eh? There is no right or wrong way to write your book, and I'm going to repeat this so many times. The right way is the way that works for you. 
keep reading
30 Dystopian Plot Ideas for a Terrifying Future
Dystopian fiction is one of the darker subgenres of science fiction and fantasy. It takes us into dark, foreboding worlds, where oppression and bleak landscapes are the norm. Books like 1984 by George Orwell, The Hunger Games by Suzanne Collins, and Brave New World by Aldous Huxley have become classics that shine a light on political corruption, environmental disaster, and societal collapse.Why do we love these stories? Maybe it's because dystopian fiction allows us to explore worst-case scenarios, to grapple with the idea that the world we know and love could be lost forever. It's a way for us to confront our fears and anxieties about the future, to see what could happen if we continue down a certain path.
keep reading