Dabble vs. Hemingway Editor
Nisha Tuli
February 9, 2023
April 20, 2023
Writing a whole book is no simple task. There's a lot to consider when you're crafting your novel from plot to structure to character and a thousand little details in between. From first draft to publish ready, there are a lot of steps to go through.
There are also a lot of options out there to help make this task easier. Dozens of different writing, formatting, and drafting programs that might or might not work for you. Today, we'll break down two of these options—Dabble Writer and Hemingway Editor—and compare what they have to offer, along with how much they cost and their main features.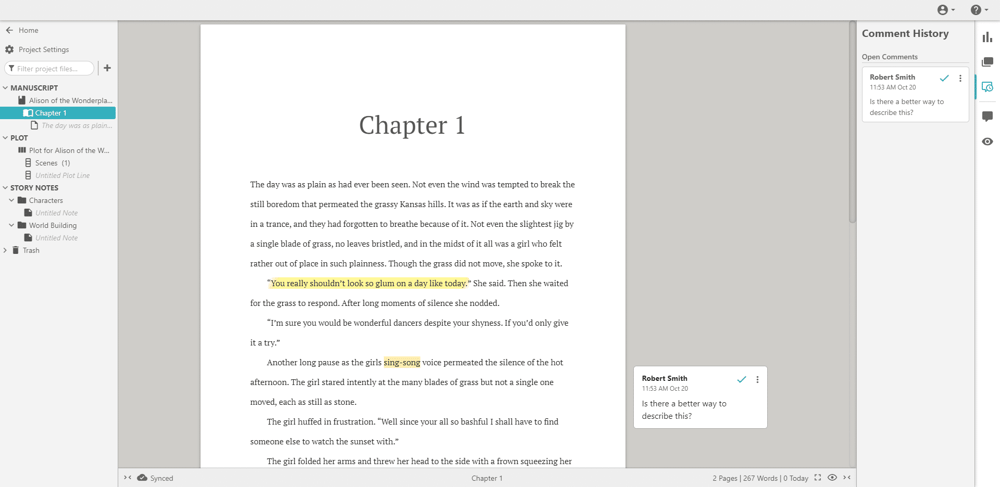 Features of Dabble Writer
Dabble Writer is a tool for fiction writers and takes the place of your traditional word editor, but with added features that give you the option to store notes, create outlines, and set goals, among various other things. Below is a list of some of Dabble's key features.
Dabble account and cloud storage: Create an account and automatically store your work in the cloud. Access your work anywhere at any time and work collaboratively with others. Write on your phone, computer, or tablet.
The Plot Grid: Use this tool to plot and organize your story by creating detailed, visual outlines that you can drag and drop as needed. Track your plot, characters, and other relevant story details.
Export to Word or text file: Export either a section or your full manuscript into a text or Word file for easy sharing with editors, publishers, agents, and beta readers.
Word tracker: Track your daily word count goal, as well as your project word count goal. Set deadlines and mark your days off to help keep tabs on your progress.
NanoWrimo word tracker: During NaNoWriMo (National Novel Writing Month), a writing challenge that takes place every November, you can tie your word count directly into your project on their website.
Prologues and epilogues: Include prologues and epilogues within your novels.
Novel subtitles: Organize your novel with subtitles.
Goal setting and stats: Set your writing goals for any time period or project. Real-time stats allow you to track your progress.
Dark mode: Turn down the lights on your screen with dark mode.
Focus mode: Turn off distractions on your desktop and focus only on the page. Easily revert out of it when you need to.
Store daily backups securely: Dabble keeps your work secure with offsite storage updated daily.
Find and replace: Use find and replace to change a character name or a place within a chapter, scene, or the whole document.
ProWritingAid integration: Spelling, grammar, and style checker, powered by ProWritingAid, helps write clean manuscripts.
Project formatting options: Choose from various font themes and adjust your line spacing and margins.
Import through paste: Import your work by pasting it directly into the editor.
Co-authoring: Work with your writing partners and co-authors in real time to get feedback and make revisions. Track each author's changes throughout your document.
Comments: Keep track of in-the-moment thoughts and reminders with in-line comments.
Text highlighting: Make highlights of portions of your work to track important sections for revisions or editing.
Strikethrough: Identify deleted scenes, paragraphs, or phrases with strikethrough.
Sticky notes: Leave comments and notes to yourself with color-coded sticky notes.
Split & join scenes: Reorganize any portion of your book by splitting and joining scenes anywhere in your manuscript.
Drag chapters: Move chapters around by dragging them into their new position.
Duplicate projects: Keep old drafts or your story notes by duplicating projects.
Export plot & story notes: Save all of your plot and story notes by exporting them to a text or Word file.
DabbleU: Explore hundreds of free articles and posts to help improve your craft and hone your story. Updated weekly with new content.
Story Craft Café: Join this online community to meet other writers, participate in writing sprints, take part in events, and get support for your writing journey.
Live chat support: Get questions answered quickly with live chat support, along with email support.
Free trial: Dabble offers a free 14-day trial.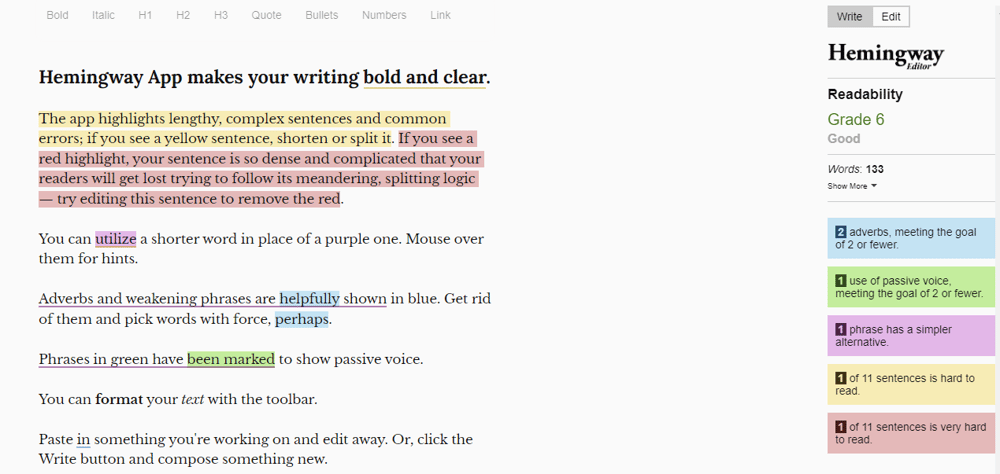 Features of Hemingway Editor
Hemingway Editor is a (mostly) free tool that takes your written manuscript to the next level. It's less of an editor and more of a polishing tool. They say it's like a spell checker, but for style. Some of the features of Hemingway Editor include:
Highlight unnecessary words: Paste your copy into the editor and it will highlight your text in yellow or red where your writing is too dense or might be too hard to read.
Readability: Hemingway Editor judges the readability of your book by assigning it a reading grade level. According to HE's website, the average American reads at a 10th grade level and this can help ensure your book is simple enough to follow.
Adverb highlighting: The app will highlight adverbs in blue, making them easy to spot.
Simplifying words: The app will also highlight specific words that could be simplified in purple.
Detecting passive voice: And finally, it will also highlight instances of passive voice in green.
Write and edit mode: When you write in the editor, the highlighting will fade away, allowing you to focus on your words. Click edit to change into the editing phase.
Formatting: Hemingway Editor allows you to format text including adding in headings and changing text to bold or italics. It can also do HTML headings and links for publishing online through your CMS.
Desktop version: While the online editor is free to use, you can also download the desktop option for a small fee.
Publish to Wordpress or Medium: The desktop app also allows you to one-click publish to both to your blog on Wordpress or Medium.
Export in other formats: Send your Hemingway highlights to others by downloading them as a PDF file. You can also download a Word or text file.
Comparison of Dabble Writer versus Hemingway Editor
These two programs serve different functions and aspects of your writing. While you can write directly in Hemingway Editor, the editor won't save your work and you'll have to download it after you finish writing. It also doesn't offer the ability to structure your book, do any outlining, track your word goals, or keep track of story notes.
These two programs would ideally work in tandem. After you're finished writing in Dabble, you could paste over your work and then use Hemingway to help improve the style, flow, and readability.
This process might prove a little cumbersome if you're doing an entire book, so it might be better suited to short blocks of text. But if you have a chapter or a scene you're struggling with, then popping it over onto Hemingway might help get you unstuck.
With Hemingway's ability to post directly to your blog, it might be better suited to those writing shorter content than novel writers.
Overall, you might want to be cautious about taking too many of Hemingway Editor's suggestions to heart. There is no reason to eradicate all adverbs, instances of passive voice, or complex words in your writing. Sometimes that's what your story needs.
What Hemingway can do is help you determine if you've got too much of these things to make your story readable. It would be a great tool especially for those first starting out on their writing journeys, and you could learn a lot about sentence structure through this app.
Pricing
Prices listed below are current as of January 2023.
Dabble
Dabble offers monthly or yearly subscriptions with a yearly one saving you 20% off the price.
Basic: for beginners just getting started
$10/month USD
Unlimited manuscripts
Cloud backup and sync
Access on any device
Goals and stats
Manuscript Organization
Spell check
Text highlighting
Email support
Standard: for those wanting a bit more
$15/month USD
Includes everything in Basic plus:
Plot Grid
Story notes
Focus mode
Dark mode
Sticky notes
Comments
Premium: For those working on a publishing track.
$20/month USD
Includes everything in Standard plus:
Advanced grammar and style checks
Co-authoring
Priority support via chat
Hemingway Editor
The web editor is free and the desktop app is a one-time payment of $19.99 USD. It's available for both OSX and Windows.
Final Thoughts
When looking at Dabble versus Hemingway Editor, it's clear these both serve two different functions. You could get by with only using Dabble, but you'd have a difficult time writing an entire novel using Hemingway Editor. Hemingway would be a fantastic addition to your Dabble subscription, and since it's free to use, you really can't go wrong.
Try out Dabble Writer free for 14 days.
‍
TAKE A BREAK FROM WRITING...

Read. Learn. Create.

Social Media Marketing for Authors
Book marketing. Those two innocuous words instill fear and loathing into the hearts of so many writers. You just want to write your books and have them sell themselves. Why do you have to tell people about it? Well, Susan, because you do. I know you want to write, but if your goal is to write, publish, and make money from your books, then you're going to have to find a way to make them visible. Thousands of new titles are uploaded to Amazon every single day. Millions of books are being published every year, and no matter how good your story is, without marketing, there's not much chance very many people will find it. 
keep reading
To Pants Or To Plot: Which One is Best For Your Story?
What kind of writer are you? Are you the sort who writes a meticulous outline that tips into the five digits or the type who sits down in front of a blank sheet of paper and lets the words pour out of you like a runaway train? Did you know there are specific terms for this kind of writing? Writers will come up with words for anything, I swear. Plotters are the first type of writer. They like to have detailed outlines that tell them exactly where their story is going. Pantsers are the other type of writer, which is kind of a weird name, but the term was coined by Stephen King (a famous pantser) to describe writing by the seat of your pants. Cute, eh? There is no right or wrong way to write your book, and I'm going to repeat this so many times. The right way is the way that works for you. 
keep reading
30 Dystopian Plot Ideas for a Terrifying Future
Dystopian fiction is one of the darker subgenres of science fiction and fantasy. It takes us into dark, foreboding worlds, where oppression and bleak landscapes are the norm. Books like 1984 by George Orwell, The Hunger Games by Suzanne Collins, and Brave New World by Aldous Huxley have become classics that shine a light on political corruption, environmental disaster, and societal collapse.Why do we love these stories? Maybe it's because dystopian fiction allows us to explore worst-case scenarios, to grapple with the idea that the world we know and love could be lost forever. It's a way for us to confront our fears and anxieties about the future, to see what could happen if we continue down a certain path.
keep reading