Finishing your First Draft - Day Two
Doug Landsborough
April 20, 2023
Hey there,
Welcome to Day Two of our writing bootcamp. Yesterday, we went over the foundations of writing without getting too deep into anything… I wanted to be gentle with you.
Today, I have some nuggets of wisdom that will make you a better writer. The thing is, none of them actually involve writing. But trust me, these are totally worth it.
So, before we even start writing your first draft, I'm going to share the three easy steps to get you ready to write. You can click here to get a downloadable checklist to make sure that you're all set to pen your awesome story.
Step One: Your Writing Space
First things first, you need a space to write. Establishing a writing space helps in a metric ton of ways, but the most important thing it does is establish boundaries.
Your writing space should be somewhere that lets you get away from your other responsibilities and focus on your story. This means it's a physical boundary (no kids or partners allowed while you're writing) as well as a mental one (your chores aren't here, they are out there). Here are a couple fun door hangers you can put on your doorknob to easily communicate that you aren't to be disrupted.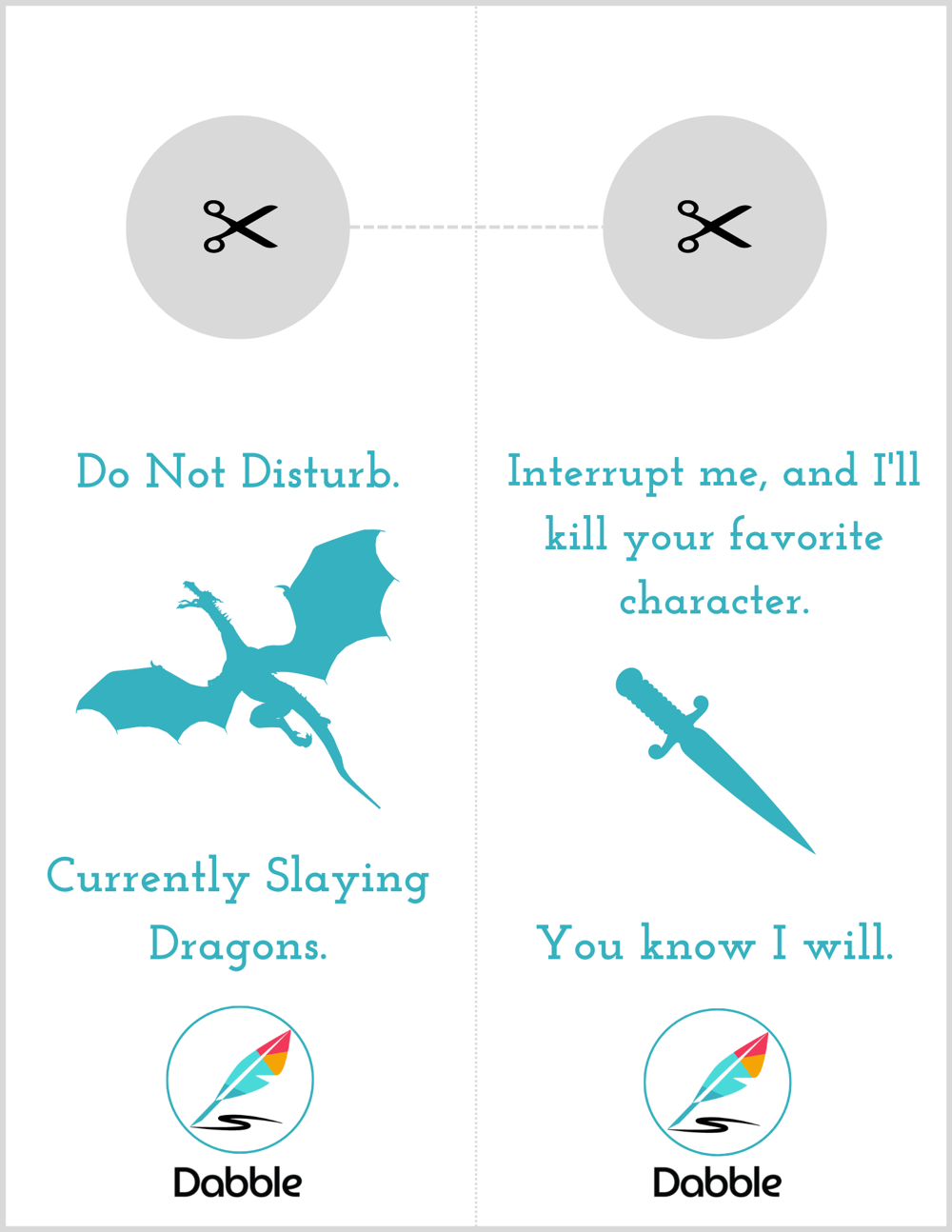 When choosing your writing space, you'll want to consider comfort, ergonomics (you can't write if your back, neck, or wrists don't work), somewhere you can focus, a little inspiration as decoration, and a spark–something like a candle, a cup of tea, a specific song–that you'll use to set your senses into the writing mood. For some more ideas on setting up your writing space, check out Chapter Two in Let's Write a Book.
Step Two: Your Writing Toolkit
Just as Batman has his utility belt (and a mansion and billions of dollars), every writer needs their writing toolkit. We don't want to fill your toolkit with a lot of junk, so let's keep it lean:
Writing Software: Unless you're a typewriter or pen-and-paper purist, you'll need some software to write your book with. Lucky you, you already have access to Dabble's Premium features!
A Timer: Writing sessions are best when they have a limited duration. Whether that's a one- or two-hour marathon or writing sprints (aka the Pomodoro method), a timer is necessary to help push your creativity. If you have a phone, you have a timer.
A Way to Take Notes: Whether this be a notebook, sticky notes, or Dabble's notetaking features (which also includes sticky notes, by the way), it's good to have something readily available to jot down a quick note so you don't ruin your writing flow but you don't lose that awesome idea, either.
Other Tools: Remember, we don't want toolkit bloat, but sometimes it's useful to have your favorite books about writing (like Let's Write a Book), an inspirational trinket, online resources like DabbleU, or even that really cool pen you have.
Step Three: Your Writing Mindset
This one is probably the hardest of the three to get in place. A writing mindset is essential for any successful writer. Otherwise you're going to end up as one of those people who has been working on a book for a decade with nothing to show for it.
I know we've only known each other for two days now, but I don't want that for you.
Here are the three things you need to understand to establish a writing mindset:
Your Why: Why are you writing this story? There is no wrong answer here, but write it down and post it in your writing space so it can motivate you when the words aren't flowing.
The Process: Writing a book is one heck of a journey. It can take months or even years to finish. There will be ups and downs. There will be awesome scenes and mediocre ones. Don't get bogged down in the minute details during the process.
The Discipline: Because writing a book takes so long, you need to be disciplined with it. If you really want to get a book written, it means treating writing like a habit and working at it every day, even multiple times a day if you want, and casting aside the notion that you can only write when the mood strikes.
Not-Homework: Set Up Your Writing Space and Toolkit
Your not-homework in Chapter Two is to set up your writing space and toolkit. Make them uniquely yours. And don't forget to use the checklist I put my blood, sweat, and tears into!
Talk to you tomorrow,
Doug from Dabble
TAKE A BREAK FROM WRITING...

Read. Learn. Create.

Social Media Marketing for Authors
Book marketing. Those two innocuous words instill fear and loathing into the hearts of so many writers. You just want to write your books and have them sell themselves. Why do you have to tell people about it? Well, Susan, because you do. I know you want to write, but if your goal is to write, publish, and make money from your books, then you're going to have to find a way to make them visible. Thousands of new titles are uploaded to Amazon every single day. Millions of books are being published every year, and no matter how good your story is, without marketing, there's not much chance very many people will find it. 
keep reading
To Pants Or To Plot: Which One is Best For Your Story?
What kind of writer are you? Are you the sort who writes a meticulous outline that tips into the five digits or the type who sits down in front of a blank sheet of paper and lets the words pour out of you like a runaway train? Did you know there are specific terms for this kind of writing? Writers will come up with words for anything, I swear. Plotters are the first type of writer. They like to have detailed outlines that tell them exactly where their story is going. Pantsers are the other type of writer, which is kind of a weird name, but the term was coined by Stephen King (a famous pantser) to describe writing by the seat of your pants. Cute, eh? There is no right or wrong way to write your book, and I'm going to repeat this so many times. The right way is the way that works for you. 
keep reading
30 Dystopian Plot Ideas for a Terrifying Future
Dystopian fiction is one of the darker subgenres of science fiction and fantasy. It takes us into dark, foreboding worlds, where oppression and bleak landscapes are the norm. Books like 1984 by George Orwell, The Hunger Games by Suzanne Collins, and Brave New World by Aldous Huxley have become classics that shine a light on political corruption, environmental disaster, and societal collapse.Why do we love these stories? Maybe it's because dystopian fiction allows us to explore worst-case scenarios, to grapple with the idea that the world we know and love could be lost forever. It's a way for us to confront our fears and anxieties about the future, to see what could happen if we continue down a certain path.
keep reading