What is the Snowflake Method?
Doug Landsborough
December 21, 2021
April 20, 2023
The ultimate dream for many planners, Randy Ingermanson's Snowflake Method is a story structure and way of outlining that makes you dive deep into your characters, plot, and how they relate to one another.
By starting out with a central idea and slowly branching off of it—then branching off those new ideas and continuing to grow out from there—you create more details than you might have thought possible. As a result, you get a book that has more depth than you get from other structures or methods of planning.
In this article, we're going to cover:
Who Randy Ingermanson is
The ten steps of the Snowflake Method
The pros and cons of the Snowflake Method
‍
Once we're done, you'll have everything you need to use the Snowflake Method to plan your next novel. A great novel doesn't just magically appear; it requires a lot of hard work. Whether you put most of that work in before you start writing or after you finish the first draft is up to you. With the Snowflake Method, you can create an incredibly strong foundation for your story.
Who is Randy Ingermanson?
Both a software engineer and a bestselling author of fiction and non-fiction, Randy Ingermanson writes historical fiction and books for authors. Known around the world as the "Snowflake Guy," Ingermanson realized that writing good books was actually pretty darn hard (though you probably already know that).He decided that he could devote more of his creative time writing rather than trying to make sure his plots and characters were in order if he planned them all out before he started. Not only would this make a stronger story, but it makes the writing process much easier.
Thus, Ingermanson created the Snowflake Method.
What is the Snowflake Method of writing?
Pantsers—those of you who hate outlining—may need to grab something to comfort you if you decide to keep reading. The Snowflake Method is powerful because it starts with a central theme or idea and grows around it, blooming into detailed scene lists and characters.
The entire process takes place over ten steps and potentially more than a month to finish completely. That said, the end result allows you to write your book quickly and virtually without any worries.
The ten steps of the Snowflake Method are:
Write a one-sentence summary
Expand your sentence summary into a paragraph
Create character one-pagers
Expand your paragraph summary
Create character-based story synopses
Create scene and event summaries
Create character charts
Make a list of every single scene in your story
Create a summary of each scene
Write your first draft
Let's take a look at each step in detail. I'll also show you how you can use the Snowflake Method in Dabble using our Notes and Plot Grid.
Step One: Write a one-sentence summary (one hour)
Without using character names, write a one-sentence summary of your book. Treat this like an elevator pitch or the hook of your book. It shouldn't be long, definitely no more than twenty words, and should be more interesting than detailed.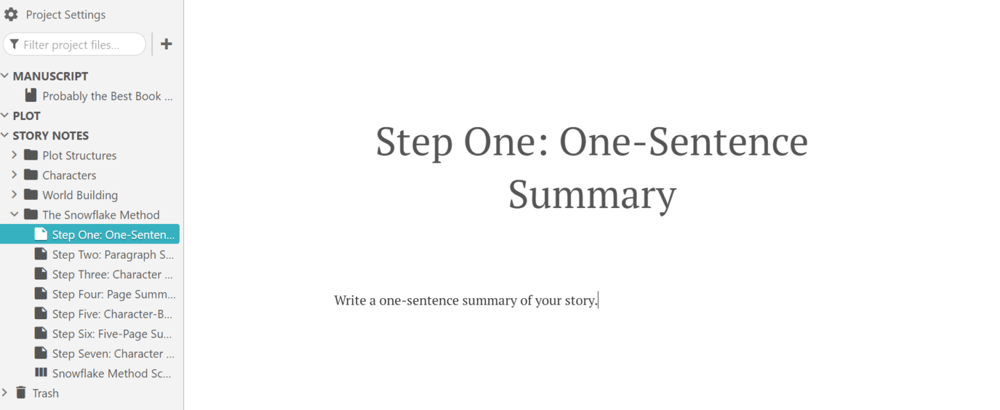 Step Two: Expand your sentence summary into a paragraph (one hour)
Now you're going to take your one-sentence summary and expand it. In general, you're going to want to create a five-sentence paragraph consisting of the following (which you may recognize from the Three-Act Structure):
The introduction or exposition to the story
The three important plot points:
The first plot point, where the protagonist takes up the challenge
The midpoint, which acts as a turning point in how they view themselves or the world
The second plot point, which is the biggest challenge for our hero so far and one that they fail to overcome
The climax or resolution of the story
With that paragraph created, you have the foundation of your plot. Now, to continue expanding your outline, you'll focus on your characters.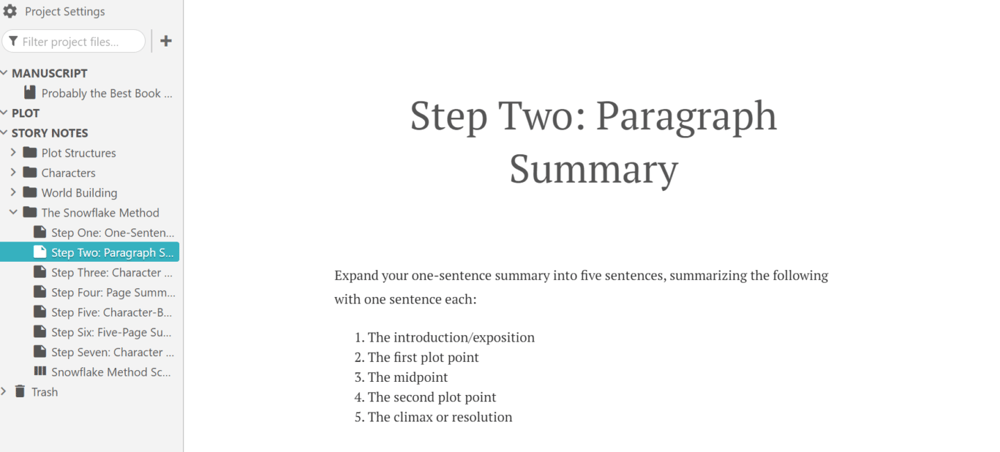 Step Three: Create character one-pagers (one hour/character)
For each of your main characters, create a one-page summary. This isn't getting too detailed with them, but jot down:
A one-line summary of their storyline
Their motivation (what pushes them forward)
Their goals (the concrete thing they want)
Their conflicts (internal and external forces preventing their goal from being achieved)
Their epiphany (how they change and overcome their conflict)
After that, write a full paragraph summarizing their storyline. This will also reveal their character arc.
Great stories are made with great characters, and we will dive even deeper into your characters later on.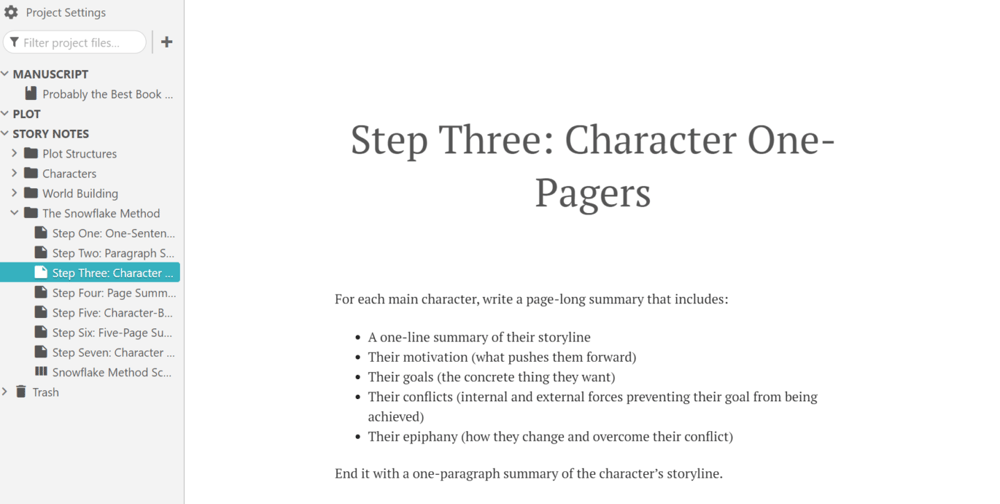 Step Four: Expand your paragraph summary (one hour/paragraph)
Remember those five sentences we created in Step Two? You're going to take each one and expand it into a paragraph.
By expanding these important points in the story, you're going to start fleshing out what is actually going on in your book. Add as much detail as you can think of (it doesn't have to be permanent) and give each paragraph the attention it deserves. Ingermanson budgets one hour per paragraph, so you know it's serious.
Each paragraph except for the last should end in some sort of disaster or setback to help drive the narrative.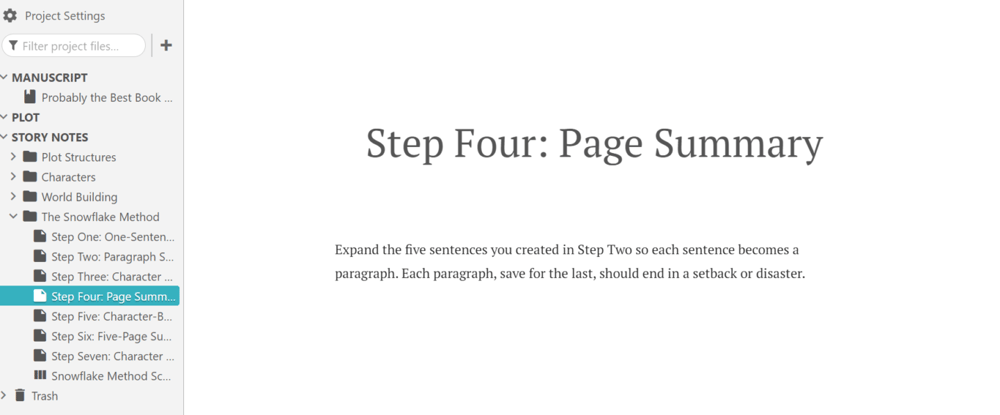 Step Five: Create character-based story synopses (up to two days)
This is one of the most fun and unique parts of the Snowflake Method: a character synopsis. In this step, you are going to write a one-page summary of your story from the perspective of each character.
Not only will this help with continuity—what does a character know, how do they react to an event, etc.—but it forces you to dig into the deepest parts of every single one of your characters. You will learn more about their past, their morals, their skills and shortcomings, their relationships, and so on.
Do this for each main character, but you only need to do a half-page synopsis for minor characters.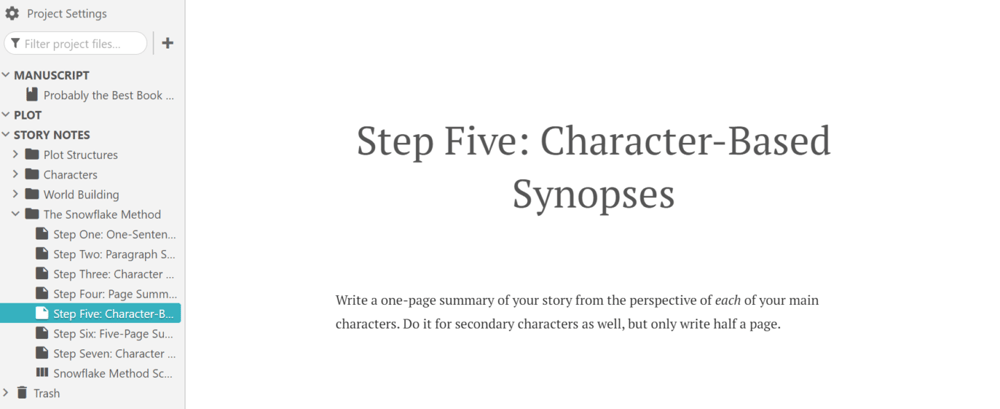 Step Six: Create scene and event summaries (one week)
Now, better equipped with information about your characters and any potential plot holes, you are going to take the five paragraphs you created in Step Four (which were previously each a sentence, which all stemmed from one single sentence—see how this has grown?) into a page each.
This is your chance to get more into the weeds with each of these major plot points. You can really bring your story to life with these summaries and get a better sense of your different plot lines.
That being said, don't waste time getting too detailed. If it doesn't matter to the plot that there was a wilted rose on the side of the path, don't include it here.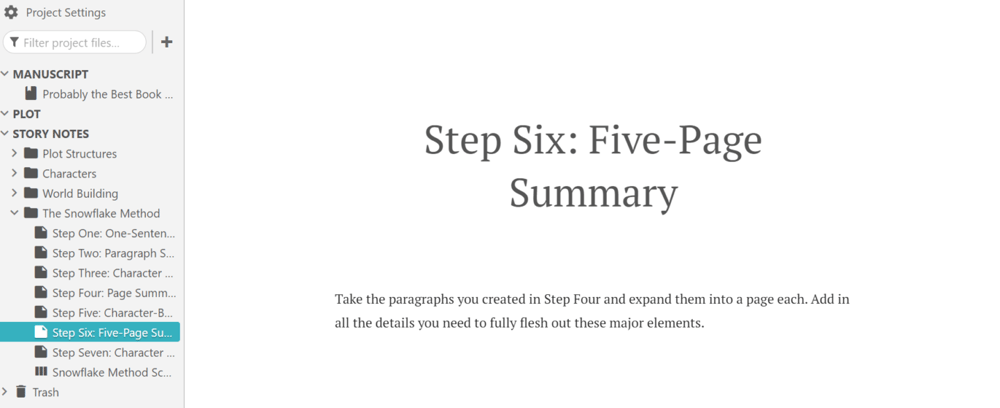 Step Seven: Create character charts (one week)
Now that your plot is iron clad, it's time to return to your characters and breathe that last puff of life into them. In this step, you will be creating a character chart or bible.
These charts are detailed outlines of your characters that include basically every detail you can think of. You already have the basics from Step Three and more qualitative details from Step Five, so now you're filling in the rest.
For your character chart, consider:
Height
Ethnicity
Sexuality
Age
Birthday
Education
Family and romantic relations
Also think about their backstories, what makes them act or speak the way they do, their goals outside the story, etc.In this step, you can't be too detailed.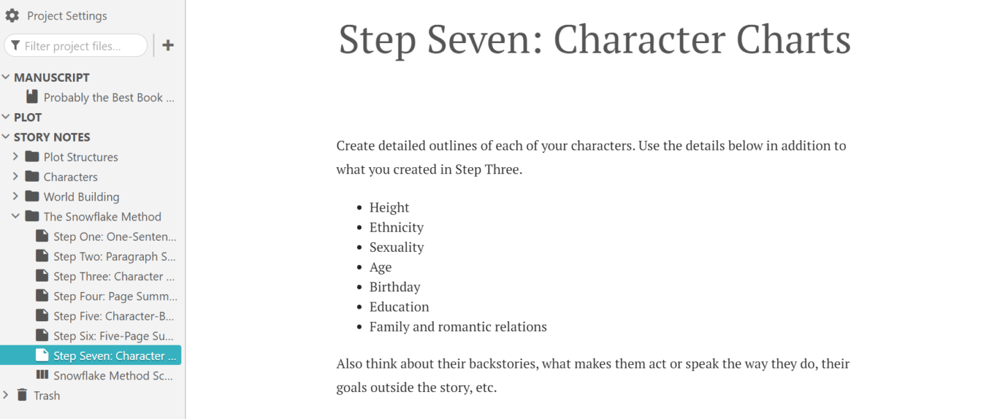 Step Eight: Make a list of every single scene in your story (no timeline)
Next up, using the summary created in Step Six, create a list that includes every. single. scene. Not just the important ones, all of them.
Some folks like using a spreadsheet like Excel or Google Sheets, which can make this step a lot easier.
With each scene, include:
A one-sentence summary of the scene
Which characters are in it
The point of view (POV) that it's told from
Where it is taking place
There can be upwards of 100 scenes or more in a novel, but this level of detail will be worth it.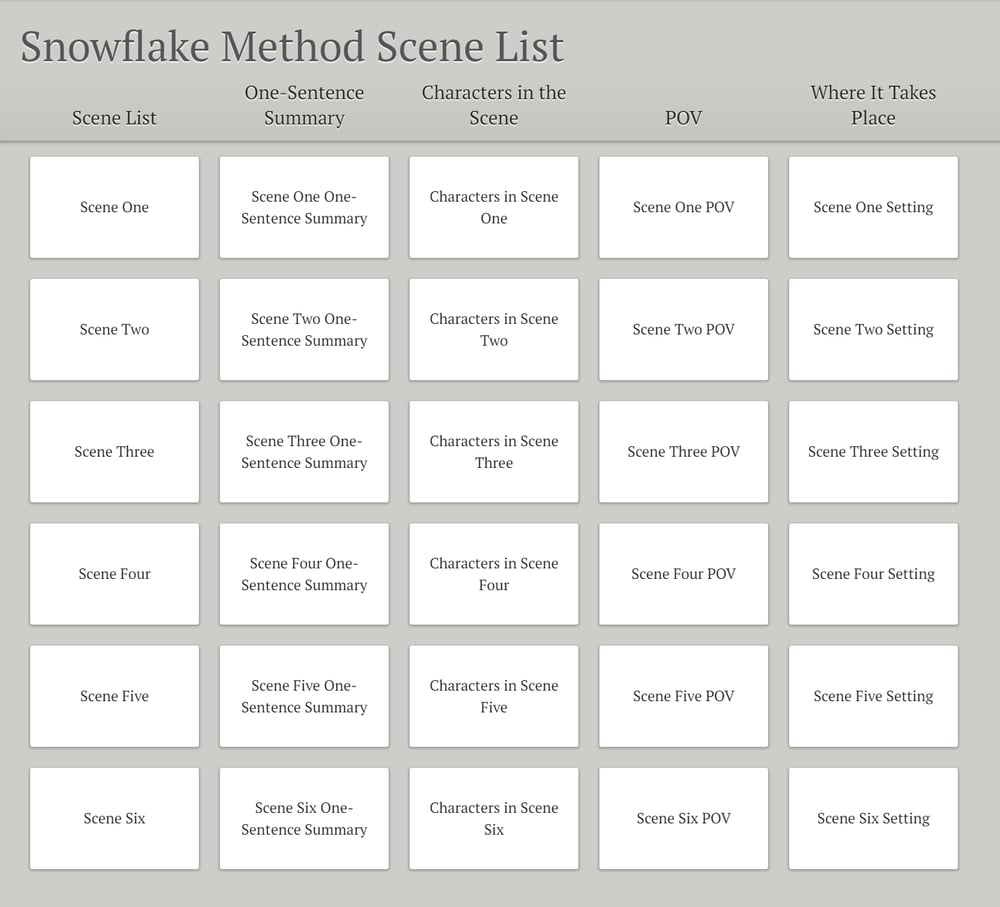 ‍
Step Nine: Create a summary of each scene (again, no timeline but budget about a week)
For each scene you listed in Step Eight, you're now going to expand your one-sentence summary into a full paragraph.
This is the last chance for you to plan out the details, so include everything that you want here—even that roadside rose from before. Include action, specifics about characters, dialogue you want included, scenery, time of day, the weather, impact on characters, etc.
This is an info dump for each scene, so get dumping.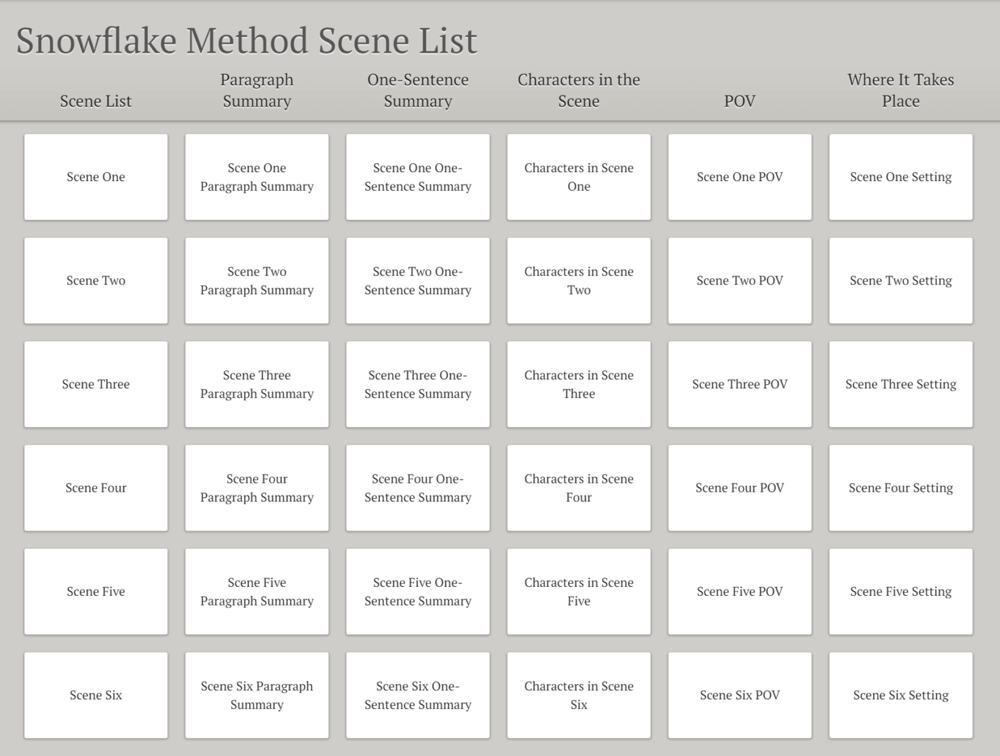 Step Ten: Write your first draft
All of your hard work has led to this point. Get writing.
It might have seemed like a heck of a lot of effort just to get here, but you'll find that the words will flow much better with all this planning behind you, and your story will be amazing.
Pros and Cons for using the Snowflake Method
The Snowflake Method of writing can be an incredibly powerful tool but, as Uncle Ben has informed us countless times, "With great power comes great responsibility."
This method isn't for everyone. It is time-consuming and forces you to take time away from writing, even if it rewards you in the end. But here are some pros and cons to consider.
Pros of the Snowflake Method
It all but eliminates continuity errors and plot holes
It adds depth to both your plot and characters
It equips you with a lot of notes and a strong outline to write your book with
It forces you to better understand your story (trust me, you might think you know your book but there is always something to learn)
It generates momentum in your planning and writing
It makes writing your first draft a heck of a lot faster
Cons of the Snowflake Method
It might give pantsers a heart attack just thinking about it
It is time consuming, and trying to find a shortcut undermines the strength of this method
It is impractical for short stories
Is the Snowflake Method right for you?
The Snowflake Method is one of the most intensive forms of outlining and structuring you might come across as an author. That might sound exciting or horrifying, depending on how you like to write.
What isn't as subjective, however, is how powerful this method can be for crafting a novel. So if you're looking for a way to take your novel to the next level, give the Snowflake Method a chance.
TAKE A BREAK FROM WRITING...

Read. Learn. Create.

Social Media Marketing for Authors
Book marketing. Those two innocuous words instill fear and loathing into the hearts of so many writers. You just want to write your books and have them sell themselves. Why do you have to tell people about it? Well, Susan, because you do. I know you want to write, but if your goal is to write, publish, and make money from your books, then you're going to have to find a way to make them visible. Thousands of new titles are uploaded to Amazon every single day. Millions of books are being published every year, and no matter how good your story is, without marketing, there's not much chance very many people will find it. 
keep reading
To Pants Or To Plot: Which One is Best For Your Story?
What kind of writer are you? Are you the sort who writes a meticulous outline that tips into the five digits or the type who sits down in front of a blank sheet of paper and lets the words pour out of you like a runaway train? Did you know there are specific terms for this kind of writing? Writers will come up with words for anything, I swear. Plotters are the first type of writer. They like to have detailed outlines that tell them exactly where their story is going. Pantsers are the other type of writer, which is kind of a weird name, but the term was coined by Stephen King (a famous pantser) to describe writing by the seat of your pants. Cute, eh? There is no right or wrong way to write your book, and I'm going to repeat this so many times. The right way is the way that works for you. 
keep reading
30 Dystopian Plot Ideas for a Terrifying Future
Dystopian fiction is one of the darker subgenres of science fiction and fantasy. It takes us into dark, foreboding worlds, where oppression and bleak landscapes are the norm. Books like 1984 by George Orwell, The Hunger Games by Suzanne Collins, and Brave New World by Aldous Huxley have become classics that shine a light on political corruption, environmental disaster, and societal collapse.Why do we love these stories? Maybe it's because dystopian fiction allows us to explore worst-case scenarios, to grapple with the idea that the world we know and love could be lost forever. It's a way for us to confront our fears and anxieties about the future, to see what could happen if we continue down a certain path.
keep reading