Self-Editing Your First Draft | Fictionary Guest Post
Kristina Stanley
November 11, 2021
April 20, 2023
It's an amazing accomplishment to write a novel. Many people start one, but you've actually finished one and have a shiny new first draft in Dabble. Congratulations! Now what?
‍It's time for a story edit.
‍Hi, I'm Kristina Stanley, bestselling author, professional story editor, and creator of Fictionary.co.‍
A story edit is the first step in the self-editing process. Story editing is also known as structural editing or developmental editing, and it is the most important step to turn your words into a great story. Copy editing and proofreading come after your story edit.
You will evaluate your story from a high-level perspective and revise any weak areas. You want to make sure the story structure makes sense, and that you get the most out of your characters, plot, and settings.
If you begin a story edit with the top three questions I give you below for each of character, plot, and settings, you'll find your creative juices start flowing and will be amazed at how this will help you improve your story.
Evaluating Characters
The cast of characters is the list of characters in your story. These characters act and react. They create emotion. They show motivation. Without any of this, you don't have a story. That's a tall order for your characters. So how do you make sure you're getting the most out of them?
‍1. Who appears in each scene?
‍Having a list of your characters per scene gives a specific method for evaluating how you're using the characters and shows you when you need to revise a scene.
It's time to revise a scene if:
There are too many characters in it. Is every character required to achieve the purpose of the scene?
An introduced character lacks detail or has too much detail.
There are names that are too similar and might confuse the reader.
‍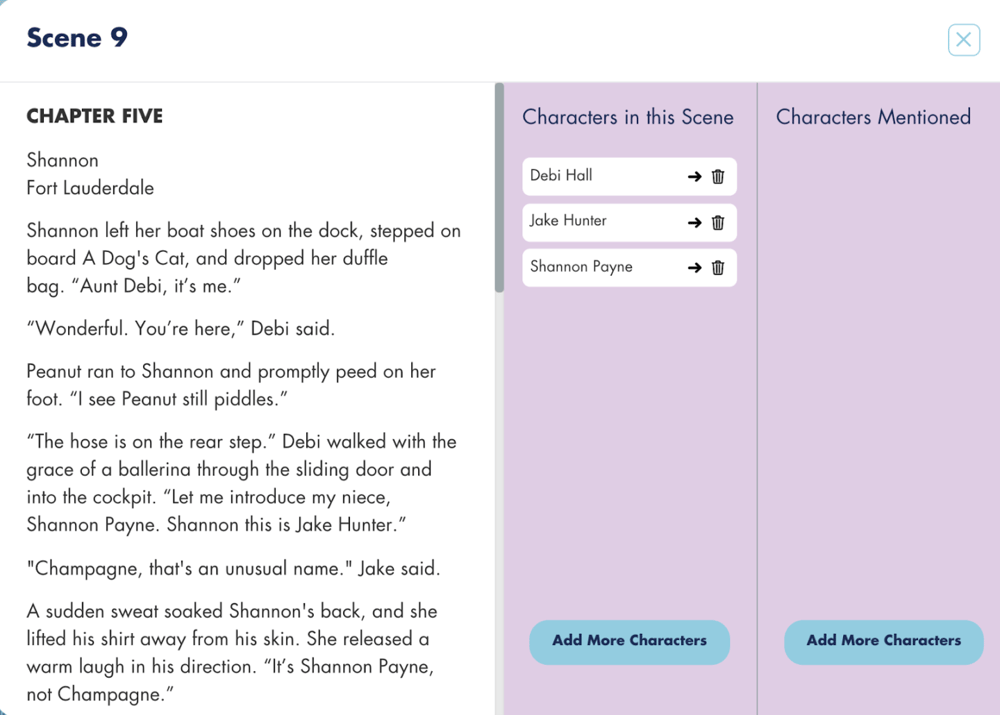 ‍
‍2. What are their goals?
‍A character goal is what a character wants. She should want it so badly that your readers feel her need in their guts. And failing to achieve the goal will be devastating.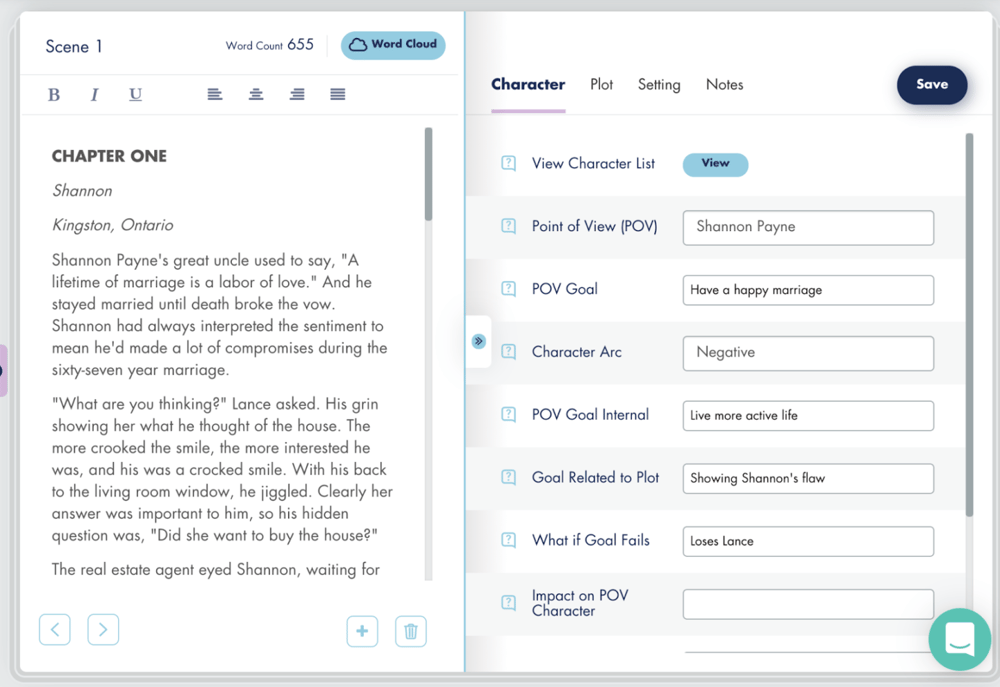 ‍
‍3. What gets in the way of their goals?
‍Characters will drive the tension in your story, and tension is what keeps a reader reading. Putting obstacles in the way of achieving the goal will raise the tension.
Evaluating Plot
Plot is what happens in the story. It's what your story is about. Here are three questions to help you evaluate each scene and how they relate to the plot.
‍1. What is the purpose of each scene?
‍There must always be a reason any given scene exists in your story. That's what we mean by its purpose. A scene without a purpose will distract the reader from the main story. It may even bore the reader.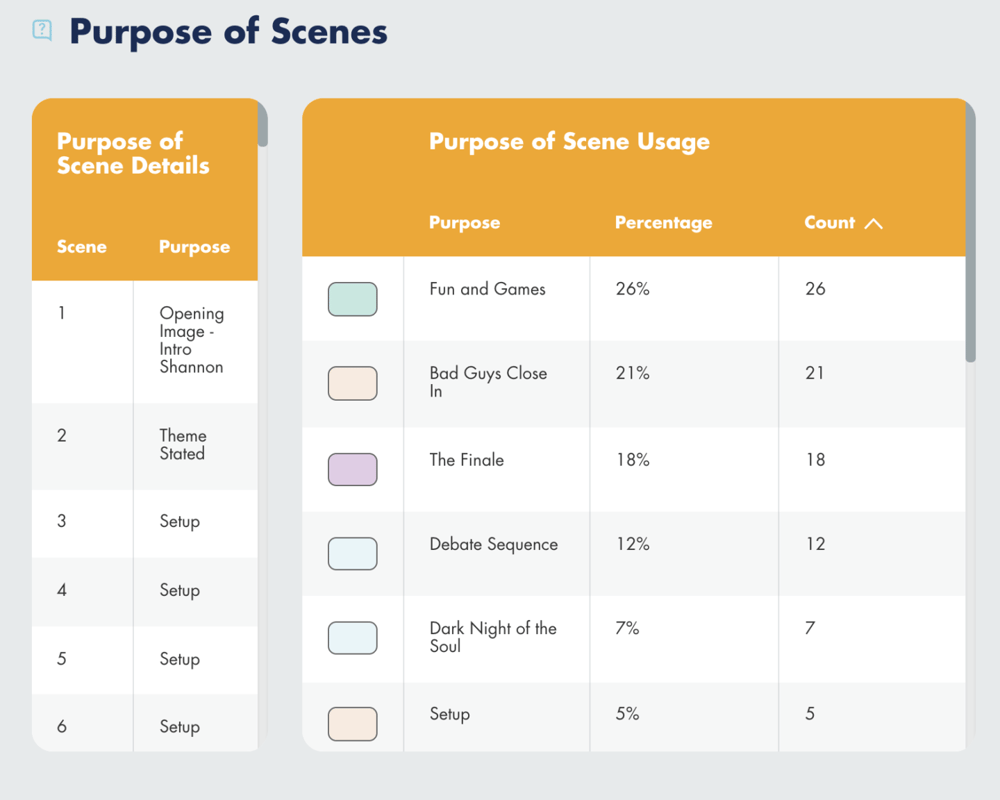 ‍
‍2. Is there an entry hook opening each scene?
‍Whatever you read at the beginning of the scene that keeps you reading is the scene entry hook. Every scene must have one by the end of the first three paragraphs or so.
‍3. Is there an exit hook at the end of each scene?
‍Whatever you read at the end of the scene that keeps you turning the page to the next scene is the exit hook. Every scene must have an exit hook. This includes a secret revealed, a cliffhanger, a clue, or a story twist.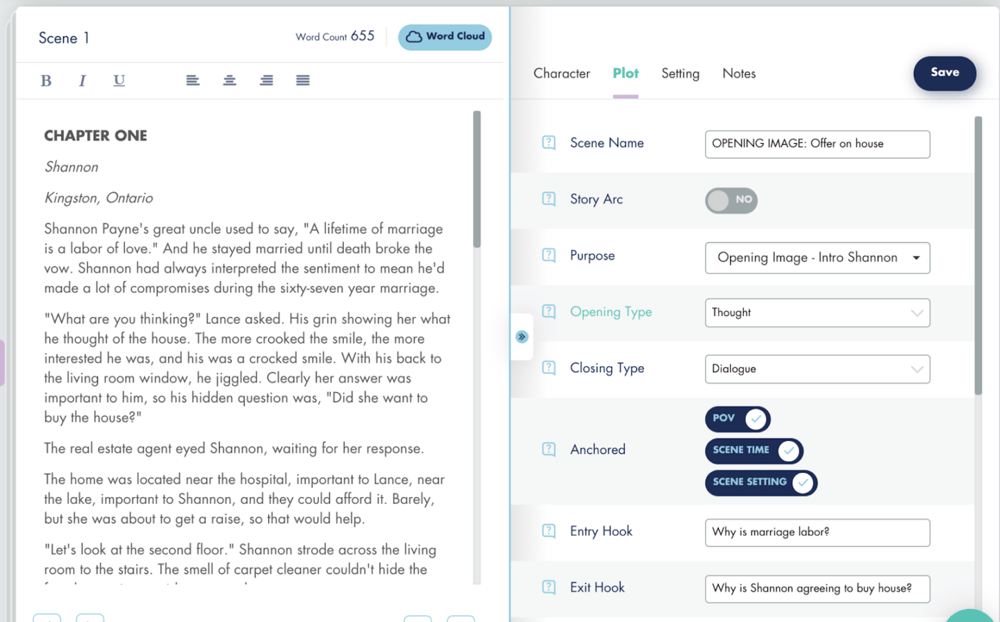 Evaluating Settings
Finally, while you perform a story edit, examine your settings. Settings are key to keeping your reader engaged, so don't ignore them.
‍1. Is the location you chose the best place for emotional impact?
‍Each scene must take place somewhere and each location has the potential to ramp up emotion. Often a writer doesn't think hard enough about where a scene takes place and doesn't end up using locations effectively. Does the location elicit emotion in the reader or the characters? If not, choose a different location.
‍2. Are there objects relevant to the plot or characterization in each scene?
‍Watch a film without props or a backdrop, and you'd probably get confused or bored. You'd just be watching actors on an empty stage, which would make it hard to believe the reality they're trying to portray.
Readers are much more engaged in a story if they can imagine the setting that stirs their emotions.
‍3. Are some of the five senses used in every scene?
‍Sensory details keep the "stage" and characters interesting. Without them, both the setting and the characters will seem flat. Using the senses of the POV character to describe the action will bring your reader closer to the character. So ensure the senses used show characterization or move the plot forward.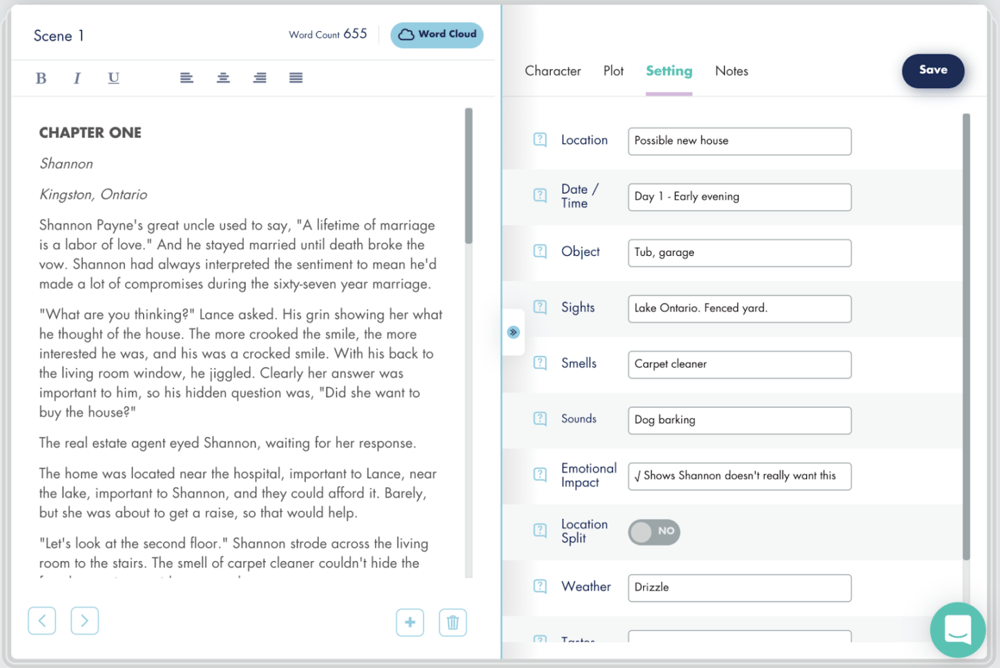 ‍
You Can Edit Your Own Novel
MYTH: It's really difficult to edit your own novel.
‍TRUTH: Like any skill, you can learn to edit your novel with a story edit … and it can be a fun, creative experience.
I believe this so strongly that I created a software tool to help writers perform their own story edit. Fictionary StoryTeller is an intelligent online story editing software for fiction writers.
Fictionary makes story editing easier by analyzing a manuscript from start to finish and providing powerful visuals such as the Story Arc. Evaluate and revise your manuscript against the 38 Fictionary Story Elements and turn your words into great stories.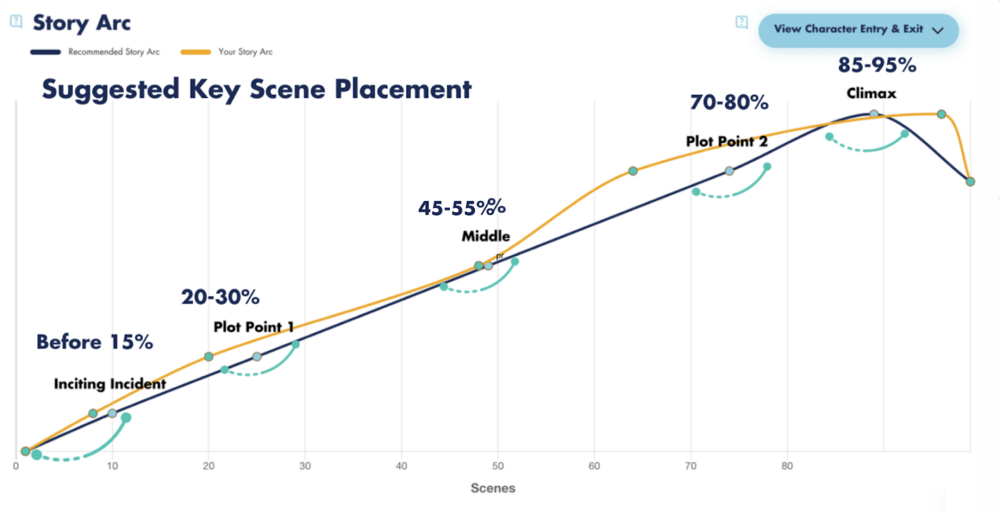 ‍
Check out Fictionary StoryTeller with a free 14-day trial and start your story edit. Simply export your Dabble draft to Word and then import your Word document into Fictionary to see your story like never before! When you love what you see, use Coupon Code DABBLE25 to get a 25% discount on your StoryTeller subscription (Monthly or Annual plans for your first year).
TAKE A BREAK FROM WRITING...

Read. Learn. Create.

Social Media Marketing for Authors
Book marketing. Those two innocuous words instill fear and loathing into the hearts of so many writers. You just want to write your books and have them sell themselves. Why do you have to tell people about it? Well, Susan, because you do. I know you want to write, but if your goal is to write, publish, and make money from your books, then you're going to have to find a way to make them visible. Thousands of new titles are uploaded to Amazon every single day. Millions of books are being published every year, and no matter how good your story is, without marketing, there's not much chance very many people will find it. 
keep reading
To Pants Or To Plot: Which One is Best For Your Story?
What kind of writer are you? Are you the sort who writes a meticulous outline that tips into the five digits or the type who sits down in front of a blank sheet of paper and lets the words pour out of you like a runaway train? Did you know there are specific terms for this kind of writing? Writers will come up with words for anything, I swear. Plotters are the first type of writer. They like to have detailed outlines that tell them exactly where their story is going. Pantsers are the other type of writer, which is kind of a weird name, but the term was coined by Stephen King (a famous pantser) to describe writing by the seat of your pants. Cute, eh? There is no right or wrong way to write your book, and I'm going to repeat this so many times. The right way is the way that works for you. 
keep reading
30 Dystopian Plot Ideas for a Terrifying Future
Dystopian fiction is one of the darker subgenres of science fiction and fantasy. It takes us into dark, foreboding worlds, where oppression and bleak landscapes are the norm. Books like 1984 by George Orwell, The Hunger Games by Suzanne Collins, and Brave New World by Aldous Huxley have become classics that shine a light on political corruption, environmental disaster, and societal collapse.Why do we love these stories? Maybe it's because dystopian fiction allows us to explore worst-case scenarios, to grapple with the idea that the world we know and love could be lost forever. It's a way for us to confront our fears and anxieties about the future, to see what could happen if we continue down a certain path.
keep reading