Dabble vs. Scapple: Which One Will Help You Plan a Bestseller?
Abi Wurdeman
April 20, 2023
It's Dabble vs. Scapple. The throwdown of the century. The fight of the millennium. The—
No, just kidding. These are both great writing tools, and there's room for all of us in our vast writerly world.
The question here isn't which one is better; it's which one is better for you. What are your primary writing goals? What do you need your writing software to do? And most relevant to the Dabble vs. Scapple debate: how do you prefer to dream up your stories?
After all, that's the one thing both of these programs are famous for. They make it easier to brainstorm, organize, and outline an unforgettable novel (among other things, in Dabble's case).
You're about to learn the key differences between Dabble and Scapple. You'll also get an honest report on the pros and cons of each, plus tips for determining which of these popular tools is right for you.
Along the way, I recommend thinking a lot about what your unique needs are during the story building process. Odds are, you'll feel an instinctive pull towards the software that makes the most sense for you.
First, let's clarify why anyone would need to compare these two writing programs in the first place.
The Big Picture
If you're working through your own internal Dabble vs. Scapple debate, it's probably because you're looking for something to help you brainstorm a story and organize your thoughts.
That's the one benefit these two programs share, but they use very different tools to help you get a grip on the planning process. Not to mention, Dabble actually goes beyond plotting and planning to also offer features to help you through the drafting and revising processes.
So before we dig into the pros and cons of each, let's get a quick overview.
What the Heck is a Dabble?
‍Dabble is a one-stop writing tool. It has everything you need to build your plot, develop characters, write your novel, handle revisions, and manage multiple drafts.
Another way to put it: it's Scrivener without the learning curve.
One of Dabble's most beloved features is the famous Plot Grid.
You may have seen writing software that allows you to lay out your plot using scene cards that are then accessible from your manuscript as you type. It's the same deal with the Plot Grid except for one glorious twist.
You get multiple customizable columns so can you not only track the progression of scenes, but also:
See the progression of character arcs from scene to scene.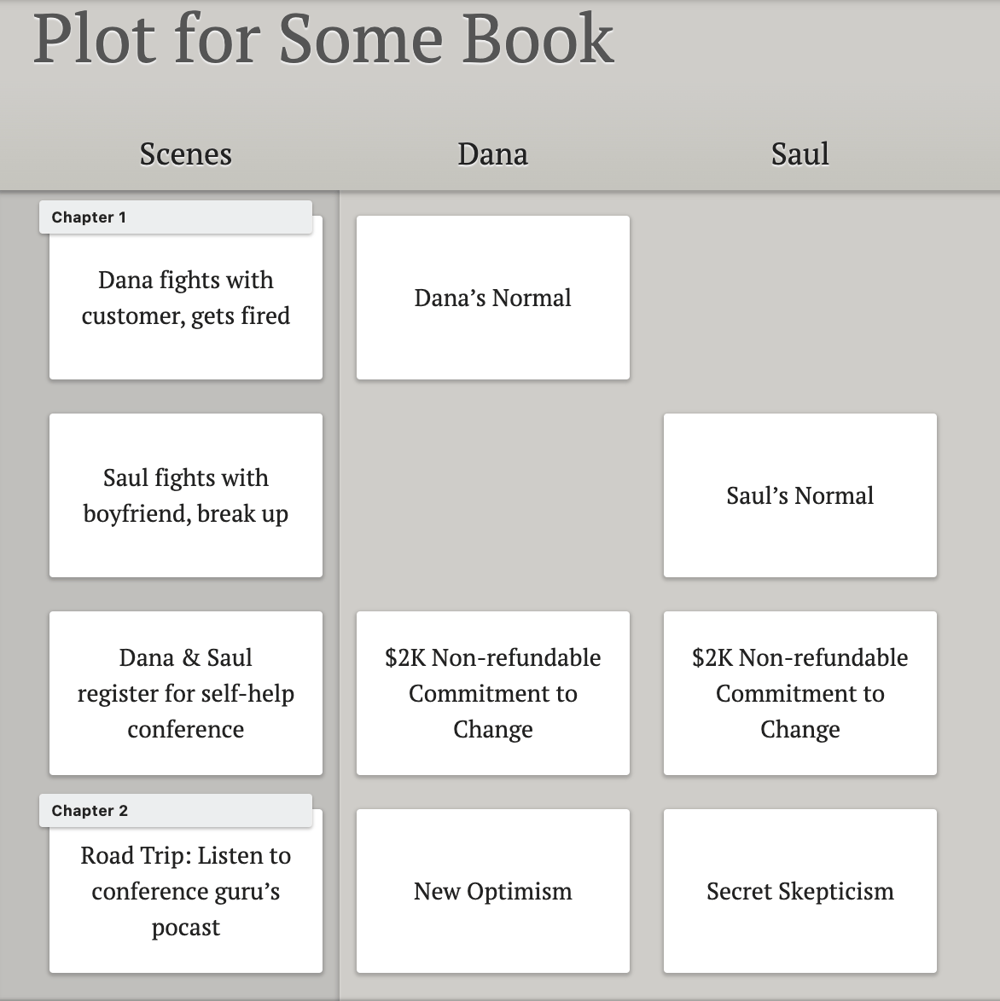 Make sure you're hitting all the important story beats.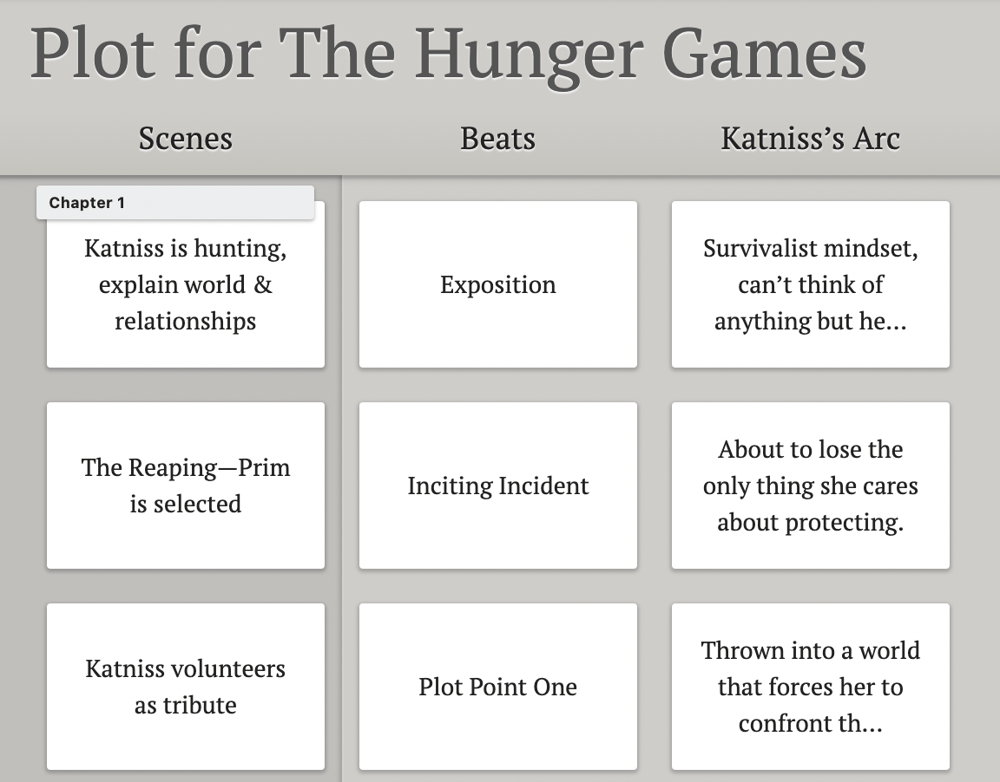 Even keep track of complicated timelines or story threads.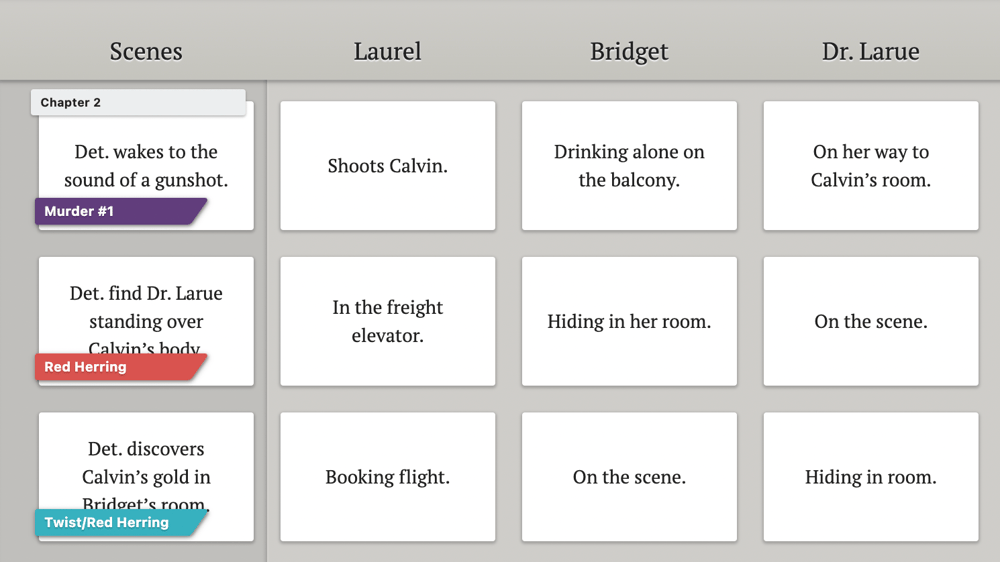 In other words, the Plot Grid is whatever you need it to be. Then, when you write your manuscript, you've got all your scene cards at hand.

You can also use Story Notes to store character profiles, maps, your own rambling thoughts, and more. But more on that a bit.
It's all pretty neat, right?
And What's a Scapple?
Scapple takes a little less explaining because it's just one thing. It's mind-mapping software.
When you download Scapple, you're able to do cool things like this: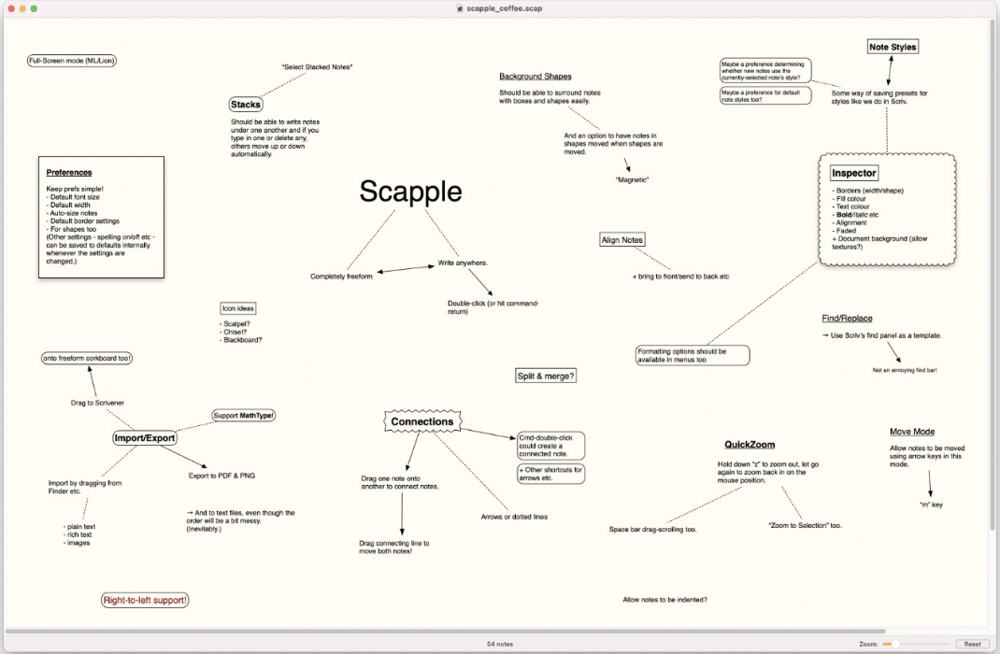 There are no templates, so you can make your mind map whatever you want it to be. A sprawling web, a line of tidy note cards, a chaotic thought explosion only you understand… it's up to you.
Scapple is the creation of Literature and Latte. Those are the folks who brought you Scrivener, a significantly more involved writing tool. In fact, Scapple is probably most valuable for those who already use Scrivener. But we'll get into that a bit later.
Now, probably the best way to determine where you land on the Dabble vs. Scapple debate is to look at the pros and cons of each.
Here we go.
Pros & Cons of Dabble
Since we're doing a Dabble vs. Scapple comparison here, I'm going to focus mostly on the Dabble pros and cons that help you make a direct comparison between these two tools.
This means a lot of talk about the plotting and story development features and very little focus on the draft writing features. But just so you have a fuller sense of what you get with a Dabble, here are some of the super-sweet features we won't be talking about:
Comments and Sticky Notes
Auto Focus(Everything but your manuscript fades from the screen as you begin to type so you can focus on your story.)
Goal Setting and Tracking
NaNoWriMo Integration
Dark Mode
Co-Authoring
Image Upload
Image Search powered by Unsplash
Read to Me
Thesaurus Tools
Spelling, Grammar, and Style Check powered by ProWritingAid
In other words, this software is designed to be the only program you need to write a novel. And for writers who don't want to deal with the steep learning curve of Scrivener, Dabble hits the sweet spot of simplicity and comprehensive function.
In short: folks like it.
Now, let's look at the pros and cons that are more relevant to the Dabble vs. Scapple comparison.
The Pros of Dabble
As we've established, Dabble is more than just a planning tool. There's no need to keep multiple windows open just to keep your story straight. Your brainstorming notes, character profiles, outline, and draft are all together in one program.
In fact, you've got your scene cards right there in your manuscript as you draft your novel. All it takes to view a card is a quick click. You don't have to leave the draft or risk losing your spot.
Personally, I love how the Plot Grid helps me find structure during the brainstorming process without dragging down the creative process.
Because you can create your own columns, you can think through your plot however you need to. It's easy to create and delete both cards and columns. And you can drag and drop scenes should you decide that the big murder scene feels more like a midpoint thing than a climax thing.
Oh! And Plot Grid Labels are a great tool for keeping track of half-baked ideas or lingering questions. (But use them however you want! This is your rodeo.)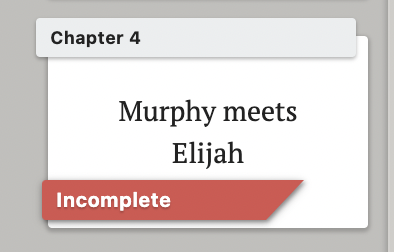 In other words, the Plot Grid gives you room to play within a template that helps you work towards structure and clarity.
For even more freedom, you can use Story Notes to create your worldbuilding bible, create character profiles, and more. You can even upload images (including a Scapple mind map) or find images with an in-app image search.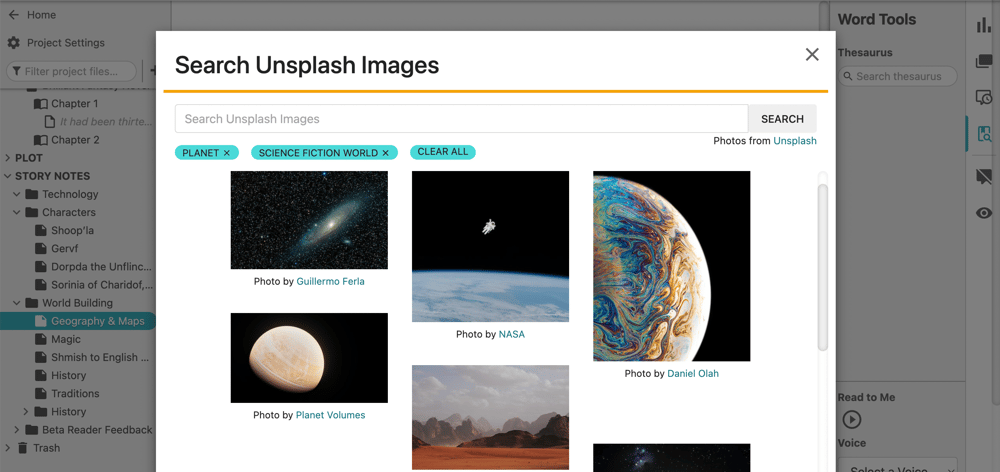 Manuscript view allows you to see the layout of your novel at a glance and add chapter breaks. Like beautiful, easy magic, those breaks then show up in your actual draft.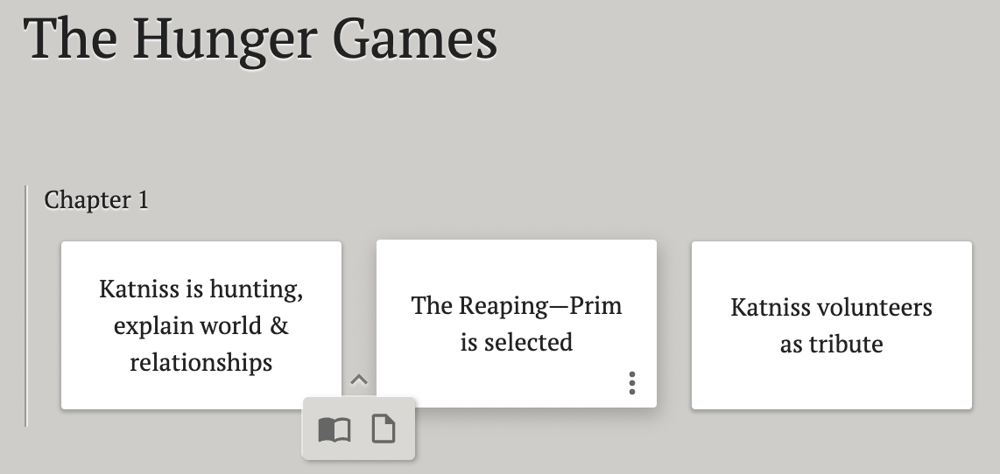 If you have a writing partner or any other collaborators, Co-authoring allows you to work on the same project together in real time and track your changes. Pretty sweet deal.
In terms of practical considerations. Dabble is designed to be simple and intuitive; it couldn't be easier to learn how to use the software. You can more or less jump right in.
‍It works on all devices, on your desktop or on your browser, online or off. All your work is autosaved, so that's one less thing to worry about.
Finally, Dabble offers a fourteen-day free trial that doesn't even require you to enter a credit card. So you can make sure it's really for you without even risking an accidental charge.
The Cons of Dabble
So what's maybe less ideal about Dabble?
Well, the tidy nature of the Plot Grid doesn't fully capture the creative sprawl the way a mind map does.
If you're the type who works best with all your thoughts spread out around you in a flurry of post-its and magazine cut-outs, that might matter to you. Especially if you want to make the move from physical brainstorming chaos to digital brainstorming chaos.
You can create a similar effect in Story Notes by uploading your mind maps and idea scraps. But you can't build webs in Dabble the way you can in Scapple.
‍There also aren't a lot of options for customizing the visual presentation of your Plot Grid and Story Notes. You do have the ability to color code Stickies, Labels, and Highlighting. But you're still more limited than you would be with mind mapping software.
And finally, it's not free. I wouldn't say that's necessarily a bad thing. Like quality writing, quality tools shouldn't come free. But it is a less fun fact and something worth noting as you explore your options. Plans start at $10/month.
Pros and Cons of Scapple
Phew! That was a lot of information. Let's talk about Scapple now. How does it fare in this Dabble vs. Scapple comparison?
The Pros of Scapple
The first big pro is the simple fact that it's mind mapping software. It's a great tool for dumping all those seemingly disconnected bursts of inspiration on the page and discovering the links between them.
Speaking of links, Scapple incorporates a lot of keyboard shortcuts. You can add arrows, group text, zoom in on specific sections, and more all without ever touching a formatting menu.
This is essential. You're in the dreaming stage here. The last thing you need is to interrupt your flow with formatting.
You also have total control over how your mind map looks. Not only can you position your notes however you want, but you can add images, create borders, switch between fonts, choose your background, and more.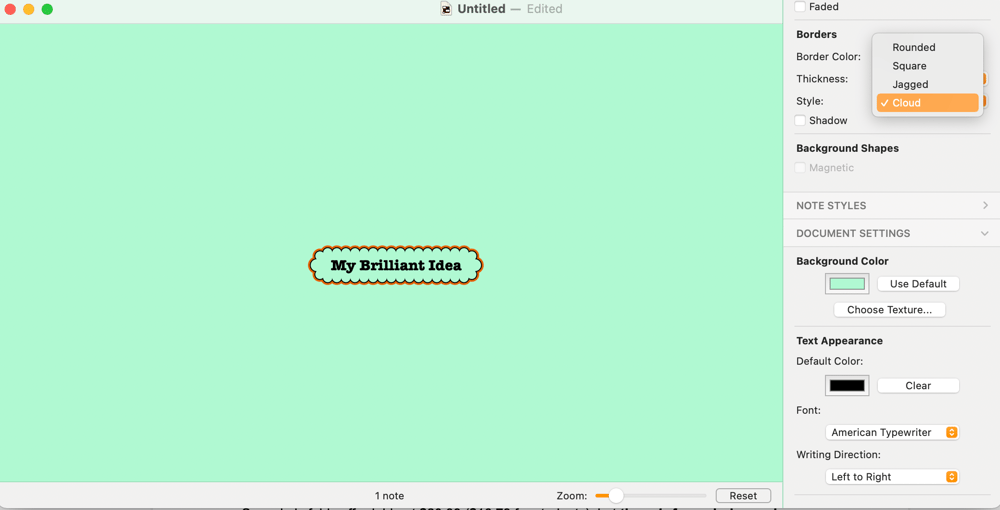 If you want to share or save your mind map, you can export it as a PNG, PDF, or plain text file.
And if you use Scrivener, you can drag and drop individual notes within your Scapple file directly into your Binder or Corkboard on Scrivener. I don't use Scrivener, but if I did, this would be the feature I care about most.
Scapple is available for both Mac and Windows. The application takes all of three seconds to download.
It also comes with a 30-day free trial, and that means 30 days of actual use. If you use it today and then don't open the app for three days, you still have 29 days left on your trial. Plenty of time to decide if it does what you need it to do.
The Cons of Scapple
So what's the trade-off? What's not as thrilling about Scapple?
Well, for one, Scapple really just does the one thing. This isn't a problem if all you're looking for is a story planning tool. But in a market where you can find writing tools that cover the entire writing process, it's worth considering if a one-trick pony is worth the cost.
It also seems to me that Scapple allows you to do something on your computer that's simpler and maybe even more enjoyable with pen and paper.
But that's a personal preference thing. I know plenty of writers who dig a digital mind map. And admittedly, Scapple does allow you to change your mind on the page without all the eraser marks and scribbles.
‍There are no templates to work from, so you're always having to build your mind map from scratch. This can be liberating or tedious, depending on how you like to work. And while the keyboard shortcuts are convenient once you memorize them, it takes a little time to get in the groove.
Scapple is fairly affordable at $20.99 ($16.79 for students), but there is free mind mapping software out there. I'd even argue that some of it, like Lucidspark, is more attractive.
Finally, Scapple is a desktop-only situation. You can only access it from the device you downloaded it to, making it less ideal for those who have to create on the go.
Dabble vs. Scapple in a Nutshell
So what's the short version?
Basically, Dabble is the more versatile option. It's a comprehensive tool that carries you through the entire novel writing process from planning to revising.
You can access all your brainstorming and plotting tools—the Plot Grid and Story Notes—right from your manuscript as you write. And the highly structured nature of the Plot Grid allows you to explore creatively while ultimately shaping a tight, well-crafted story.
Because it's usable on any device, online and off, Dabble's a great option for writers who have to sneak writing sessions in between meetings, classes, or family obligations.
Where Scapple excels is in the price and options for visual brainstorming. While the jury's out on whether or not it's any better than its free competitors, Scapple requires a fairly low investment.
And the ability to build a mind web from scratch with several formatting options at your disposal means you can let your brainstorm session get just as wild as you want it to.
Which is Right for You?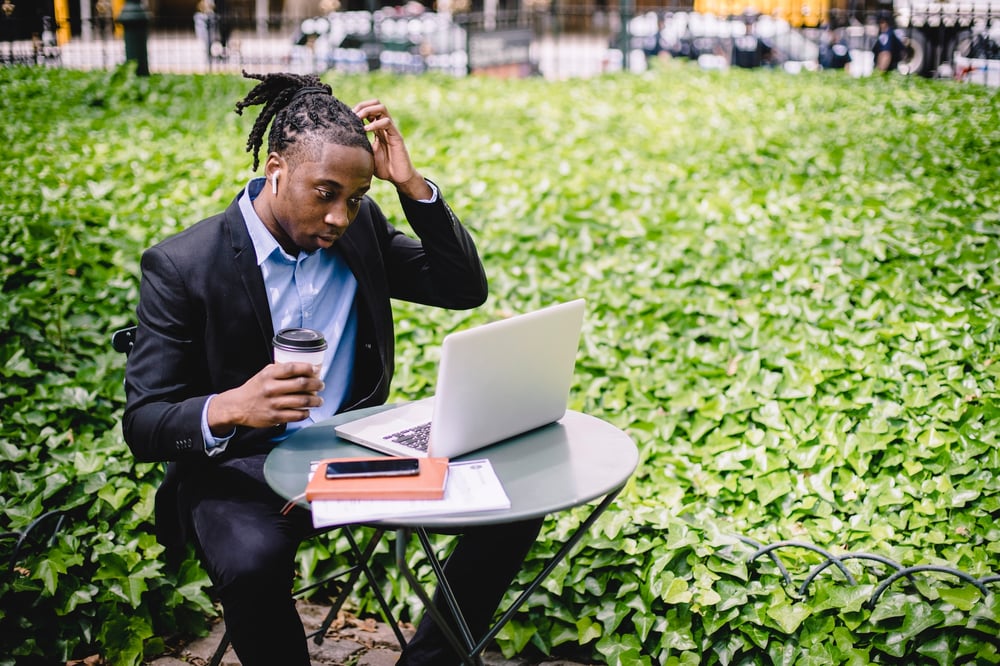 First of all, I want to point out that there doesn't have to be a Dabble vs. Scapple showdown at all. These two tools can easily coexist if you can see yourself benefiting from both of them.
As I mentioned before, you can upload your Scapple mind maps into your Dabble Story Notes. There you go. Best of both worlds.
But if you're looking for only one tool that suits your unique writing process, here's a quick guide.
You might prefer Dabble over Scapple if:
You want a tool that does it all
Templates and structure help your brainstorming process
You're looking for something to help you plan a story with a collaborator
A lot of your writing happens on multiple devices or in multiple locations, and you need a tool that moves with you
You'd love to have a story planning tool that helps you see all threads of your story at once
You might prefer Scapple over Dabble if:
You're all about the mind maps
No, seriously. You really just want a mind mapping tool. You're going to write your novel in Google Docs.
You use and love Scrivener. I would actually say this is the number one reason to choose Scapple. The fact that you can drag and drop mind map notes onto your Scrivener Corkboard is pretty cool.
Ultimately, all that matters is which software is going to get you where you need to be in your writing journey. If you think that's Scapple, you can check it out here. And if you think Dabble is more your speed…
How to Get Started with Dabble
Want to learn more about Dabble's many intriguing features?
These articles should help:
If you decide to give Dabble a whirl, you'll find that a lot of its functions are intuitive and don't take much time to learn. You'll more or less be able to jump in and start creating right away. But if you could use a little guidance, these short and informative videos will get you started:
Of course, before you can do any of that, you've got to claim your fourteen-day free trial. This gives you access to every single one of Dabble's awesome features so you can make sure this is the software for you. Click this link and get Dabblin'.
TAKE A BREAK FROM WRITING...

Read. Learn. Create.

Social Media Marketing for Authors
Book marketing. Those two innocuous words instill fear and loathing into the hearts of so many writers. You just want to write your books and have them sell themselves. Why do you have to tell people about it? Well, Susan, because you do. I know you want to write, but if your goal is to write, publish, and make money from your books, then you're going to have to find a way to make them visible. Thousands of new titles are uploaded to Amazon every single day. Millions of books are being published every year, and no matter how good your story is, without marketing, there's not much chance very many people will find it. 
keep reading
To Pants Or To Plot: Which One is Best For Your Story?
What kind of writer are you? Are you the sort who writes a meticulous outline that tips into the five digits or the type who sits down in front of a blank sheet of paper and lets the words pour out of you like a runaway train? Did you know there are specific terms for this kind of writing? Writers will come up with words for anything, I swear. Plotters are the first type of writer. They like to have detailed outlines that tell them exactly where their story is going. Pantsers are the other type of writer, which is kind of a weird name, but the term was coined by Stephen King (a famous pantser) to describe writing by the seat of your pants. Cute, eh? There is no right or wrong way to write your book, and I'm going to repeat this so many times. The right way is the way that works for you. 
keep reading
30 Dystopian Plot Ideas for a Terrifying Future
Dystopian fiction is one of the darker subgenres of science fiction and fantasy. It takes us into dark, foreboding worlds, where oppression and bleak landscapes are the norm. Books like 1984 by George Orwell, The Hunger Games by Suzanne Collins, and Brave New World by Aldous Huxley have become classics that shine a light on political corruption, environmental disaster, and societal collapse.Why do we love these stories? Maybe it's because dystopian fiction allows us to explore worst-case scenarios, to grapple with the idea that the world we know and love could be lost forever. It's a way for us to confront our fears and anxieties about the future, to see what could happen if we continue down a certain path.
keep reading