Scrivener Alternatives: Conquer Your Craft Your Way
Abi Wurdeman
April 20, 2023
It's true: there are Scrivener alternatives out there. Several, in fact. And I, for one, believe it's important for writers to know about them.
Not because there's anything wrong with Scrivener. It's a solid writing program that's been a good go-to for a lot of authors.
But not all writers are the same.
As we've discussed many times at Dabble, each of us has to find our own process. That includes identifying the writing software that grooves with the way we like to work.
If you're on the hunt for a tool that fits your specific needs, you've come to the right place. You're about to discover some of the top Scrivener alternatives, what they cost (if anything), and how they might help your unique routine.
But first, let's talk about why it's worth broadening your search in the first place.
Reasons You Might Be in Search of Scrivener Alternatives
While Scrivener is very popular with some writers, it's not the ideal writing software for all scribes.
Scrivener is a complex tool with loads of features, but it may not be ideal for those who:
Don't want to invest a lot of time learning how to use it. Scrivener comes with a steep learning curve, which delays your ability to leap in and start crafting your novel.
Get overwhelmed by visual "noise." Scrivener's features are well-organized in navigation menus and toolbars, which are right there for easy access as you draft your manuscript. Convenient? Certainly. But it's also the reason this is perhaps the most cluttered-looking writing tool out there.
Need to collaborate. While there are ways to share and collaborate on projects through Scrivener, it's a clunky system. There's no real-time syncing, and frankly, other writing tools offer much smoother co-authoring functions.
Want to keep it simple. For a lot of writers, Scrivener's complex features only present more opportunities for distraction. Mastering Scrivener can feel a bit like a time and energy suck when you just want a simple tool to streamline your plotting and writing process.
If you fit into any of those categories, here are some Scrivener alternatives worth considering.
Dabble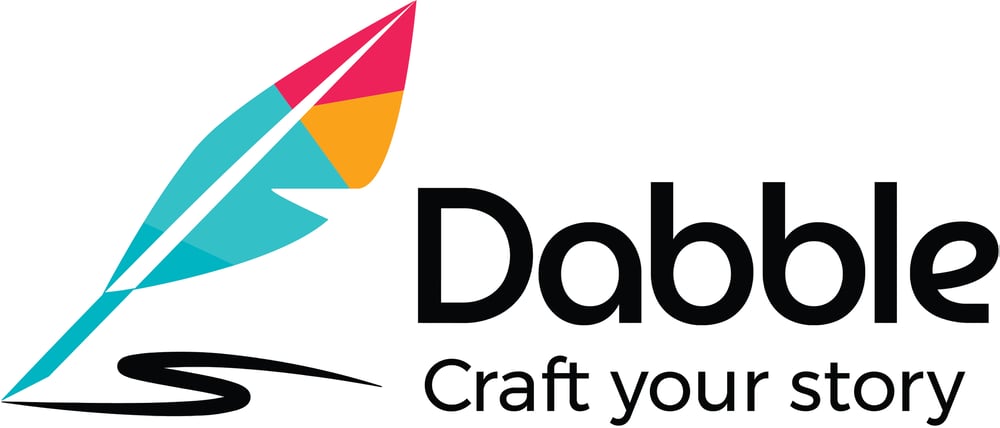 This was the Scrivener alternative I picked several years ago. Dabble's only gotten better since it became my go-to.
For me, the Plot Grid was a huge selling point. It provides an easy, visual method for structuring your story and keeping track of everything from story beats to character arcs.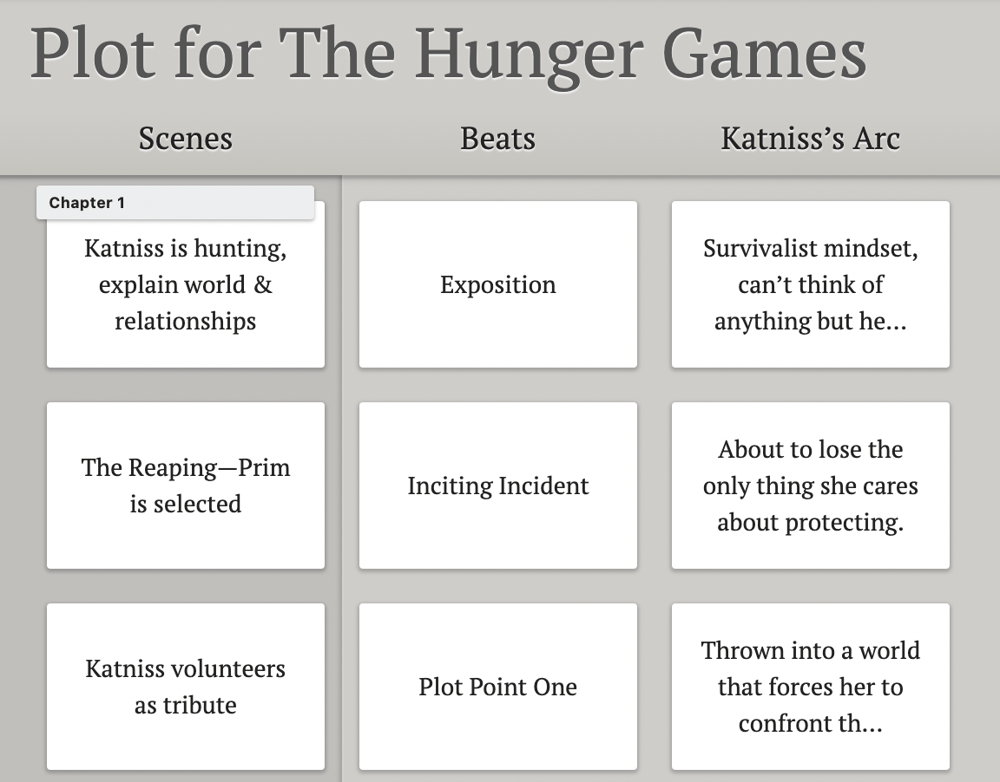 ‍Dabble also makes moving scenes as simple as clicking and dragging. You can even split and join scenes and chapters.
For writers who often find themselves stealing their writing time during little league practices or on their lunch break, Dabble is cloud-based and compatible with any device. You can continue your story anytime, anywhere. Your work is always autosaved, so you won't lose a single stroke of genius.
Like Scrivener, Dabble keeps your navigation menu, scene cards, and Story Notes easily accessible as you write. But Dabble manages to avoid the clutter effect with an auto fade feature that hides everything but your manuscript when you begin to type. (This feature can be disabled if you don't dig it.)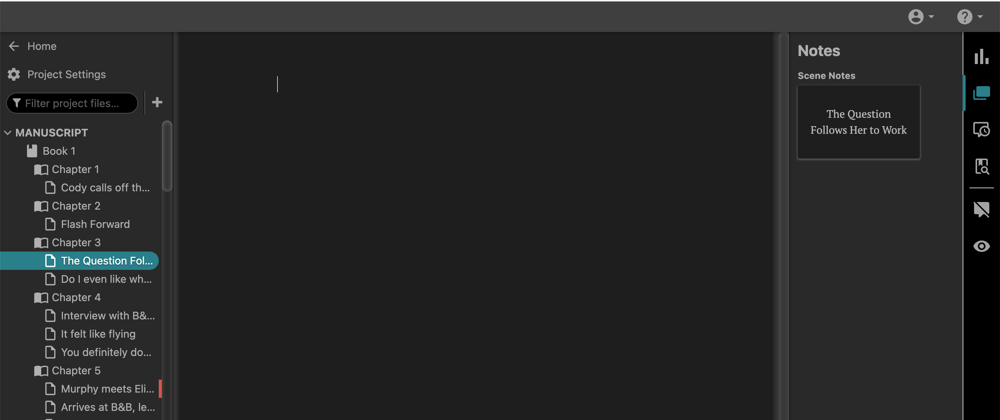 ‍Other features that make Dabble a stellar Scrivener alternative include:
Dark Mode (The two images above are in Dark Mode. So soothing on the eyeballs.)
Co-Authoring (Makes collaboration a breeze. I've tried it.)
Comments and Sticky Notes
Goal Setting and Tracking
NaNoWriMo Integration
Image Upload
Image Search Powered by Unsplash
Read to Me
Plot Labels
Thesaurus Tools
Spelling, Grammar, and Style Check powered by ProWritingAid
I usually describe Dabble to people as the sweet spot in the realm of writing tools. It provides everything you need to stay organized from planning and plotting to drafting and revising. But it doesn't get so wrapped up in the bells and whistles that you lose focus on the ultimate goal:
To write a novel that rocks.
Dabble is subscription-based, with plans ranging from $8/month to $20/month. You have the option to try before you buy, with a fourteen-day free trial that gives you access to all features.
Grammarly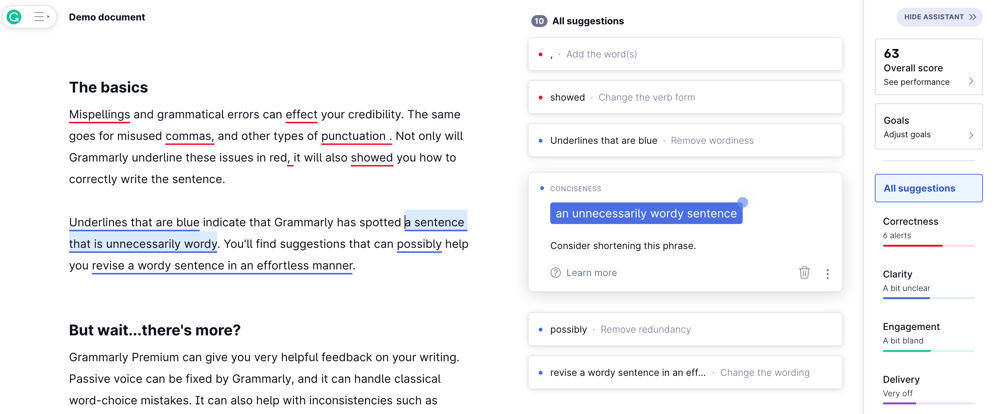 ‍Grammarly is definitely not a pure Scrivener alternative. This writing tool was made to help you sharpen your writing style, not streamline your story and character development.
But if you're on the hunt for writing software because you want more grammar and style guidance than Google Docs will give you, this tool could come in handy for you.
To use Grammarly, you'd either upload a document to your online Grammarly account or use the Grammarly plugin to review your writing in real time as you work in platforms like Google Docs or Wordpress. You can also integrate Grammarly with programs like Microsoft Word.
However you choose to use it, this tool reviews your writing and flags errors or opportunities for improvement. The value of the guidance you get depends on your plan.
For example, your free account will help you out with grammar, spelling, punctuation, conciseness, and tone detection. At the premium level, you enjoy more advanced features like word choice suggestions and full-sentence rewrites.
Grammarly can be a valuable tool for fiction writers. But keep in mind that it was designed primarily with business folks in mind.
Is there overlap between the principles of strong email authorship and compelling literary prose? Sure. But you might want to check out these next two options if you're in the market for software to help you sharpen your novel writing style.
Hemingway Editor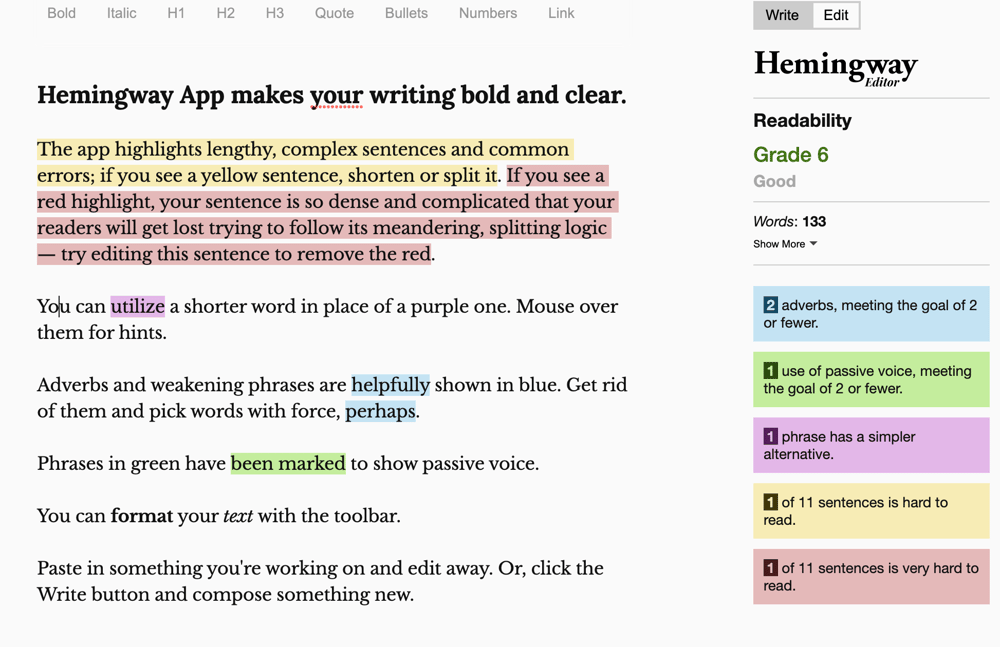 Once again, this is not a one-to-one Scrivener alternative like Dabble. No plotting features, no storage, none of that stuff. Think of it more like Grammarly. Only in this case, it's less about perfecting your grammar and more about advancing your writing style.
Hemingway Editor is all about readability. Are you using the active or passive voice? Do you have a few sentences that are long and convoluted? Are you using more complicated terms than you really need to?
Basically, this app exists to help you construct sentences like Ernest Hemingway would: clear, simple, and direct.
Now, is that something your writing needs? Depends.
I'd say Hemingway Editor is most useful for online content like this article—something where your number one goal is to be as clear as possible to as many readers as possible.
But as a novel writer, is it your goal to write at a fifth-grade comprehension level?
Maybe! But also, maybe not. It's purely a matter of your voice and style.
Having said that, Hemingway Editor will help you avoid common writing mistakes like passive voice, excessive adverbs, and confusing sentences.
And while the desktop application is $19.99, you can always run a troublesome section of your draft through the online editor for free.
ProWritingAid
‍ProWritingAid combines the best of both the Grammarly and Hemingway worlds and adds a little of its own thing.
Simply put, this writing software checks your work for:
Grammar and spelling
Common style issues like passive voice and repeated sentence starts
Overused words
Readability
Sentence length
Clichés
Pacing
Consistency
…and about a billion other things. They've genuinely thought of everything when it comes to mastering solid prose. There's even a feature that highlights all instances of alliteration so you can check the sound and rhythm of your writing.
What makes this software particularly useful for writers, however, is the fact that you can specify your document type. Not only can you get feedback on your manuscript as a "Creative" text, you can even clarify the genre you're writing in.
Of course, your access to all these features depends on your plan. The free version only allows you to check 500 words at a time and focuses feedback on grammar, spelling, and punctuation.
For all the other bells and whistles, you'd need the subscription-based premium plan for $10/month. This includes integrations that allow you to use ProWritingAid in other applications like Word, Google Docs, and more.
Ulysses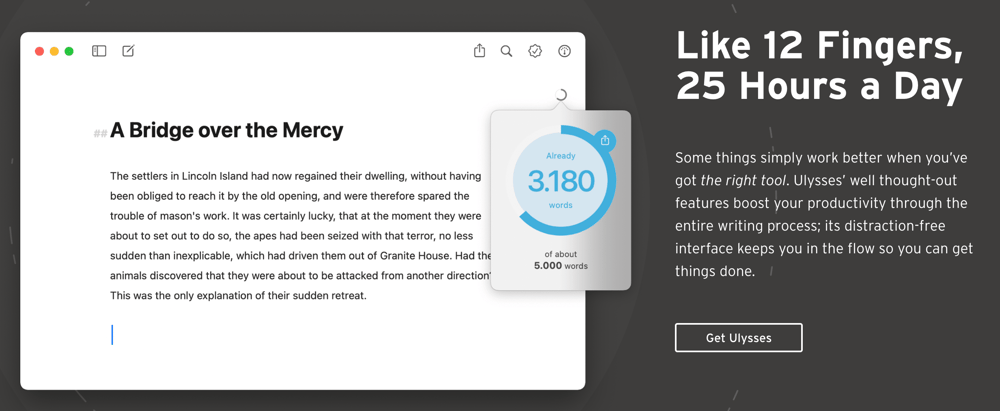 This writing software is compatible with Macs, iPhones, and iPads. End of list.
So if you're a Microsoft user, I'll save you some time and encourage you to skip ahead to the next section.
For Apple users, Ulysses is designed for writers who prefer a super minimalist vibe in their writing space. While this software does have enough features to make it a reasonable Scrivener alternative, it's not loaded with them.
It also maintains its clean, simple aesthetic by keeping menus tucked away and allowing users to format through Markdown language instead of toolbars.
Notable features of Ulysses include goal tracking, proofreading and editing assistance, and project organization systems. Unfortunately, Ulysses does not have a built-in collaboration feature at the time of this writing.
The price of Ulysses is simple and straightforward: $39.99/year or $5.99/month.
Microsoft Word
The biggest advantage of using Microsoft Word to write a book is that it's probably the software you know best. For decades, Word has been the standard in most educational and professional settings.
So odds are decent that you already know and use Word. Even if you don't, many of the editors, agents, and publishers you'll one day be working with do.
Of course, that doesn't mean you must write your novel in Word. Many tools (like Dabble and Scrivener) allow you to export your manuscript as a Word document.
The downside to Word is that it's a tool designed for broad application. It wasn't made to help you write a novel specifically. There are no plotting features, no easy way to move scenes around, no scene cards to access from within your manuscript… none of that good stuff.
Microsoft does offer a novel template, but it pales in comparison to what you get from software created specifically for fiction writers.
Having said all that, Word technically covers all the must-haves of novel writing in that it provides a space where you can write a novel. It also has basic editing features like spellcheck and find and replace to at least get the most glaring errors off the page.
(But remember: you also need a human eye to edit and proofread.)
Word allows for commenting and tracking changes if you ever want to share your file with a collaborator or editor. And while it doesn't allow you to navigate between chapters as easily as you would with Dabble or Scrivener, you can at least use headings to find chapters without too much effort.
If you don't already have Word, you can get it for $159.99 or access it through Microsoft 365 for $6.99/month.
Google Docs
Here's another one you may already know well, especially if you've ever collaborated on a project.
The biggest benefit of Google Docs is that it allows you to work on the same document with other people. It syncs edits in real time, so you're able to see your collaborator's changes the moment they make them.
Of course, you also get this feature in software like Dabble in addition to the story planning functions Google Docs doesn't offer.
Aside from the real-time collaboration, Google Docs shares many of the same functions as Word. So once again, this is a Scrivener alternative that's more useful to you if all you're looking for is a place to put your words on the page.
The one truly unique advantage of Google Docs is that it's the most accessible writing software. You can invite anyone to view, edit, or comment directly in your document. They don't need to have a special subscription to access it—just a free Google account. And you don't have to take the extra step of downloading and sending a file.
Test Drive Dabble for Free!
I'm sure it won't come as a surprise that Dabble would be my top recommendation among Scrivener alternatives.
It's easy to customize Dabble's features to meet your needs. It's got everything you need to get and stay organized throughout the messy novel writing process. And it's the most intuitive system I've come across.
But every writer has their own systems and priorities, which is why I'd encourage you to get in on Dabble's free fourteen-day trial. You don't even have to enter a credit card to get started and you get access to all the features I mentioned above (plus a few I left out).
Ready to give it a whirl? Click this link and you'll be on your way!
TAKE A BREAK FROM WRITING...

Read. Learn. Create.

Social Media Marketing for Authors
Book marketing. Those two innocuous words instill fear and loathing into the hearts of so many writers. You just want to write your books and have them sell themselves. Why do you have to tell people about it? Well, Susan, because you do. I know you want to write, but if your goal is to write, publish, and make money from your books, then you're going to have to find a way to make them visible. Thousands of new titles are uploaded to Amazon every single day. Millions of books are being published every year, and no matter how good your story is, without marketing, there's not much chance very many people will find it. 
keep reading
To Pants Or To Plot: Which One is Best For Your Story?
What kind of writer are you? Are you the sort who writes a meticulous outline that tips into the five digits or the type who sits down in front of a blank sheet of paper and lets the words pour out of you like a runaway train? Did you know there are specific terms for this kind of writing? Writers will come up with words for anything, I swear. Plotters are the first type of writer. They like to have detailed outlines that tell them exactly where their story is going. Pantsers are the other type of writer, which is kind of a weird name, but the term was coined by Stephen King (a famous pantser) to describe writing by the seat of your pants. Cute, eh? There is no right or wrong way to write your book, and I'm going to repeat this so many times. The right way is the way that works for you. 
keep reading
30 Dystopian Plot Ideas for a Terrifying Future
Dystopian fiction is one of the darker subgenres of science fiction and fantasy. It takes us into dark, foreboding worlds, where oppression and bleak landscapes are the norm. Books like 1984 by George Orwell, The Hunger Games by Suzanne Collins, and Brave New World by Aldous Huxley have become classics that shine a light on political corruption, environmental disaster, and societal collapse.Why do we love these stories? Maybe it's because dystopian fiction allows us to explore worst-case scenarios, to grapple with the idea that the world we know and love could be lost forever. It's a way for us to confront our fears and anxieties about the future, to see what could happen if we continue down a certain path.
keep reading