Alternatives to Novlr: Exploring the Best Novel Writing Software
Abi Wurdeman
September 22, 2023
If you've got big plans to write a novel but (correctly) suspect that Word isn't the easiest program to use for such an endeavor, you've probably been on the lookout for top-notch writing software.
Of the many options out there, one of the most popular programs is Novlr. This online novel writing software is well-loved for its intuitive interface, distraction-free presentation, and productivity analytics.
But is it the best writing tool for you?
We've compiled a list of six Novlr alternatives worth your consideration. You're about to learn:
What sets each program apart
What users are saying about these writing tools
How they compare in terms of price
How to determine which writing software best fits your writing process
First, let's talk about where Novlr falls short for some authors.
Why You Might Be Looking for Novlr Alternatives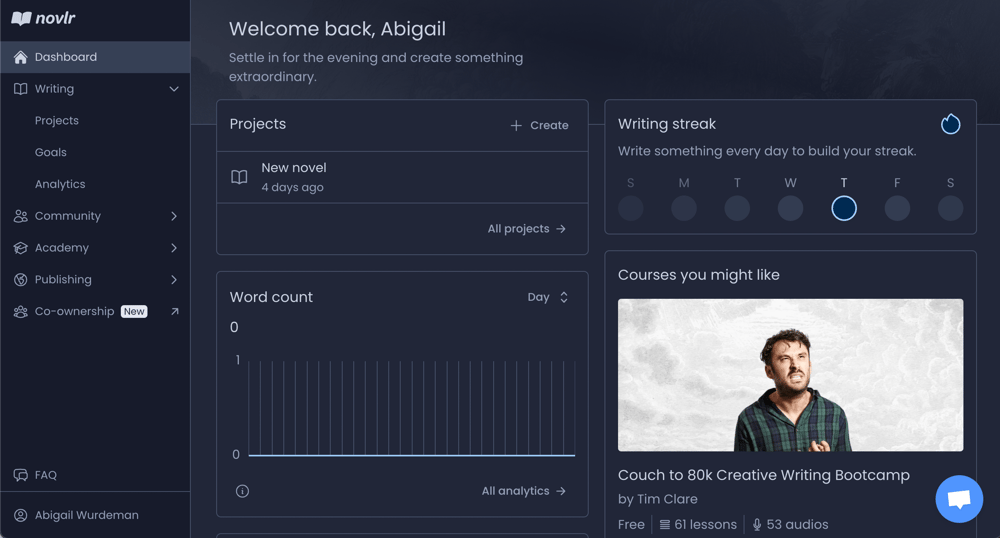 Let's be clear: Novlr is one of the most popular writing tools for a reason. It's easy to use, features an attractive interface, comes with integrated writing courses, and includes extensive analytics for tracking your progress.
That said, no one writing tool does it all (we checked), and if Novlr doesn't meet your biggest priorities, it's worth looking around. Here are some reasons you might keep browsing or switch tools.
You want more planning features - Novlr is essentially an online word processor—no planning or plotting features involved.
You want to spend little to no money - While it's priced competitively and has a free option with fewer features, you can find cheaper or even free online writing software.
You work with a co-author - Novlr allows you to invite others to comment on your draft but not edit it.
You want a desktop writing app - Novlr is only available online, which means you can only work on your draft when you have an Internet connection.
What to Look for in Novel Writing Software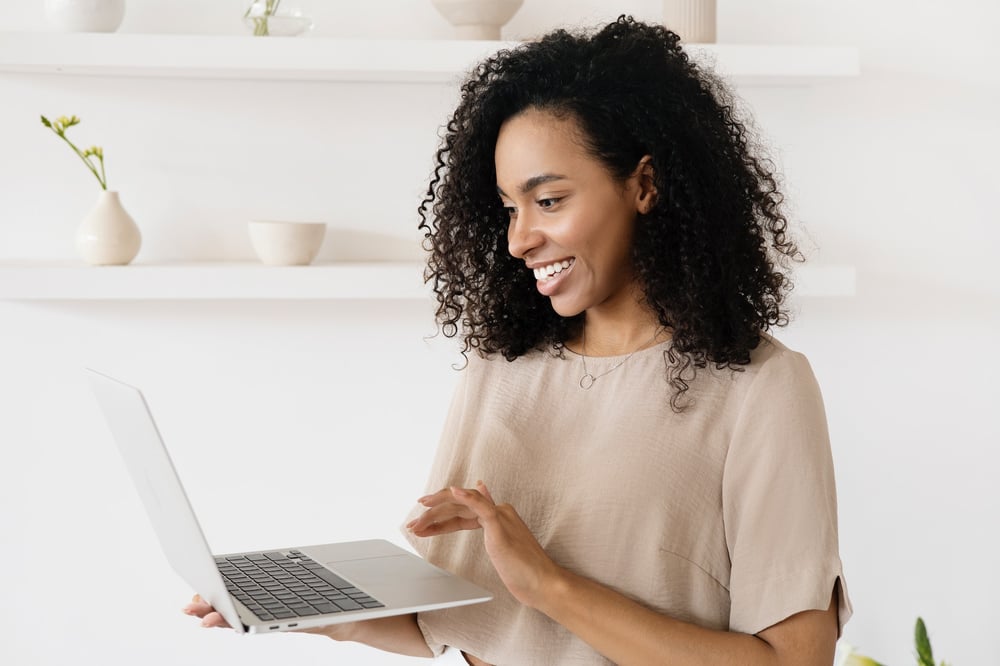 When selecting a writing program, your only goal should be finding the tool that works best for the way you write.
Nevertheless, we'd like to suggest a few features worth considering as you embark on your software search.
Planning and plotting - Are you able to brainstorm and plot your story in the same software you use to write it?
Import/export - How easy is it to import files and export projects in the formats you need?
Intuitive interface - How steep is the learning curve? Will you be able to jump in and start writing immediately? If you need some time to get familiar with the software, do the features seem worth it?
Autosave and cloud storage - Can you use the novel writing software in full confidence that every word of your brilliant masterpiece will be saved?
Collaboration capability - Will your editors and beta readers be able to access your draft within the writing app? Can they comment? Can you write with a co-author on a shared draft in real time?
Versatility - Is the writing software available on every device you use for writing? Are there online and offline versions?
Price - Does the price seem worth the benefits? Does it work for your budget?
Top Alternatives to Novlr
If you're thinking that Novlr might not be the novel writing software for you, here are some alternatives worth considering.
Dabble
We might be a tad biased here, but we're going to say it anyway:
Dabble is one of the best novel writing programs out there.
Like Novlr, Dabble is quick to learn, nice to look at, features a distraction-free interface and dark mode option, and helps you stay on top of your writing goals with a word-count tracker and goal-setting features.
What sets Dabble apart is that it features clever planning tools like the famous Plot Grid. If you're not familiar, the Plot Grid is a plotting tool that allows you to track multiple story elements alongside your scenes. This helps you manage multiple storylines, character arcs, pacing, and more.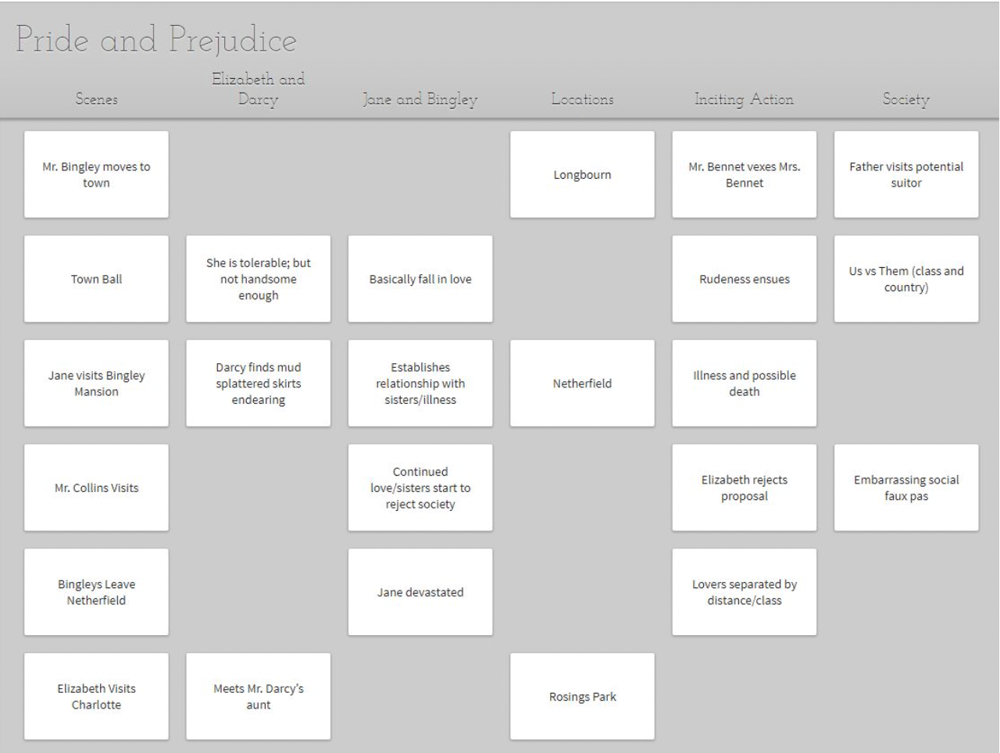 The versatile Story Notes are great for storing research, crafting character profiles, creating worldbuilding bibles, and anything else you need to nail down your planning process.
Writing with a co-author? Dabble even supports real-time collaboration.
You can use Dabble on any device, and unlike Novlr, it includes a desktop app so you can use it online or off, whenever and wherever. It also features autosave and cloud backup so you never have to worry about losing those hard-earned words.
One area where Dabble falls short of some of the other options on this list is its import and export capabilities. Currently, you have to go the cut-and-paste route to create a Dabble manuscript from an existing file. You can export your Dabble manuscript as a text file, a Word doc, or (coming soon) export to Google Docs.
The nice thing, however, is that the system automatically formats your Word doc to meet industry submission standards.
Scrivener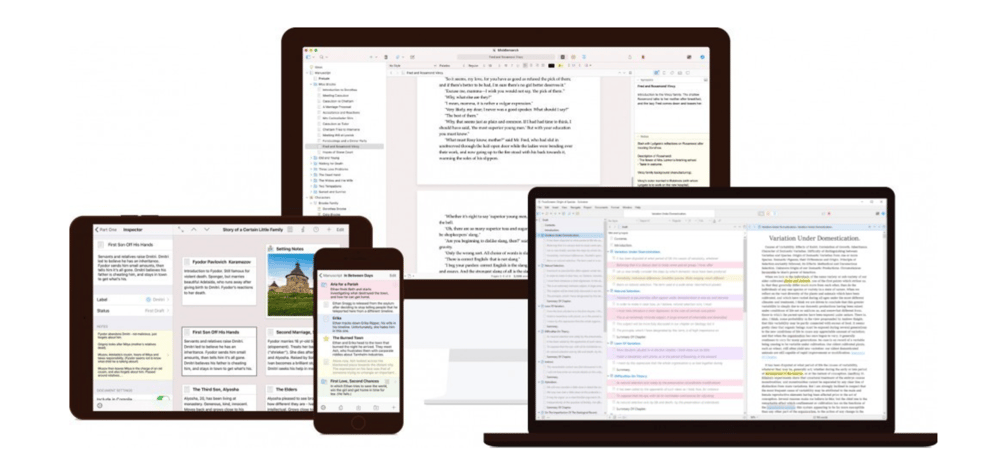 If you've heard of Scrivener, you might know it as the most intimidating novel writing software out there. As writing apps go, this one is pretty involved and the learning curve is steep. But if you love bells and whistles, you might find Scrivener is well worth the time you'll spend on video tutorials.
This tool gives you access to customizable corkboards, a complex outliner tool, multiple formats, and handy options for storing audio files, research materials, and more.
Like Dabble, Scrivener can be used on multiple devices, online or offline. It also has an autosave function.
Users love the fact that Scrivener allows you to import and export a wide range of file formats, though many complain that the exporting process can be a bit complicated.
It's also worth noting that while co-authoring is technically possible on Scrivener, it's pretty clunky. The happiest Scrivener users tend to write solo.
Ulysses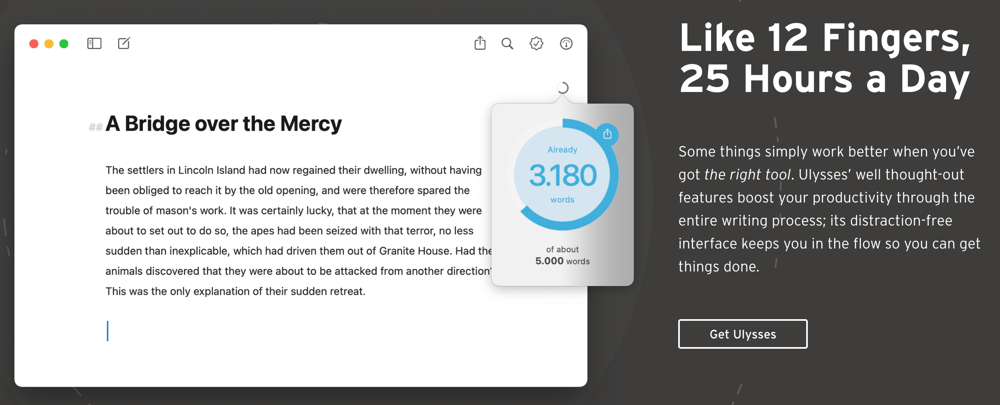 If you're not writing on a Mac, iPad, or iPhone, you can skip ahead to yWriter. Ulysses is very cool, but it's an Apple-only situation.
This is a minimalist novel writing app ideal for the writer who just wants a simple, attractive interface that keeps them focused on getting the words down right. There are no planning tools, but this program does feature a proofreader, editing assistant, and word-count goal tracker.
Like Dabble and Scrivener, Ulysses offers automatic backup. It's worth noting, however, that Ulysses uses iCloud to sync between devices and some users have reported that it's a bit clunky. You can import and export a range of file types as well as publish directly to a blog.
Unfortunately, Ulysses does not currently support collaborative writing.
yWriter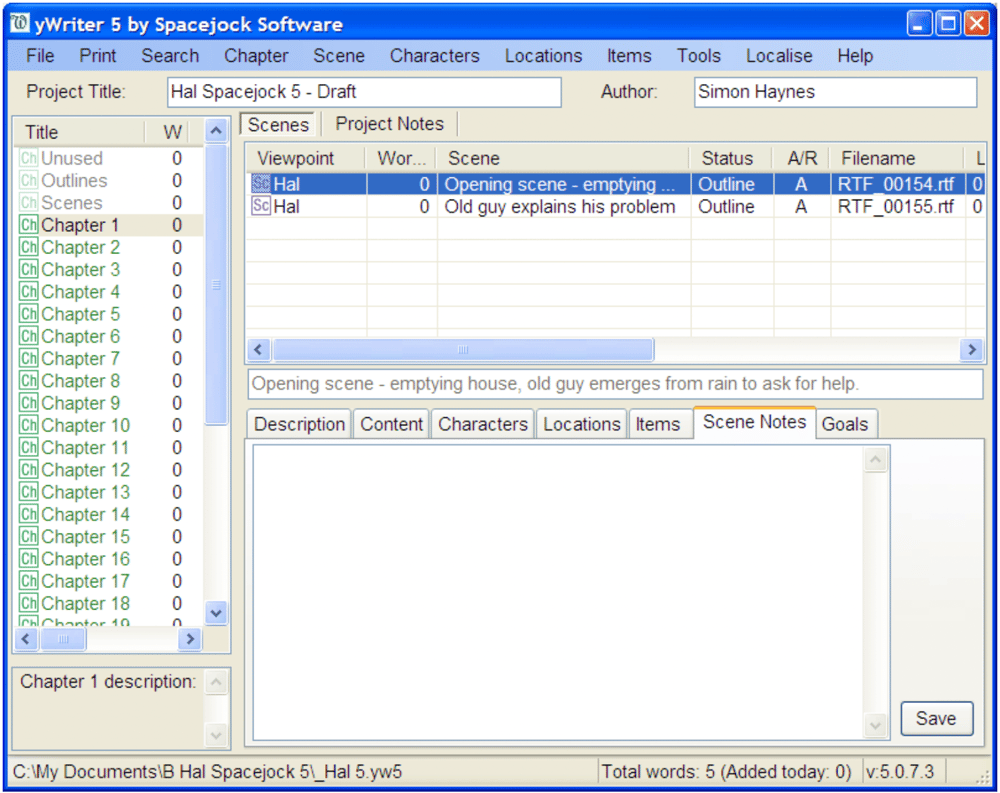 The first thing you should know about yWriter is that it's free. You have the option to pay for registration, but it's not mandatory. Even then, the price of registration is pretty low compared to other apps, including Novlr.
Although yWriter was created as a word processor, it comes with a range of handy planning tools. You can create extensive character notes, track locations, craft an outline, and more. These features don't take too long to learn.
You can use this novel writing software on a wide range of operating systems, though as of this writing, macOS is still in beta.
Originally an offline writing software, yWriter now has an app that allows you to sync using third-party cloud storage. Though, as you'll see in the reviews section below, users seem less thrilled with the mobile app than the desktop version. Collaboration is not available with this writing software.
The import/export options are also extremely limited, though it's worth noting that it allows you to export an ebook to Calibre.
If looks are important to you in a novel writing tool (no judgment; same here), you should know yWriter isn't the cleanest looking interface on this list. But again: plenty of great features and you can't beat the price.
Google Docs

Google Docs—another free online word processor—probably has the most familiar interface on this list. Odds are decent that you've used Google Docs before. If you haven't, there's a good chance you've at least used Microsoft Word. And if you know how to use Word, you'll probably adapt to Google Docs in a matter of minutes.
This program wins big points for versatility. You can use it online or offline on any device and collaborate with anyone who has a free Google account. It automatically syncs and saves, plus it stores previous versions so you can draft and edit with total peace of mind. Importing and exporting is a breeze.
The biggest downside, however, is that this program wasn't designed to be a novel writing app. Once you hit a word count of about 40,000 or more, Google Docs becomes super slow and a little glitchy.
This also isn't a great option if you're looking for a program that includes planning and plotting tools. Google Docs has exactly zero.
Hemingway Editor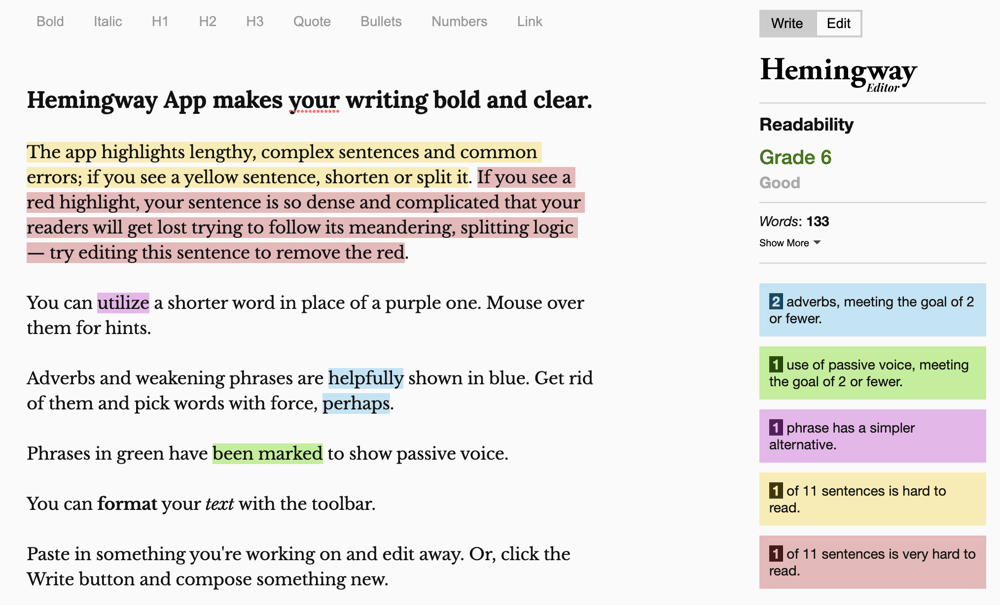 If you're hoping to find a comprehensive novel writing tool—or even a simple online word processor—Hemingway Editor is not that. It is, however, a great supplemental app.
Hemingway Editor is an editing tool (go figure). That's all it does. There are no plotting features and you probably wouldn't want to use it to draft a novel.
That said, it has something to offer that the other Novlr alternatives on this list don't, even when you factor in their built-in editing tools. Hemingway Editor focuses on readability and style issues. It flags issues like passive voice, convoluted sentences, and oversized words.
This tool has both an online version and a desktop app.
User Reviews and Testimonials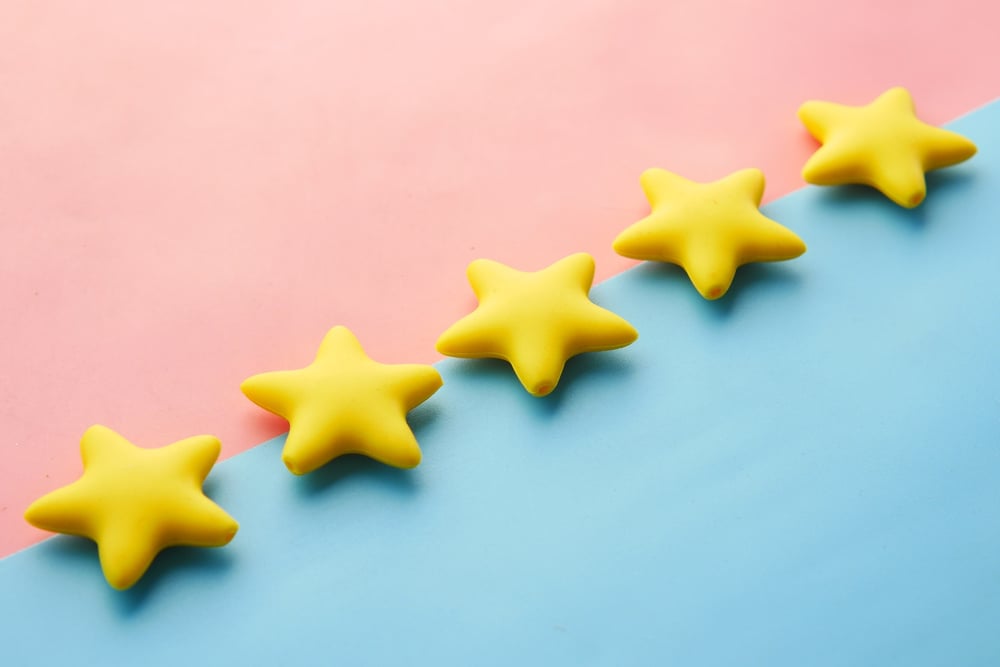 So those are the facts. But what are writers like you saying about these novel writing programs?
Let's take a look at some fairly typical reviews.
Dabble

Pro:
"Dabble is the perfect mix of all the features I love about Scrivener with the ease of access and synchronization I got from writing on Gdocs. I've watched it grow for a bit and with every iteration it becomes something even better." –Product Hunt review
Con:
"I encountered difficulty in importing any of the files, but I was able to successfully copy and paste the extensive script." –G2 review
Scrivener

Pro:
"Unbelievable value for the price. Amazing amount of features." –GetApp review
Con:
"In a way, there are too many functions available and it can be overwhelming at times. Sometimes I have difficulty finding my book on the left side as the binders confuse me." –GetApp review
Ulysses

Pro:
"I love the fact that the editor just gets out of my way, almost as if I have a blank page in front of me." –Mac App Store review
Con:
"If it was available on Windows it would be nice to use across platforms ... sadly it's not." –G2 review
yWriter App

Pro:
"Seriously the best novel-writing app available. Great organizing abilities, even if it is a stripped down version of the Mac/PC program." –GooglePlay review
Con:
"I had used the desktop version for years and loved it, it was easy to use, intuitive and worked like a dream… this version for iPad I can't even figure out how to begin writing anything other than a description." –Mac App Store review
Google Docs
Pro:
"I love how easy it is to use and how file sharing is super integrated. The quality for the cost of the product is super." –GetApp review
Con:
"Google Docs lacks the formatting powers that many offline local word processors have." –Software Advice review
Hemingway Editor
Pro:
"Hemingway is incredibly easy to use. I think that's the best part of it." –G2 review
Con:
"Ultimately, I don't like how my writing 'sounds' after I've run it through Hemingway. Its suggestions are just too ... 'caustic'... for my tastes." –G2 review
Pricing Comparison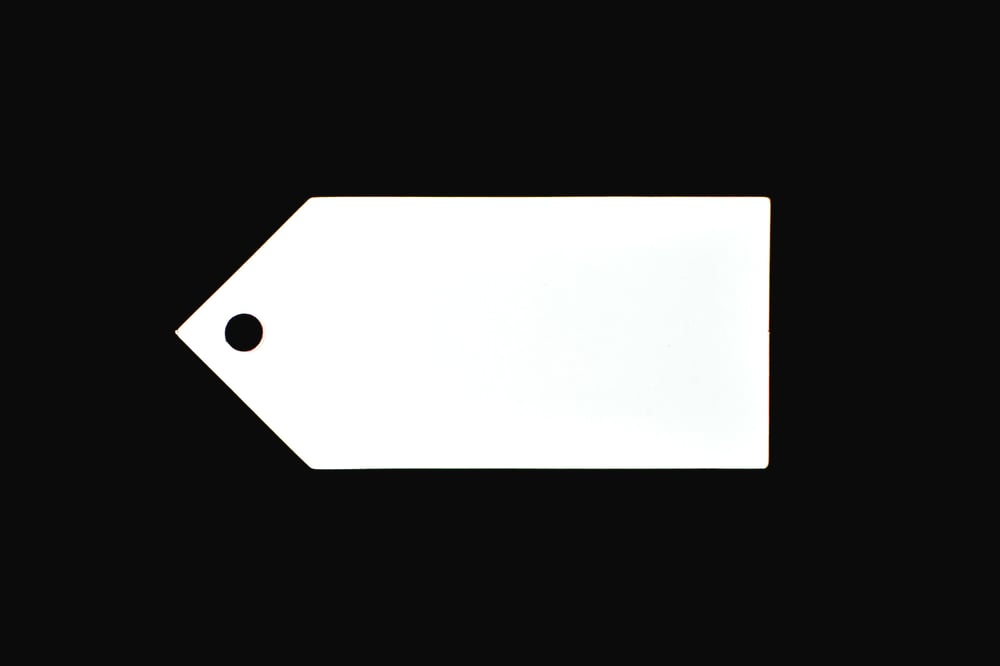 Now that you've got the deets on the pros and cons of these writing apps, let's talk dollars and cents. Quick disclaimer: all of the following information reflects prices and offers at the time of this writing (August 2023). Click the links to check the current rates.
Dabble

Freebies:
Dabble offers a 14-day free trial that gives you access to every single feature—no credit card required!
Plans:
Basic - $10/month
Standard - $15/month
Premium - $20/month
One subscription covers access on all your devices and includes future upgrades. Click here to see current prices and what's included in each plan.

Discounts:
Get 20% off when you choose an annual subscription
Get 30% off if you're a teacher or student
Snag a lifetime subscription for $499
Scrivener

Freebies:
Plans:
macOS - One-time payment of $59.99
Windows - One-time payment of $59.99
iOS - One-time payment of $23.99
macOS and Windows Bundle - One-time payment of $95.98
There may be additional charges for future upgrades. Click here to see current prices.
Discounts:
Students and academics can get the macOS or Windows license for $50.99
Ulysses

Freebies:
14-day free trial (automatically available when you download the app)
Plans:
$39.99/year or…
$5.99/month
One subscription covers access on all your devices and includes future upgrades. Click here to see current prices.
Discounts:
Students pay only $10.99 for six months
yWriter
yWriter is free, but you have the option to support the developer with a registration fee of either $11.95 or $24.95.
Google Docs

Google Docs is completely free.
Hemingway Editor

The online version of Hemingway Editor is free. If you want to download the app for Mac OSX or Windows, it costs $19.99.
Which Novel Writing Software is Right for You?
Only you can say for sure. Take a little time to determine what would be most helpful for your unique novel writing journey and compare your priorities to each app's best features.
Looking for something free and familiar? Only plan to write short-form masterpieces like short stories, poems, and essays? Try Google Docs!
Hoping to find software made specifically for novel writing but still don't want to give anybody your hard-earned dollars? Give yWriter a whirl.
Love the minimalist simplicity of Novlr but really need a writing app you can use offline? You might be looking for Ulysses.
Want a massive pile of plotting and planning features? Scrivener might be for you.
Dreaming of an autosaving, auto-syncing online/offline novel writing app that has an attractive interface and brilliant plotting tools without the steep learning curve of Scrivener? Why, you must be looking for Dabble!
And if you're still on the fence about any of these alternatives to Novlr, remember that you can try all of them for free.
In fact, now's the perfect time to take your first experimental plunge with Dabble. Click here, don't even think about touching your credit card, and start filling out that Plot Grid.
TAKE A BREAK FROM WRITING...

Read. Learn. Create.

Social Media Marketing for Authors
Book marketing. Those two innocuous words instill fear and loathing into the hearts of so many writers. You just want to write your books and have them sell themselves. Why do you have to tell people about it? Well, Susan, because you do. I know you want to write, but if your goal is to write, publish, and make money from your books, then you're going to have to find a way to make them visible. Thousands of new titles are uploaded to Amazon every single day. Millions of books are being published every year, and no matter how good your story is, without marketing, there's not much chance very many people will find it. 
keep reading
To Pants Or To Plot: Which One is Best For Your Story?
What kind of writer are you? Are you the sort who writes a meticulous outline that tips into the five digits or the type who sits down in front of a blank sheet of paper and lets the words pour out of you like a runaway train? Did you know there are specific terms for this kind of writing? Writers will come up with words for anything, I swear. Plotters are the first type of writer. They like to have detailed outlines that tell them exactly where their story is going. Pantsers are the other type of writer, which is kind of a weird name, but the term was coined by Stephen King (a famous pantser) to describe writing by the seat of your pants. Cute, eh? There is no right or wrong way to write your book, and I'm going to repeat this so many times. The right way is the way that works for you. 
keep reading
30 Dystopian Plot Ideas for a Terrifying Future
Dystopian fiction is one of the darker subgenres of science fiction and fantasy. It takes us into dark, foreboding worlds, where oppression and bleak landscapes are the norm. Books like 1984 by George Orwell, The Hunger Games by Suzanne Collins, and Brave New World by Aldous Huxley have become classics that shine a light on political corruption, environmental disaster, and societal collapse.Why do we love these stories? Maybe it's because dystopian fiction allows us to explore worst-case scenarios, to grapple with the idea that the world we know and love could be lost forever. It's a way for us to confront our fears and anxieties about the future, to see what could happen if we continue down a certain path.
keep reading