The Very, Very Best Google Docs Alternatives for Authors
Abi Wurdeman
September 22, 2023
If you've tried writing a novel on Google Docs, you've probably learned the hard way that this particular word processing tool was not designed for novelists.
Sure, Google Docs offers plenty of perks. It has a clean, intuitive interface with formatting tools that are easy to pick up. You get 15 GB of cloud storage with Google Drive (though that includes Gmail and Google Photos). Document sharing is a breeze—as is collaborative editing—especially considering most people already have a Google account.
It's also free—big points for that.
But once your document reaches 40,000 words or so (as anything longer than a novella will), things start to get slow and glitchy. You also don't get the planning features and publishing-specific formatting functions you get with the best Google Docs alternatives.
Not to mention, Google's reputation for collecting data to fine-tune advertising and AI may make some writers wary of using the platform.
So let's explore what else is out there, shall we? We'll discuss:
The criteria to consider when evaluating Google Docs alternatives
Three great writing programs worth considering
How all these alternatives stack up against each other
How to make the right choice for your writing process
Let's get to it.
Criteria for Evaluating Alternatives to Google Docs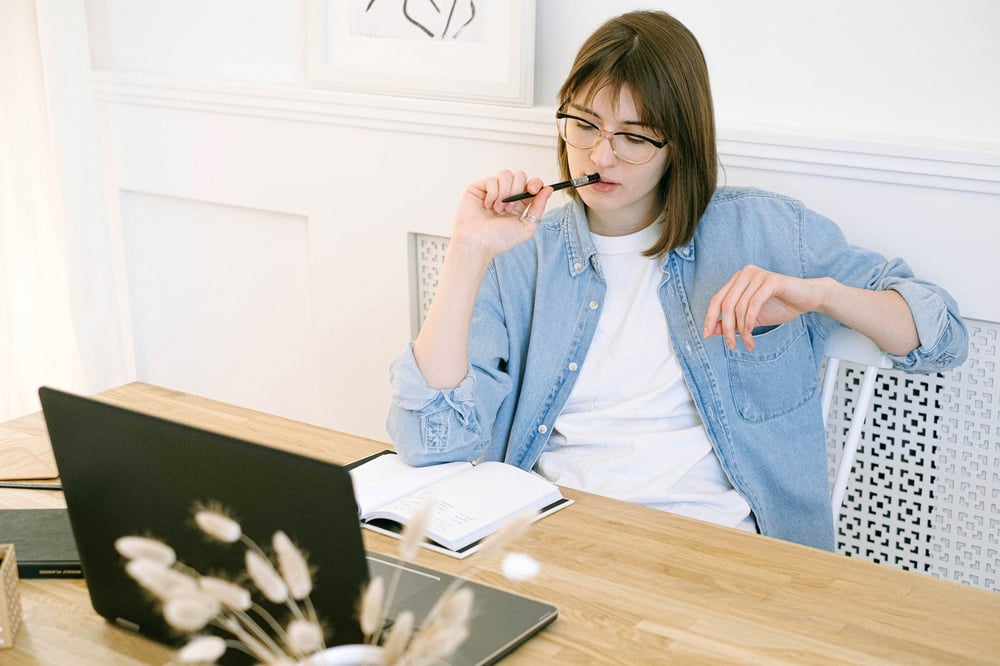 The trick is to find an alternative that offers key features you don't get with Google Docs without sacrificing the functions you've come to love.
And ultimately, you need to find the best Google Docs alternative for you. When we start breaking down a few options, you'll see that the writing software world has a seemingly endless variety of unique features. Your job is to figure out which functions work best with the way you think and work.
That said, a little guidance can help, and I think most writers can at least narrow down their options by considering these criteria:
User Friendliness
User-friendly writing software might be super intuitive—something you can learn how to use in an afternoon.
But if you're looking for complex features, tons of templates, and a customizable interface, you should expect a bit of a learning curve. In that case, the software might still be user friendly as long as its functions make sense, the system performs consistently, and you can easily find answers to your questions.
Writer-Friendly Features
When you venture beyond standard word processing software like Google Docs, you discover that there's a whole world of writer-focused functions to explore.
Do you want plotting tools like mind maps and timelines? How about goal setting features to help you finish your manuscript? Maybe a focus mode to keep you on task?
Real-Time Collaboration
As an author, you'll eventually want to get another set of eyes on our manuscript. Ideally several sets.
If you want your beta readers, editors, and/or co-author to comment and make edits on your document within your go-to writing tool, you'll want to choose a Google Docs alternative that allows real-time collaboration.
Cloud Storage
Some web-based word processing tools provide cloud storage, autosave, and automatic syncing with your account (like Google Docs does). You can write to your heart's content and always feel confident that your work is saved.
Versatility
Do you like to write on multiple devices, use different operating systems, or have the option of online and offline modes? Then you'll want a tool that offers that kind of versatility.
Templates
Could you use a little guidance with your formatting? What about story structure, worldbuilding, and character development? Make sure the Google Docs alternative you choose has all the templates you need.
Price
You can't really beat free, which is the price of Google Docs. Nevertheless, you might find that the cost of some alternatives is worth the value you get out of them. Consider your budget, goals, and priorities when deciding which features you're willing to pay for, if any.
Top Alternatives to Google Docs
We're about to do a deep dive on three great options for anyone looking for an alternative to Google Docs. If you don't see what you want in any of these, no worries—you can find a list of contenders at the end of this article or browse this corner of DabbleU to see what else is out there.
But at the very least, these three top alternatives will give you a good sense of the author-friendly features you can find when you venture beyond the Docs.
Dabble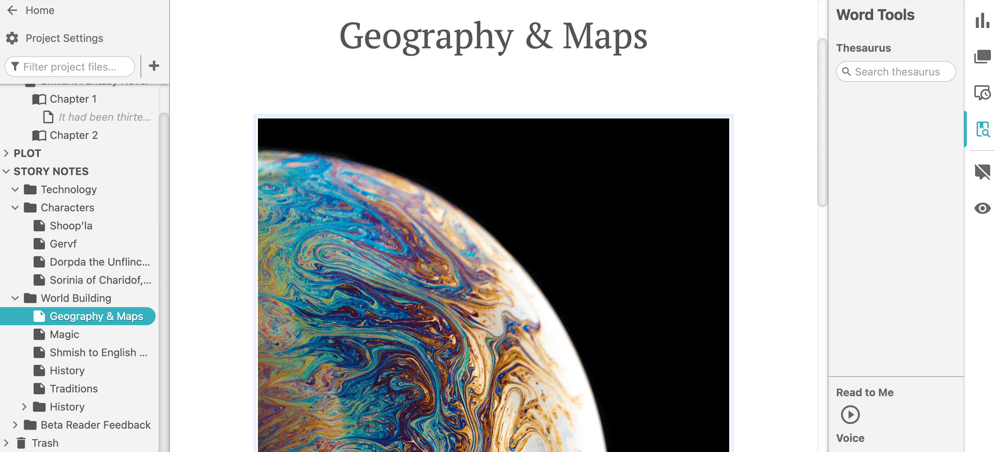 What? Our own writing tool made the list? What an unexpected—
Just kidding. We're obviously a little biased here, but we also know better than anyone how much research has gone into making Dabble a worthy alternative to Google Docs.
If you're not familiar with it, Dabble is an all-in-one novel writing program. It has everything you need to make the journey from first idea to properly formatted manuscript. It's also super intuitive and easy enough to learn in one writing session.
Dabble's Key Features

You can discover all of Dabble's features at this link, but here are some of the most popular:
Real-Time Collaboration
Work on the same project with another user or give nonsubscribers read-only access.
Intuitive Editing Tools
There's a built-in spelling, grammar, and style checker powered by ProWritingAid. You can also add comments and sticky notes, whether you're using them to communicate with a co-author or just talking to yourself.
Online and Offline Editing
Use the web-based app. Download the desktop app. Keep the mobile app on your phone so you can get a little work done in the school pick-up line. Write your masterpiece anytime, anywhere, with or without an internet connection.
You also get cloud storage, autosave, and automatic syncing.
Duplicate Project
Embarking on a rewrite but not ready to part with your original draft?
Dabble allows you to duplicate projects as many times as you need to so you can always refer back to earlier drafts, similar to the way you might use the version history feature in Google Docs.
Customizable Planning Tools
Dabble's flagship feature is the Plot Grid—a visual plotting tool that allows you to see your entire story at a glance, including scenes, subplots, character arcs, themes, locations, and loads more.
All the notes you create in the Plot Grid are right at your fingertips as you draft the corresponding scene.
Then there are Story Notes. You can customize these files to be whatever you need them to be. Create your worldbuilding bible, set up character profiles, upload photos of your location, or use the built-in image search (powered by Unsplash) to find idea-sparking visuals.
Goals
Set a word count goal, end date, and scheduled writing days. Dabble will calculate your words-per-day goal, track your progress, and remind you to celebrate your wins.
Focus Tools
Thanks to an autofocus feature, everything but your manuscript fades away as you begin to type. And if you're like me and find that a dark mode makes it easier to get into the zone, Dabble's got you covered with default, dark, and auto theme options.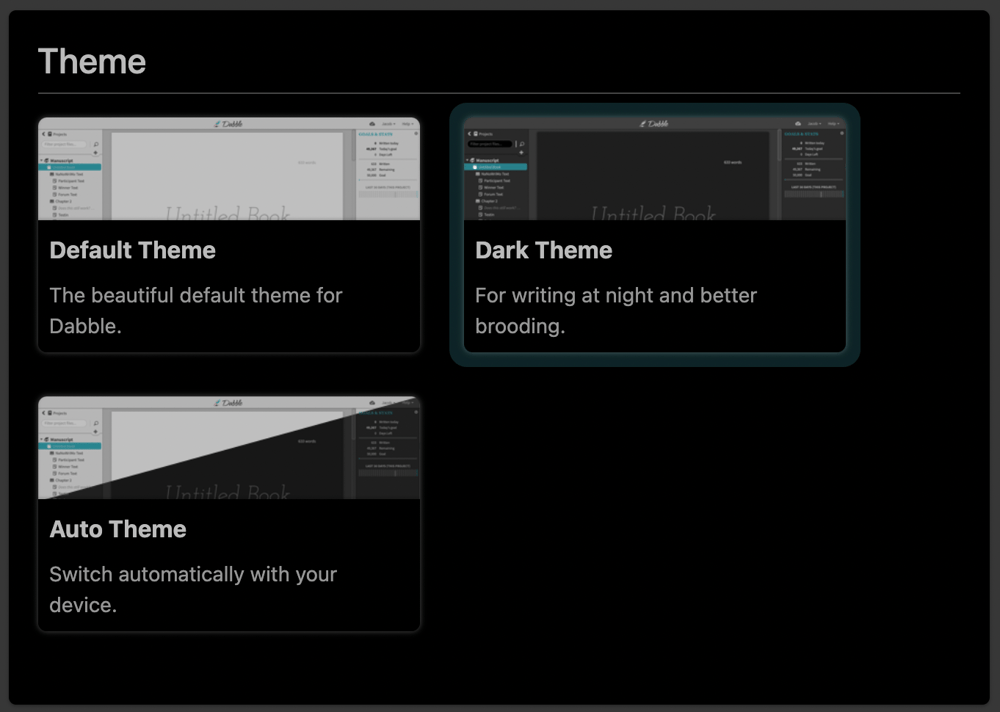 Templates
Dabble includes integrated genre-specific templates and (coming soon) character profiles. It also allows users to create and share their own templates.
You can find additional guidance in DabbleU's jam-packed article library, including downloadable worksheets and templates.
Crystal Clear Privacy Policy
It's even readable. You can check it out here.
Dabble Reviews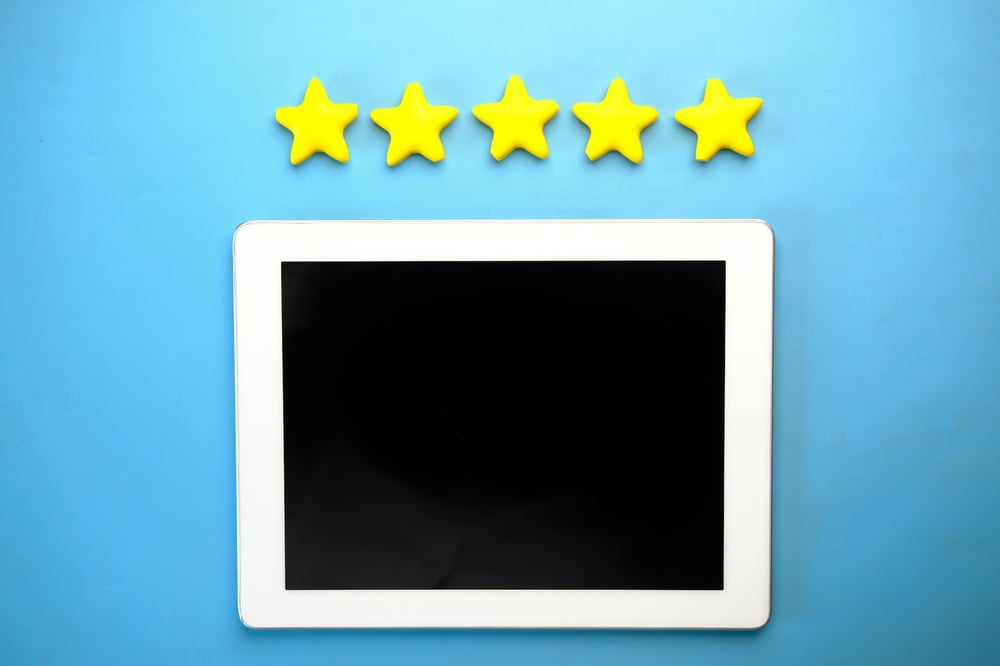 "It's simplistic in the best way, and it's gorgeous to boot. The plot grid may have blown my mind. I have never been so excited about outlining in my life." –Constance, Dabble review
"While you won't find a whole host of fancy features or themes or animated widgets to entertain you, what Dabble lacks in bloated features it makes up for in streamlined versatility, organization, and distraction-free workspaces." –Yaseen Sadan, Become a Writer Today
Price
Dabble offers a 14-day free trial (no credit card required), so you can decide for yourself if it's a worthy Google Docs alternative.
At the time of writing (September 2023), plans start at $8/month (paid annually). There are options for monthly, annual, and lifetime subscriptions, plus discounts for students and teachers. Learn more here.
Scrivener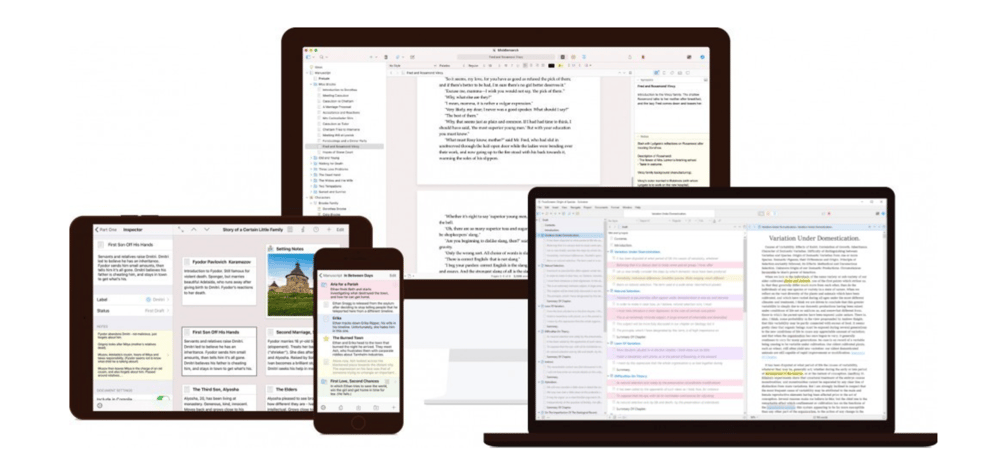 This Google Docs alternative is famous for its steep learning curve. Like Dabble, it's a creative writing tool that covers every step of the process—planning, drafting, and revising.
Unlike Dabble, you can't learn how to use it in an afternoon. But for some users, all that time spent scrolling through forums and watching video tutorials is worth the complex features they get.
Scrivener's Key Features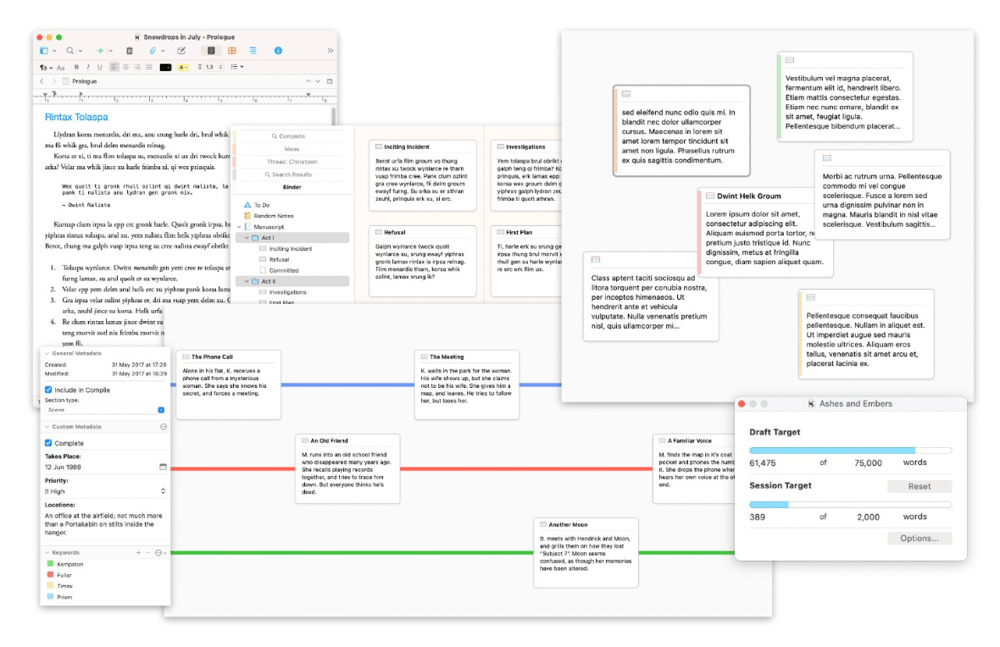 If you're in the market for a Google Docs alternative, these are the Scrivener features you're most likely to care about:
Snapshots
If you use the version history feature on Google Docs, you'll care about this. Take a "Snapshot" of a section before you revise it. That way you can return to it later. No risks and no regrets.
There's even a "Compare" function that shows you what changed between the Snapshot and your new version.
Autosave and Backups
Just like with Google Docs and Dabble, you never have to fear losing those hard-earned words.
Full Screen
Scrivener's complex functions can create a certain amount of visual clutter. The full screen option allows you to clear out everything but your manuscript so you can get in the zone.
Versatile Formatting Tools
Want to write a novel? Screenplay? Dissertation? Scrivener has all the formatting tools you need to accommodate a wide range of writing projects.
Customizable Planning Tools
One of Scrivener's best-known features is the corkboard, where virtual index cards correspond to sections within your manuscript. You can alter the presentation of your corkboard to plot multiple story lines, rearrange the index cards to rearrange your manuscript, and more.
There's also an outliner and several clever functions for organizing your research.
The possibilities expand when you experiment with built-in templates, import templates designed by other users, and create your own.
Side-by-Side View
Split the document editor to view as many as four documents at once. This comes in handy when you're checking for continuity, filling in plot holes, referring to your research, and more.
Available on Multiple Devices
Scrivener is available on Windows, macOS, and iOS. You have to buy a separate license for each operating system, but you can use them across all devices in a single household.
Scrivener Reviews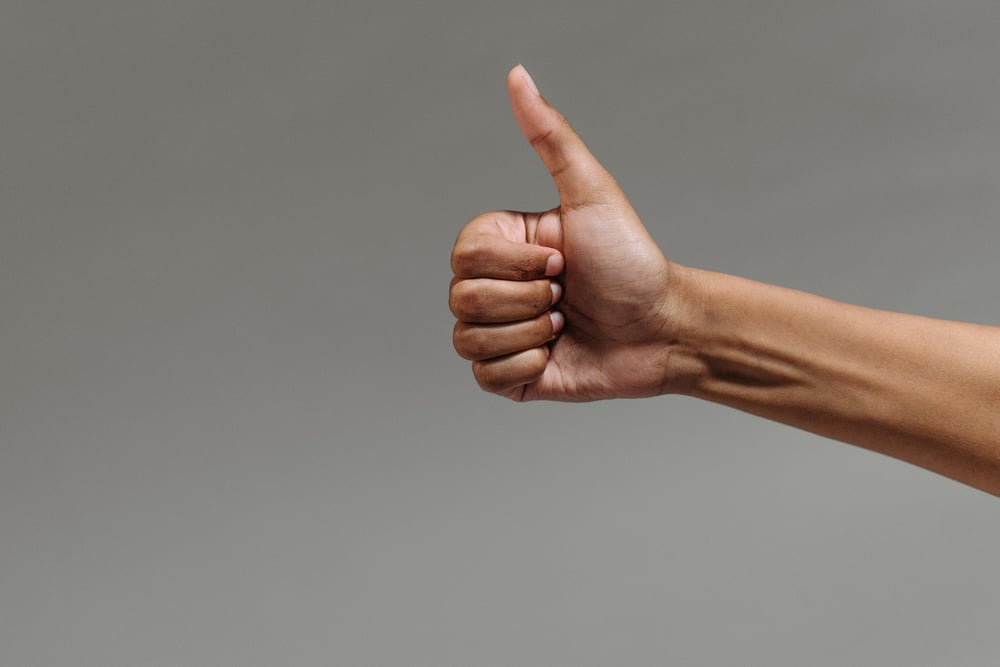 "This software is so flexible and customizable! It is also easy to use once you get the basics down, and it can be adjusted to suit any work style." –G2 review
"I love how I can collect research and easily access it for use in my writing projects. I can even save webpages and videos with the project!" –GetApp review
Price
You can try Scrivener free for 30 days. After that, it costs $23.99 for iOS, $59.99 for macOS or Windows, and $95.98 for a macOS/Windows bundle. There is a discount for students and academics.
Expect to pay for an update when future versions are released, though you'll likely be offered a discounted rate. Click here for the most current pricing information.
Microsoft Word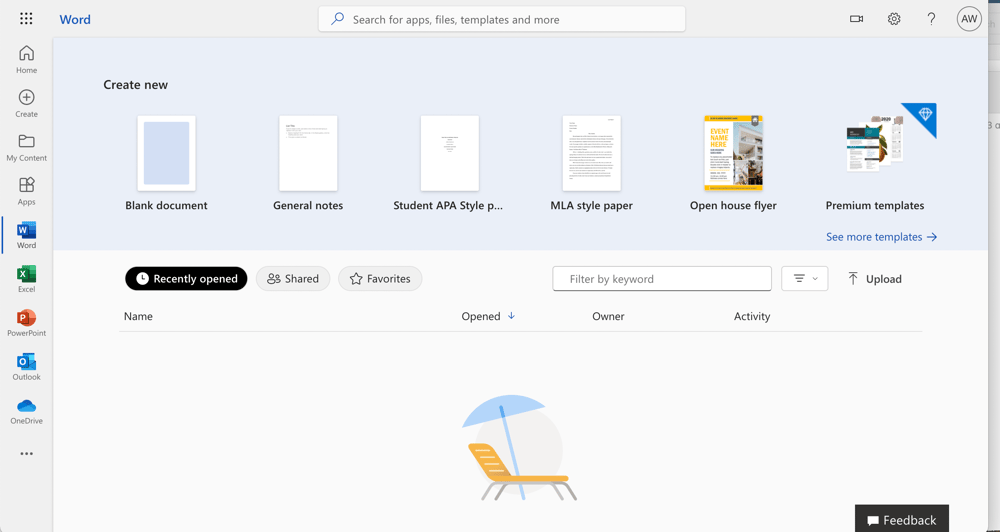 This is the Google Docs alternative that looks the most like Google Docs. If you're used to Google Workspace, then Word—and the rest of the Microsoft Office suite—will be a quick study.
That doesn't mean there's nothing to learn, however. Word is known for having more advanced features than Google Docs.
Microsoft Word's Key Features
Here's what you should know about MS Word:
Collaborative Document Editor
While real-time collaboration features used to be one of Google Docs' biggest advantages over Word, Word has now caught up with the launch of Microsoft Office Online. Well, sort of caught up. Document collaboration is still smoother with Google Docs.
Advanced Formatting Tools
Of all the Google Docs alternatives on this list, Word is the one you want if you need a lot of formatting control. While the other programs seek to make formatting simple and automatic, this word processing software comes with buckets of tools allowing you to create documents formatted to your exact specifications.
Not my ideal Sunday, but it might be a priority for you.
Online and Offline Editing
In addition to the desktop app many of us grew up with, Word is now also available online through Microsoft Office Online. There are also mobile apps for iOS, Windows Mobile, and Android devices.
Publishing Industry Standard
Word's .docx file format is the standard within the publishing industry. That doesn't mean you have to choose this particular Google Docs alternative, but you should make sure your chosen software can import and export .docx files (Google Docs, Dabble, and Scrivener all can).
Free Option
While you used to have to pay to use MS Word, you can now access it for free through Microsoft Office Online. Just be aware that the online version doesn't have all the features of the desktop app.
Microsoft Word Reviews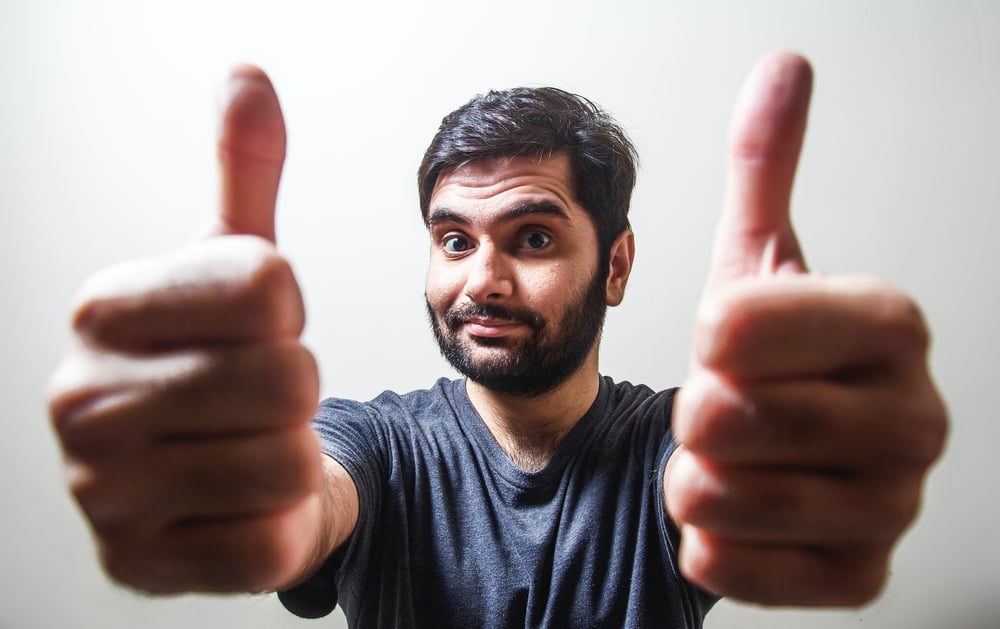 "I love Word's simplicity, visually appealing and intuitive UI, as well as its impressive formatting capabilities." –Capterra review
"It is extremely robust. The sheer amount of customization that you can do to make each document your own is useful." –Software Advice review
Price
As I mentioned above, you can use Word for free with Microsoft Office Online. You'll get fewer, more basic features—similar to what you'd expect with Google Docs.
If you want more advanced features, a Microsoft 365 subscription starts at $69.99/year. You can learn more here.
Quick Comparison of the Best Google Docs Alternatives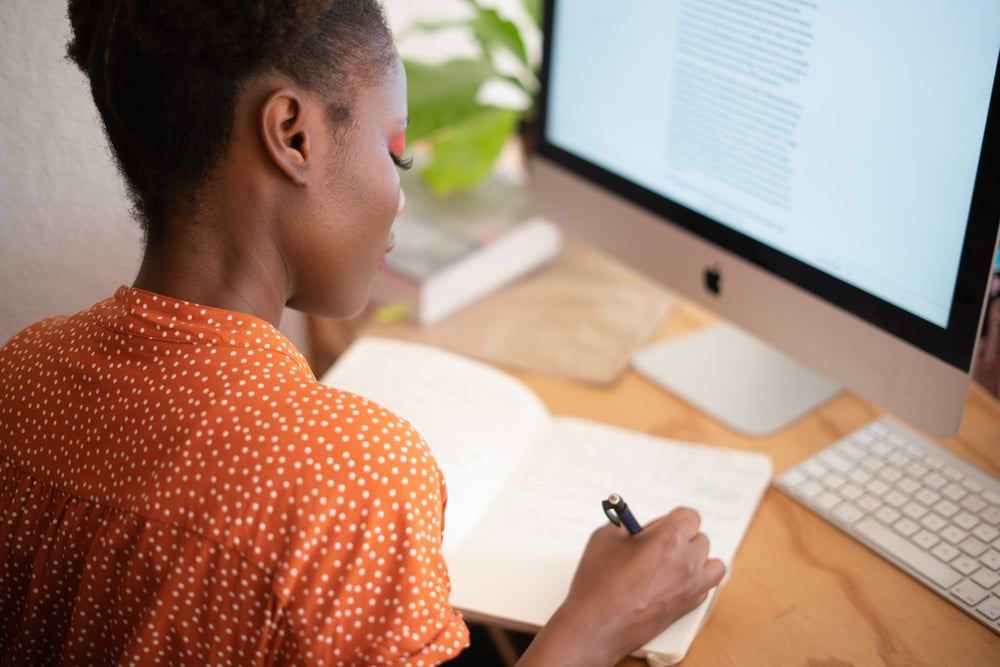 That was a lot of information. Maybe too much to process all in one go. In the interest of helping you see how these Google Docs alternatives stack up against one another, why don't I give you a quick-and-to-the-point look at the pros and cons of each?
Dabble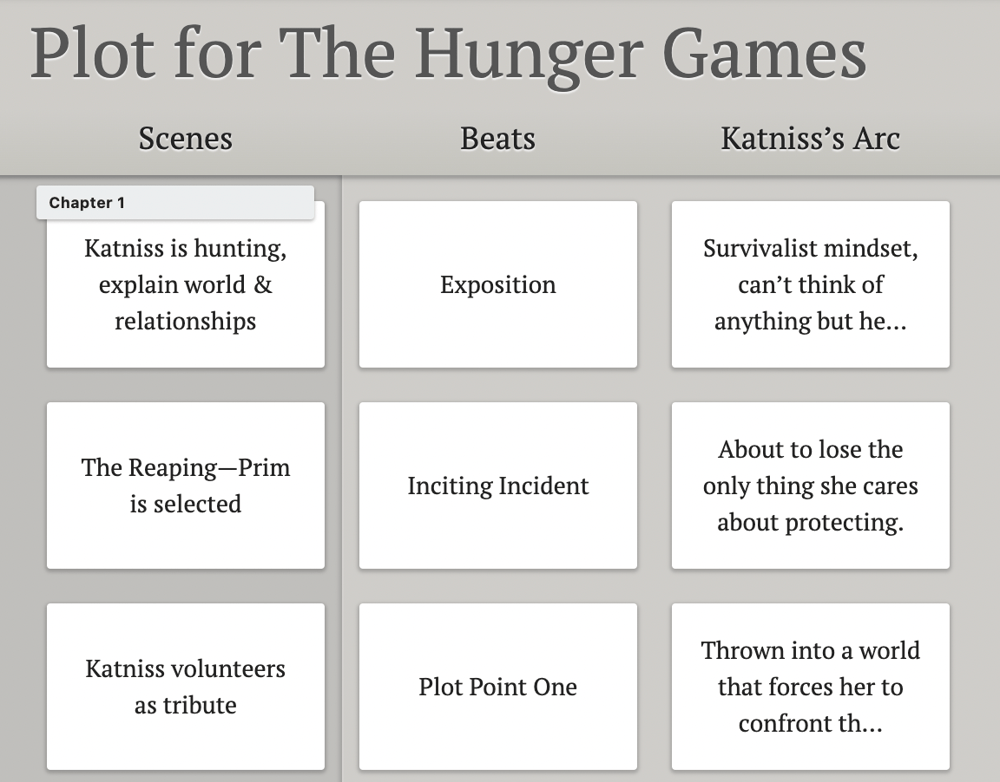 Pros
Tools for every phase of the writing process
Real-time collaboration
Customizable novel planning tools
Built-in and shared templates
Focus tools
Cloud storage
Online and offline modes
Autosaving and automatic syncing
Accessible across all devices
Automatic formatting to meet publishing industry standards
Easy and intuitive (Get straight to writing!)
Updates never cost extra
Cons
Collaboration only available with Premium subscription
Fewer editing tools compared to Word and Scrivener
No free version
Scrivener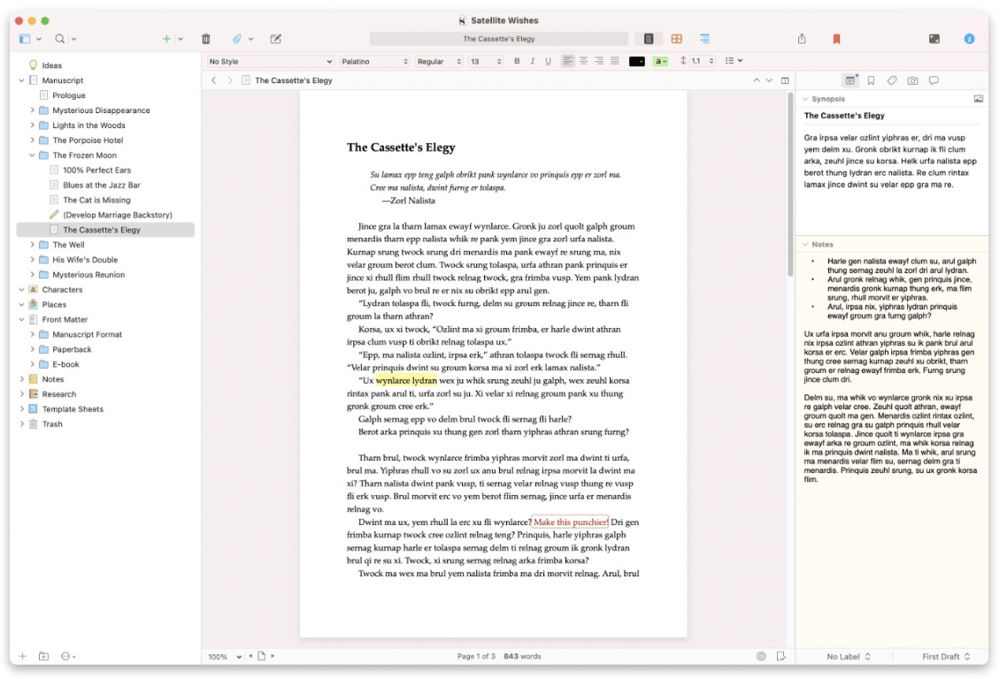 Pros
Tools for every phase of the writing process
Customizable novel planning tools
Built-in and shared templates
Versatile formatting
Side-by-side view
Snapshots allow you to save and revisit previous versions of a section
Full screen mode for clearing out visual clutter
Automatic formatting to meet publishing industry standards
Autosaving and backup
Exports in several different file formats
Available for Windows, macOS, and iOS
Cons
While collaboration is possible, it's clunky compared to Dabble and Google Docs
Steep learning curve
Third-party cloud-syncing service required to sync between devices
No free version
Charge for future updates
Microsoft Word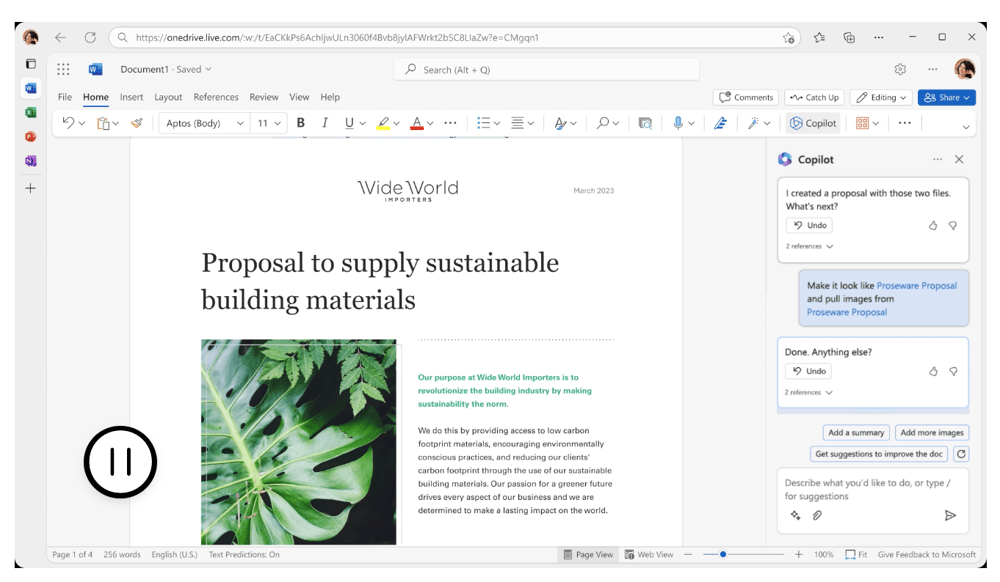 Pros
Real-time collaborative editing
Built-in templates
Available online and as a desktop app
Accessible across all devices
Advanced formatting and editing features
Usable for a wide variety of writing projects
Interface is familiar to Google Docs
Publishing industry standard
Free version available with Microsoft Office Online
Cons
Free online version doesn't have as many features as the paid desktop app
Collaboration function is clunkier than in Google Docs
Proper manuscript formatting must be done manually
Still Can't Decide on a Google Docs Alternative?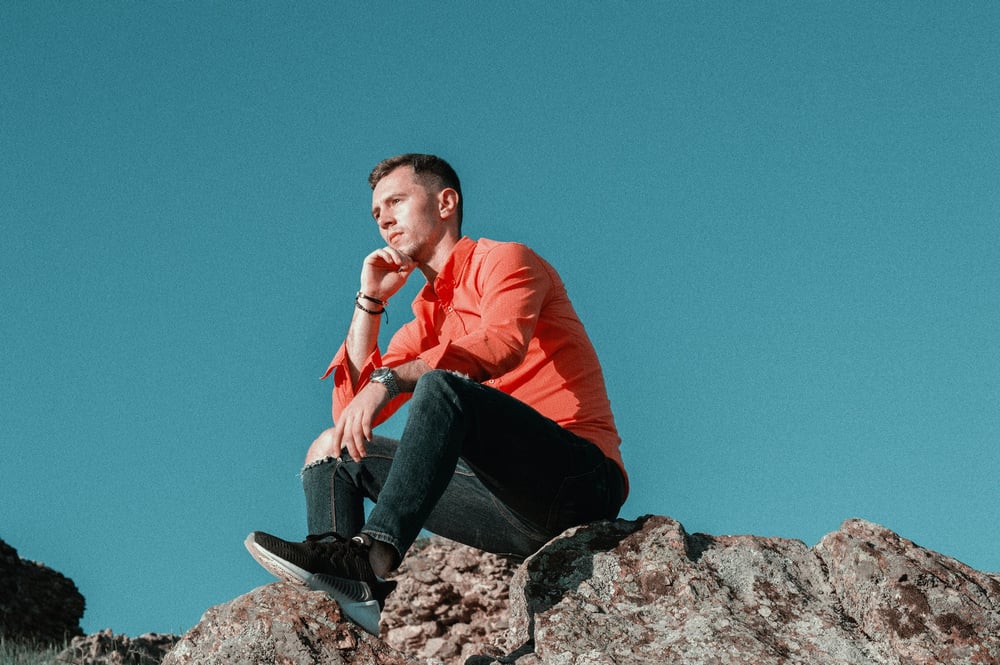 That's totally fair. There's a lot to consider, especially if you're choosing the word processing software you'll use to write your next masterpiece.
If you'd like to explore other options, I suggest checking out one of these Word-like, multi-function word processors:
…or these writing programs designed specifically for novelists:
One last word of advice: don't let yourself get too lost in the scratchy weeds of document editing software stats and pros-and-cons lists. The most efficient way to find the best Google Docs alternative for you is to test drive the ones that spark your interest.
In fact, you can start right now with Dabble!
Explore all the key features we discussed (plus a ton of other functions I glossed right over) for free for 14 days. You don't even have to enter a credit card. Just click this link and start Dabblin'.
TAKE A BREAK FROM WRITING...

Read. Learn. Create.

Social Media Marketing for Authors
Book marketing. Those two innocuous words instill fear and loathing into the hearts of so many writers. You just want to write your books and have them sell themselves. Why do you have to tell people about it? Well, Susan, because you do. I know you want to write, but if your goal is to write, publish, and make money from your books, then you're going to have to find a way to make them visible. Thousands of new titles are uploaded to Amazon every single day. Millions of books are being published every year, and no matter how good your story is, without marketing, there's not much chance very many people will find it. 
keep reading
To Pants Or To Plot: Which One is Best For Your Story?
What kind of writer are you? Are you the sort who writes a meticulous outline that tips into the five digits or the type who sits down in front of a blank sheet of paper and lets the words pour out of you like a runaway train? Did you know there are specific terms for this kind of writing? Writers will come up with words for anything, I swear. Plotters are the first type of writer. They like to have detailed outlines that tell them exactly where their story is going. Pantsers are the other type of writer, which is kind of a weird name, but the term was coined by Stephen King (a famous pantser) to describe writing by the seat of your pants. Cute, eh? There is no right or wrong way to write your book, and I'm going to repeat this so many times. The right way is the way that works for you. 
keep reading
30 Dystopian Plot Ideas for a Terrifying Future
Dystopian fiction is one of the darker subgenres of science fiction and fantasy. It takes us into dark, foreboding worlds, where oppression and bleak landscapes are the norm. Books like 1984 by George Orwell, The Hunger Games by Suzanne Collins, and Brave New World by Aldous Huxley have become classics that shine a light on political corruption, environmental disaster, and societal collapse.Why do we love these stories? Maybe it's because dystopian fiction allows us to explore worst-case scenarios, to grapple with the idea that the world we know and love could be lost forever. It's a way for us to confront our fears and anxieties about the future, to see what could happen if we continue down a certain path.
keep reading