8 of the Absolute Best Writing Tools Out There
Abi Wurdeman
April 20, 2023
Looking for the best writing tools to increase your productivity, improve your skills, or manage your time? Need a hand organizing your storylines or maintaining focus or coming up with ideas?
Well, you got it.
There are a ridiculous number of outstanding writing tools out there, and they each serve their own clever purpose. Nearly every challenge writers face has been eased by a talented techie with a vision. (Even the debilitating fear of failure, if you count Headspace as a writing tool.)
To keep things simple, we're introducing you to a few of our favorites. In this list, you'll get to know:
Dabble, your Swiss Army writing tool for every phase of the writing process
Hemingway Editor, your tool for simpler, clearer prose
ChatGPT, the AI tool that's pretty neat and also makes my blood run cold
ProWritingAid, the tool that edits so thoroughly it's almost human
Notion, the tool that will be whatever you want it to be
Todoist, your secret to staying on pace
Freedom, your distraction-blasting tool
Cliché Finder, the tool for overcoming bad habits
But first, let's answer one very important question.
Why Bother With a Writing Tool?
What's wrong with good ol' fashioned Microsoft Word? Why does everybody have to be so fancy shmancy with their tech tools these days?
You don't have to be fancy (although Word is technically a writing tool). Your only responsibility is to come up with a writing process that works for you.
If loading up on tech makes your life easier, great! If you'd rather keep it simple, that's fine, too.
But I highly recommend at least checking out your options. I'm almost certain this list will reveal solutions you didn't even know were out there. And you might discover something that could make your life way easier.
Let's get to it.
1. Dabble
This was my tool of choice even before I started writing for Dabble. And what's so great about it?
For one thing, Dabble has you covered for every part of the writing process. You can use the famous Plot Grid to outline your story, track character arcs, manage subplots, and more.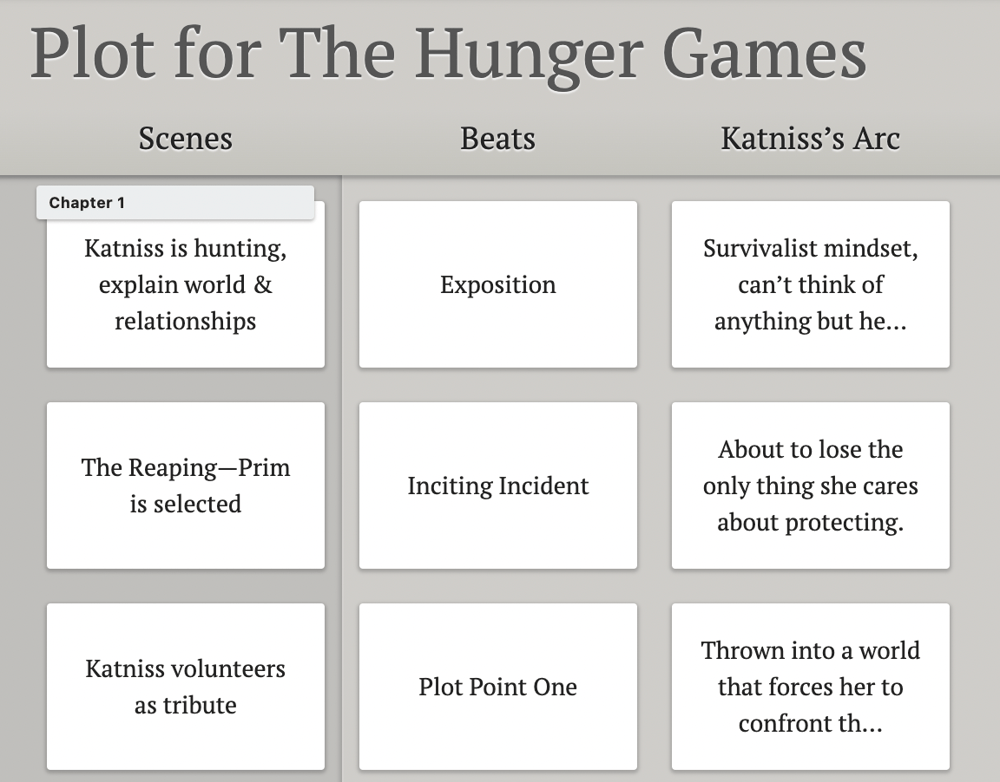 With the Story Notes feature, you can create character profiles, set up worldbuilding bibles, store research, and keep your writing exercises all in one place. There's even a built-in image search powered by Unsplash, or you can upload your own images.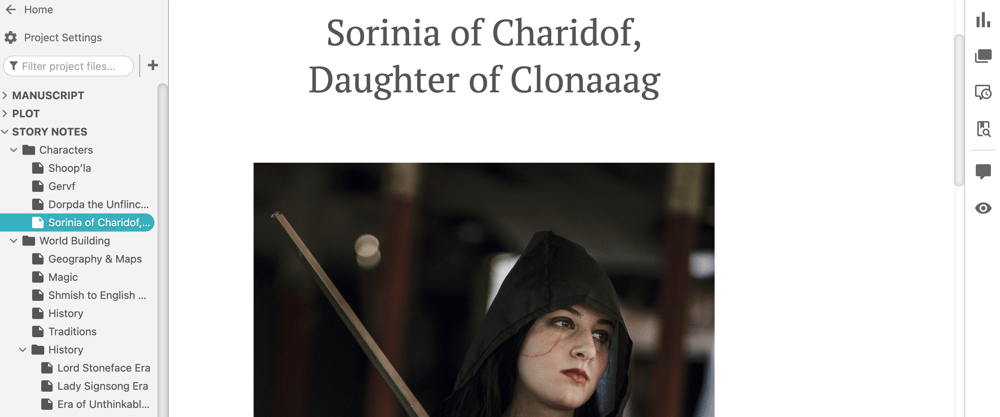 All these organizational tools are right at your fingertips as you draft your novel. Reference scene notes in one click without leaving your manuscript. There's even a goal-setting feature so you can set word count goals, enter a deadline, and even plan for days off.
When it comes time to edit, you've got all kinds of handy-dandy tools for marking up your masterpiece. I'm talking about things like highlighting, sticky notes, comments, and even built-in grammar and style checks powered by ProWritingAid.
Another huge benefit to Dabble: you can use it anytime, anywhere, on any device. Access your work in the app or on the web. Write with or without an internet connection. And breathe easy thanks to cloud-based autosave.
Oh! Dabble also supports co-authoring, so you can work with your writing partner on the same project in real time.
Dabble Might Be for You If:
You're looking for one intuitive writing tool that does it all but doesn't have the steep learning curve of Scrivener.
Learn More:
Explore Dabble's features and packages right here.
2. Hemingway Editor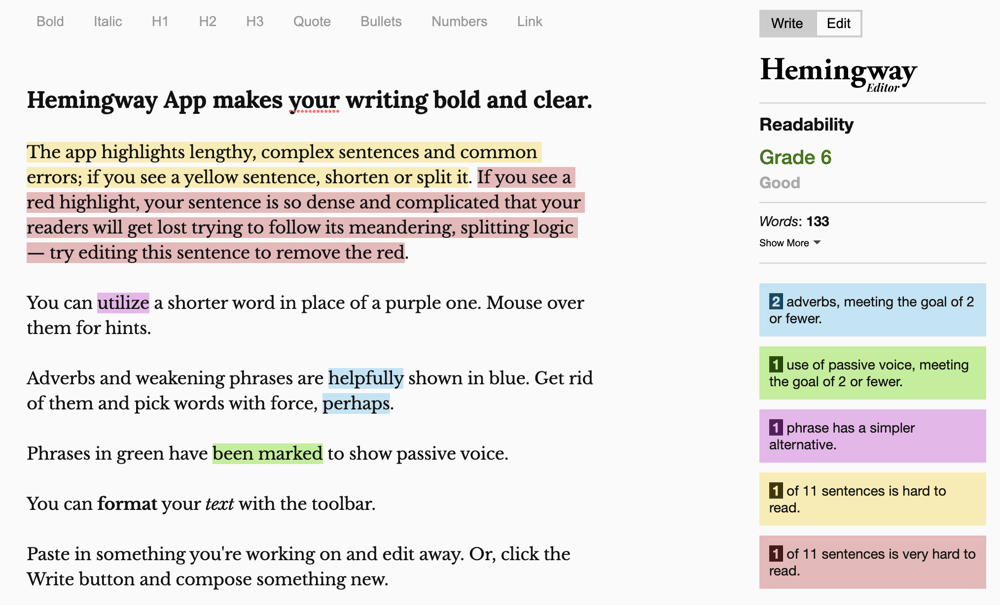 This is one of the best writing tools for improving your prose. Hemingway Editor reviews your work and highlights anything that could be improved for clarity or simplicity.
What makes Hemingway Editor different from editing tools like ProWritingAid is that it's only concerned with readability. It highlights style slip-ups like passive voice, excessive adverbs, and sentences that could be simpler. It even assigns your writing a reading level.
Now, it's worth noting that you and Hemingway Editor may not always be on the same page about style preferences. Some of the tool's suggestions won't work for you if you prefer to write more like a Brontë and less like, well, Hemingway.
Nevertheless, it's a handy tool for learning to cut adverbs and stay in the active voice. It also provides an opportunity to make sure you're writing to you the reading level of your readers—super helpful if you write children's books.
‍Hemingway Editor Might Be for You If:
You'd love some help bringing more clarity and simplicity into your writing. (It's definitely worth looking into if you write a blog.)
‍Learn More:
You can start using Hemingway Editor's free web app right now at this link. You can also snag the desktop app for $19.99.
3. ChatGPT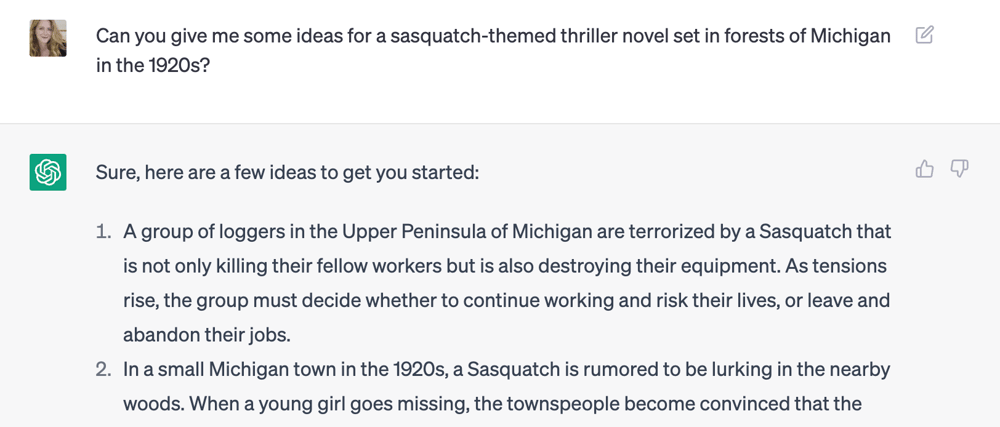 Welcome to the most controversial item on our list of the best writing tools. ChatGPT is an AI chatbot that will answer questions about literally anything. It will also help you write stuff.
If you feel your whole body going cold as you imagine a robot churning out a novel in a matter of minutes when you've spent years pouring your entire human heart into your craft, I get it. The implications are unsettling. My very patient husband has heard a lot about it.
However, as Robert points out in this level-headed article, ChatGPT isn't designed to be a novelist. It's a conversation partner—and potentially a good brainstorming partner, too.
You can share your plot and genre with ChatGPT and ask it for title ideas. Get help coming up with story beats. Give it a genre, setting, and a protagonist and ask it for ideas for your next novel.
You don't have to use ChatGPT's exact ideas, but you can use them as a starting point to inspire your own.
‍ChatGPT Might Be for You If:
You wouldn't mind a little help building your story from time to time.
‍Learn More:
You can find ChatGPT here.
4. ProWritingAid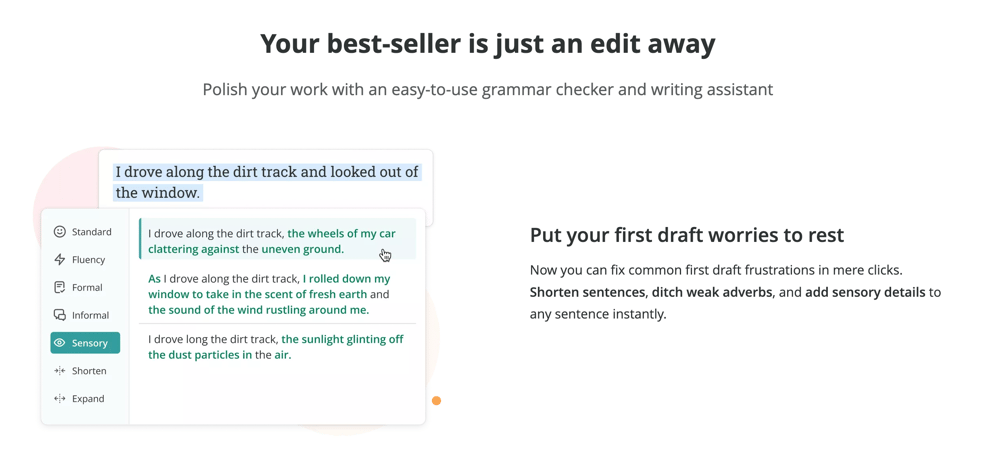 As a writer living in the age of ChatGPT, I must insist that human is always best. And that includes editing.
But you probably don't want to hire a professional to review every draft of your manuscript. In which case, ProWritingAid is an excellent alternative to a living, breathing editor.
This is one of the best writing tools out there because it goes above and beyond what you expect from an editing tool. In addition to checking your work for grammar, spelling, and common style issues, it also reports on things like:
Clichés
Consistency
Overused words
Readability
Pacing issues
Sentence length
You can even specify your genre for style feedback based on your specific category of fiction.
‍ProWritingAid Might Be for You If:
You'd love some grammar help and style advice tailored to your genre.
‍Learn More:
You can get to know ProWritingAid here.
5. Notion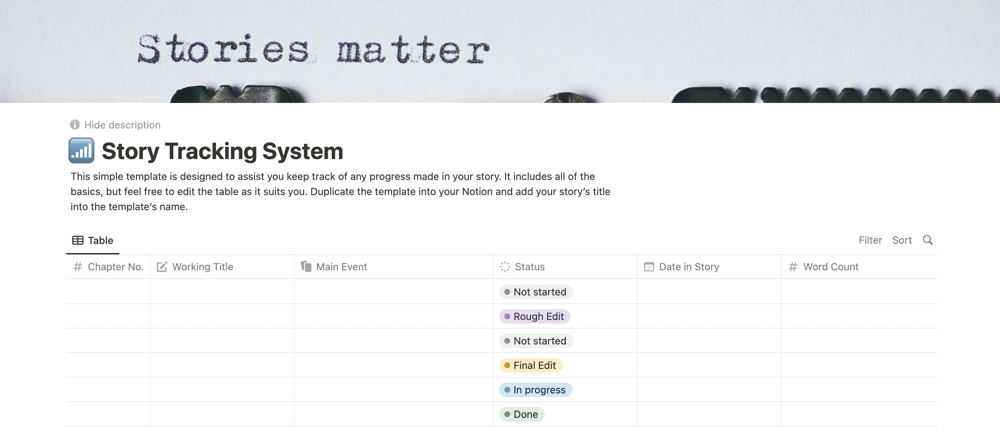 Notion is a versatile organization tool that wasn't designed specifically for writers but has definitely earned its rank among the best writing tools.
You can sort and store information in toggled outlines, to-do lists, galleries, databases… you name it. Use Notion to create a worldbuilding bible, track your daily word counts, and build a marketing plan.
You can even draft your novel in Notion. (Though it won't automatically format a manuscript for you the way a dedicated writing program like Dabble will.)
It takes a minute to learn all the ins-and-outs of Notion, but you can find templates other writers have shared. That'll minimize the time you lose getting set up.
‍Notion Might Be for You If:
You're crazy about organization systems and want to keep your story ideas and marketing timeline all in one place.
‍Learn More:
‍Go here if you want to give Notion a whirl.
6. Todoist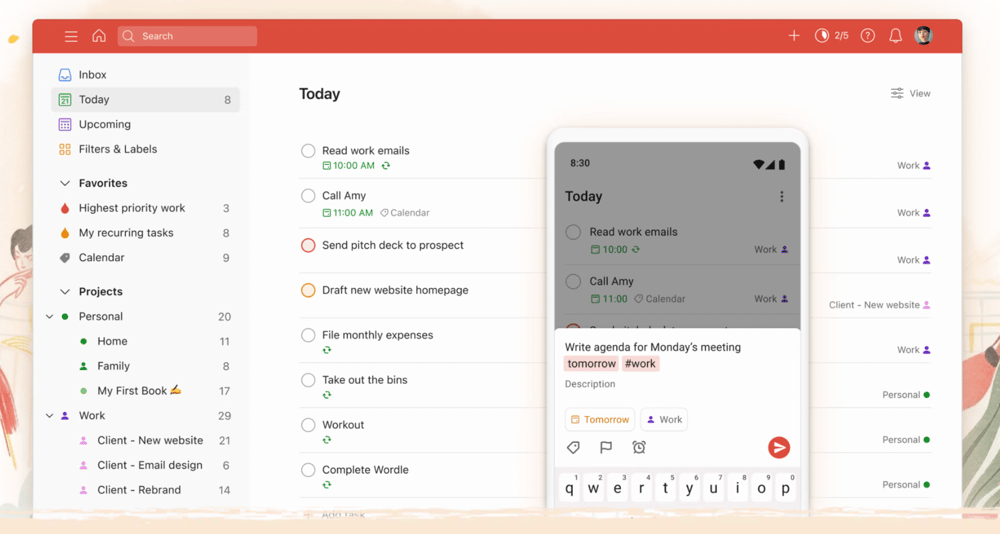 Writing a novel is a massive project. And the best way to tackle a massive project is by breaking it into smaller tasks, setting deadlines, and celebrating progress.
That's where Todoist comes in.
This tool allows you to create a digital to-do list. You can assign tasks to larger projects, break them into subtasks, and set reminders to make sure you stay on pace. Create tags, give each task a priority level, and even share your projects so you and your co-author stay on the same page.
Todoist also provides access to templates that take the guesswork out of organizing your projects. Their selection includes a book writing template, a social media calendar, and a content calendar.
Oh! And of course you get the satisfaction of checking off each task as you complete it. Don't forget to do a celebratory shoulder wiggle.
‍Todoist Might Be for You If:
You're at your best with lists and reminders.
‍Learn More:
Get acquainted with Todoist here.
7. Freedom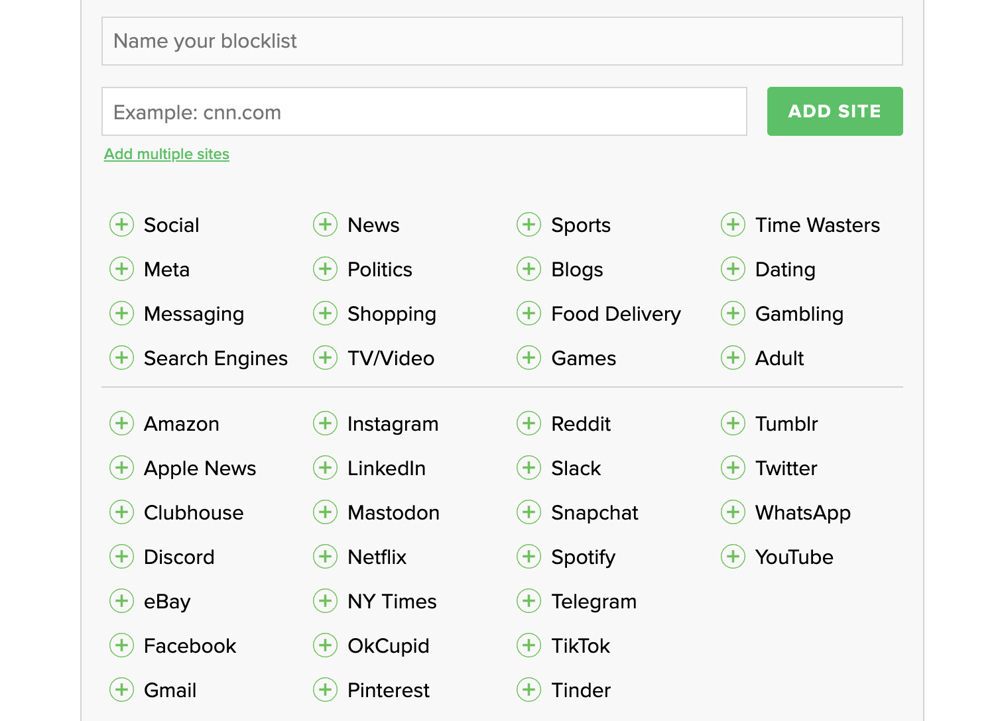 The ironically named Freedom is a website blocker. But there are a lot of website blockers out there, so why did this one make our list of the best writing tools?
For one thing, Freedom allows you to create multiple blocklists. Let's say TikTok is your biggest distraction when you're writing, but you need to access it to develop your social media content. You can create two different blocklists for those two different tasks: writing and social media.
As for what you can block, Freedom covers everything. You can block desktop apps, specific websites, or entire site categories like "news" and "games." You can even throw up a blockade between yourself and the entire internet.
Freedom also gives you the option to schedule sessions in advance. When your session begins, you lose access to all the sites on your blocklist. That's huge for those of us who have a nasty habit of "just finishing this YouTube video real quick" when writing time rolls around.
You'll also find a few extra perks with Freedom. These include things like ambient noise, session annotation, and session history so you can notice patterns in how you work and when you're at your best. You can even work in locked mode, which prevents you from ending a session.
Freedom Might Be for You If:
Willpower isn't cutting it anymore.
‍Learn More:
Get to know Freedom here.
8. Cliché Finder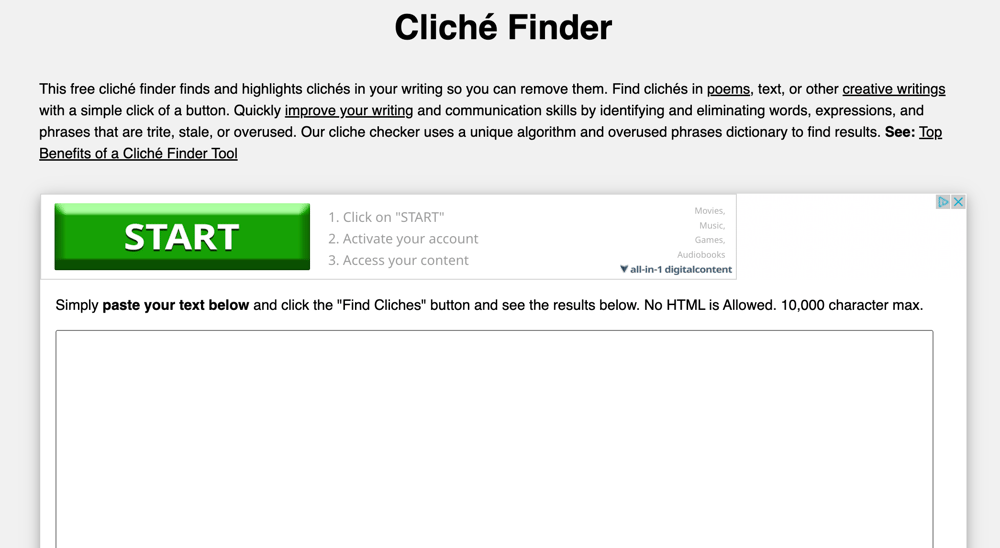 This writing tool is exactly what it says it is. It scans your work, finds clichés, and flags them for you.
Now, there are actually a ton of cliché finders out there. Google the phrase itself, and you'll find this one at clichefinder.net. That's the Cliché Finder. But you'll also see that several writing-related websites feature their own tool for hunting clichés.
The concept is exactly as simple as you'd assume. You paste a passage into the tool and it scans your work for clichés. If you're using the Cliché Finder, it'll also look for misspelled words and suggest alternatives for some of your common word choices.
(Side note: this is a pretty bare bones tool. The word choice alternatives aren't tailored to your voice or even your meaning. Use your judgment when taking suggestions.)
A tool like this is handy because clichés are pretty sneaky for something so old and tired. They're so ingrained in our language, we don't always notice them as clichés. Having a tool like this one hand makes it easier to keep your writing fresh and engaging.
‍Cliché Finder Might Be for You If:
You're worried your prose is a little stale and predictable and you suspect clichés have something to do with it.
‍Learn More:
Try One of the Best Writing Tools for Free Today
A lot of cool options here, right? But as I said before, the only writing tool that really matters is the one that's going to make a difference in your unique writing process.
The best way to find the best writing tools for your routine is by experimenting with the programs that interest you.
That's why Dabble offers a 14-day free trial. This trial gives you access to every single one of Dabble's features, including the premium stuff like co-authoring and style checks. You don't even have to enter a credit card to get started. Just click this li'l link and start Dabbling.
TAKE A BREAK FROM WRITING...

Read. Learn. Create.

Social Media Marketing for Authors
Book marketing. Those two innocuous words instill fear and loathing into the hearts of so many writers. You just want to write your books and have them sell themselves. Why do you have to tell people about it? Well, Susan, because you do. I know you want to write, but if your goal is to write, publish, and make money from your books, then you're going to have to find a way to make them visible. Thousands of new titles are uploaded to Amazon every single day. Millions of books are being published every year, and no matter how good your story is, without marketing, there's not much chance very many people will find it. 
keep reading
To Pants Or To Plot: Which One is Best For Your Story?
What kind of writer are you? Are you the sort who writes a meticulous outline that tips into the five digits or the type who sits down in front of a blank sheet of paper and lets the words pour out of you like a runaway train? Did you know there are specific terms for this kind of writing? Writers will come up with words for anything, I swear. Plotters are the first type of writer. They like to have detailed outlines that tell them exactly where their story is going. Pantsers are the other type of writer, which is kind of a weird name, but the term was coined by Stephen King (a famous pantser) to describe writing by the seat of your pants. Cute, eh? There is no right or wrong way to write your book, and I'm going to repeat this so many times. The right way is the way that works for you. 
keep reading
30 Dystopian Plot Ideas for a Terrifying Future
Dystopian fiction is one of the darker subgenres of science fiction and fantasy. It takes us into dark, foreboding worlds, where oppression and bleak landscapes are the norm. Books like 1984 by George Orwell, The Hunger Games by Suzanne Collins, and Brave New World by Aldous Huxley have become classics that shine a light on political corruption, environmental disaster, and societal collapse.Why do we love these stories? Maybe it's because dystopian fiction allows us to explore worst-case scenarios, to grapple with the idea that the world we know and love could be lost forever. It's a way for us to confront our fears and anxieties about the future, to see what could happen if we continue down a certain path.
keep reading