Alternatives to NovelPad: Find the Best Writing Tool for You
Abi Wurdeman
September 22, 2023
If you're looking for an easier way to plan, plot, write, and revise a novel, modern technology definitely has your back. While composing literary brilliance will never be an effortless task, software developers have found countless clever ways to at least streamline the process.
And let me tell you, there are a breathtaking number of creative writing apps in the world right now.
One of the best-known and most-loved programs is NovelPad. This user-friendly novel writing software offers genius tools for all phases of the process, and it's particularly good at helping you examine your story from multiple angles.
But like all writing apps, NovelPad isn't for everyone. If you're looking for something that's kind of like NovelPad but not exactly, you've come to the right place.
You and I are about to take a little tour of the best alternatives. We'll talk about:
The standout features of other writing programs
What users are saying about those tools
What to keep in mind when selecting new writing software
How to make a smooth transition from one program to another
First, let's take a closer look at NovelPad and why it might or might not be the tool for you.
Why Consider Alternatives to NovelPad?
If you already use NovelPad, you already know it's a pretty clever writing tool. If you haven't tried this program yet, let me give you a quick overview so it's easier for you to compare NovelPad against the alternatives.
The defining characteristic of this novel writing software is the option to zero in on specific story elements so you can analyze the way they play out in your manuscript.
Any time you create a new scene, NovelPad immediately adds the scene to the boards for any characters and locations involved. This allows you to see character arcs at a glance, check for continuity, and more.

In the Plots view, you can establish multiple plot lines and track how they play out in your story. You can check your pacing and scene-per-chapter count by clicking on Chapters. And the Insights feature allows you to analyze the intersection of two different story elements.
In Goals, you can set a target word count and track your progress. The Rewind function will retrieve previous versions of your work, should your cat take a li'l stroll across the keyboard and delete everything. And when you want to revise a scene, you have the option to create a duplicate in split screen so you can see the original as you make changes on the copy. (That's probably my favorite feature.)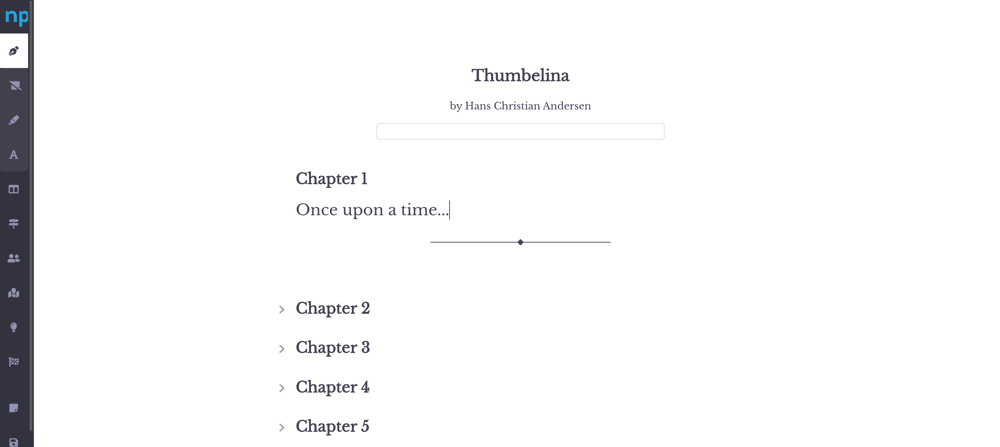 Sounds pretty great, right? So why even bother shopping around?
Well, because there are a lot of options out there and one of them might be a better fit for your unique writing process. Maybe NovelPad is the best novel writing software for you. But you won't know until you explore.
Here are a few reasons why it might be worth investigating the alternatives.
Diverse Features and Tools
Selecting creative writing software is not the same as choosing a basic word processor. Programs like Microsoft Word, Google Docs, and LibreOffice Writer don't differ from each other much beyond a handful of advanced features and templates.
But most novel writing tools are made by writers—creative thinkers asking themselves, "How can I use technology to sort out, record, and polish the swirling storm of inspirational chaos in my brain?"
As a result, there are almost as many novel writing programs out there as there are creative processes. Mind maps, outlining tools, templates for psychoanalyzing your characters, functions for analyzing your story from every imaginable angle—the options are myriad, man. Myriad.
When you explore different writing tools, you give yourself the opportunity to discover the perfect software for the way you create.
In the end, it's not a question of whether or not a specific program is good. Many of them are excellent. What matters is how well it gels with the way you brainstorm, write, and revise.
Pricing and Subscription Options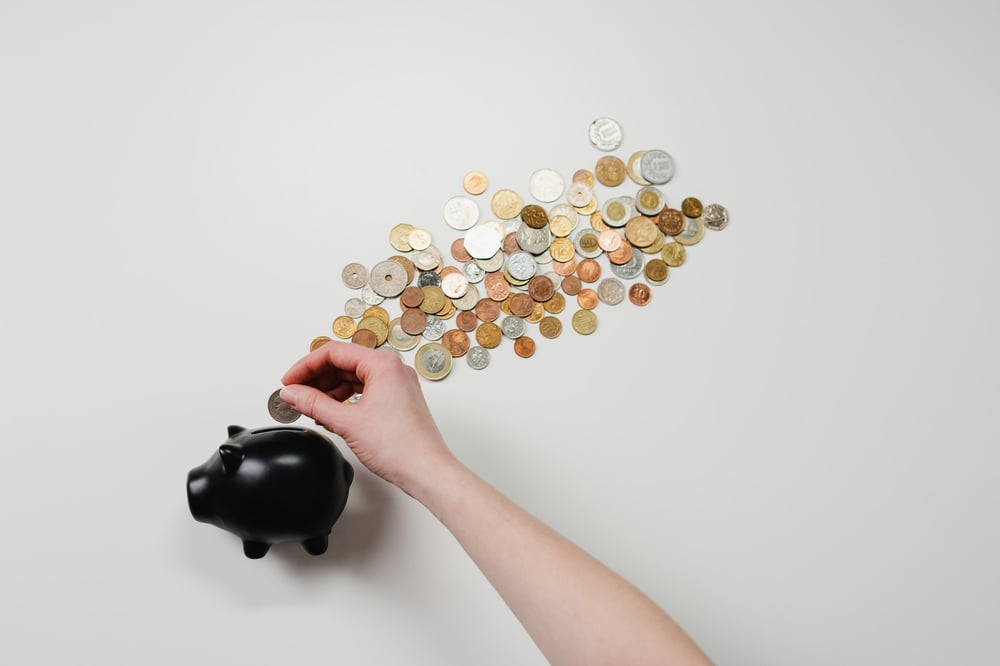 As you may or may not know, NovelPad isn't free (though it does offer a free 14-day trial for first-time users). It costs $15/month when you choose a monthly subscription or $120/year for an annual subscription. You can learn more about subscription plans here.
When you compare it to writing programs of similar quality, this is a reasonable rate. But the question isn't whether it's reasonable, it's whether it's worth it to you for what you get… and whether it fits into your budget to begin with.
This should be a key consideration when you're choosing novel writing software. How much are you willing to pay? What do you expect to get for that price? If you'd rather go with a free writing tool (they're out there), are you willing to settle for fewer functions?
Also keep in mind that different writing apps offer different pay structures.
As you'll soon learn, some programs require you to purchase a license for a one-time fee. If and when future versions of that writing software are released, you'll probably have to shell out more for an upgrade. But in most cases, you'll get the new version at a discounted rate.
Then there's the subscription model, which is what NovelPad uses. This pricing structure is typical for SaaS (software as a service) programs, where the writing tool is web-based and the developers are constantly rolling out updates and new features for no extra charge.
The downside of the subscription model is that you pay continuously instead of just once. The upside is that you're not waiting years for your novel writing software to catch up with competing tools. Plus, many SaaS programs offer a lifetime subscription. It's a good chunk of change upfront, but if you fall in love with a particular writing app, a lifetime subscription will save you money in the long run.
User Interface and Experience
This is another area where novel writing software varies wildly compared to standard word processors. Microsoft Word and Google Docs offer slightly different user experiences. But Scrivener versus Ulysses, for example? It's night and day.
Do you want a complex tool loaded with advanced features and endless customization options? Or are you looking for something with a more minimalist approach—a program that's easy to learn and offers a distraction-free writing experience?
What about the layout? Do you like a visually appealing structure with pretty colors and big, clickable tiles? Would you prefer a text-heavy interface? Do you want a toolbar and navigation menu right at your fingertips or would you work better if it were just you and your manuscript?
Would you like to be able to customize the look of your document editor or planning tools? Or is customization just one more thing to distract you from writing?
Also, how much time are you willing to spend learning how to use a new writing software? Do you want to be able to start writing almost immediately or are you fine with blocking out time to study the functions of a more complex tool?
That's a lot of question marks, I know. It's fine if you don't have all the answers yet. I'm hoping this article will help you think more deeply about the kind of writing experience you're shooting for. But ultimately, the best way to determine that is by testing the options available to you.
Fortunately, every NovelPad alternative we're about to explore offers a free trial so you can do exactly that.
Top NovelPad Alternatives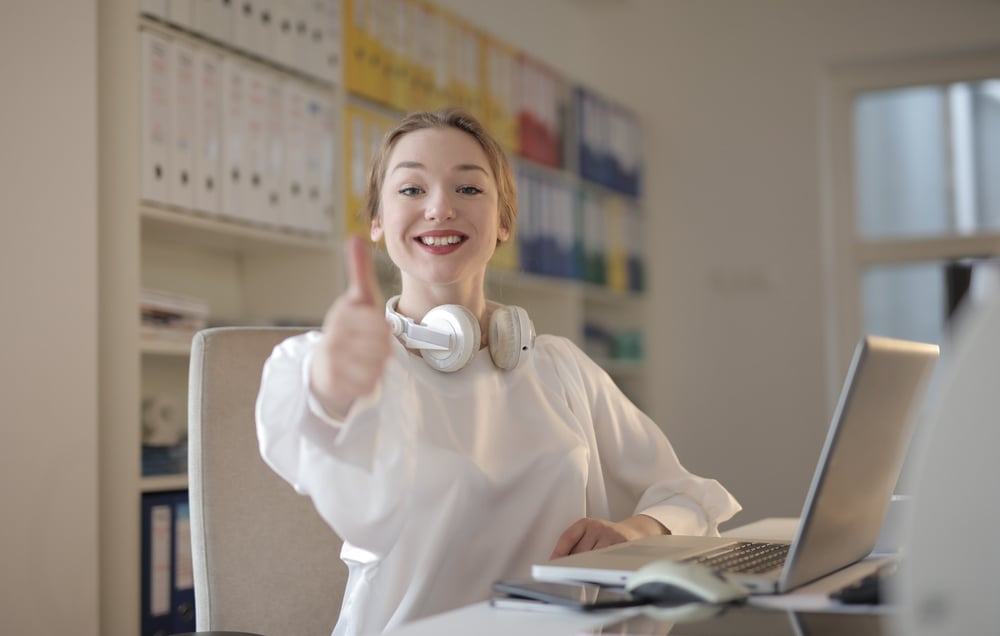 You and I are about to examine three of the best novel writing programs out there. But as I mentioned before, the variety of writing tools in this big, beautiful world is insane.
So if you don't see your preferred writing process reflected in NovelPad or any of the three alternatives we're about to discuss, here are a few others worth investigating:
You can also find more articles comparing different writing tools side by side in this section of DabbleU.
In the meantime, here are three programs you should definitely know about.
Dabble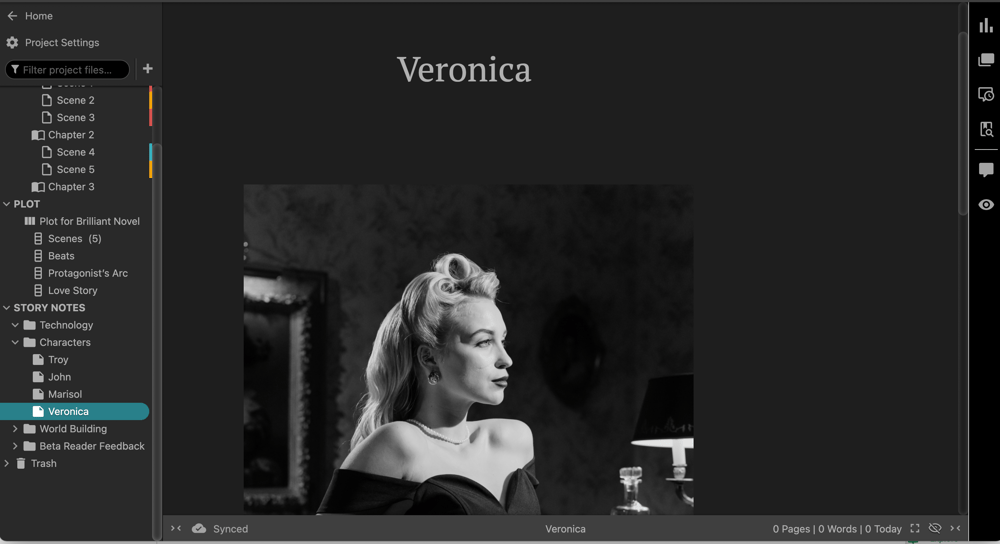 Okay, yes, this is us. And sure, I might be a bit biased in my opinion that Dabble is a stellar option if you're looking to make a move away from NovelPad.
But I also feel it's worth mentioning that I was a devoted Dabbler long before I became a Dabble writer. Also, I'm hoping my previous geeking out over NovelPad demonstrates that you can count on me to give other tools due admiration.
If you're not familiar with Dabble, here's the short version:
Dabble is a super-intuitive novel writing program that provides innovative features for staying on track in every phase of the writing process without distracting you with the tempting clang and hoot of extra bells and whistles.
(If you're the type who'll plan and plot and worldbuild for months just to avoid the scary business of actually writing, you know the struggle.)
Now, here's the long version:
Dabble's Key Features
The first thing writers notice about Dabble is its clean, easy-to-navigate interface. This writing app was deliberately designed for productivity.
You won't have to put your project on pause while you spend the next month studying a new program. You won't lose precious writing time customizing the visual theme of your dashboard. And you'll have the support of clever, distraction-free features that keep subtly nudging you towards the finish line.
Here's what I'm talking about.
Plot Grid
This is Dabble's most popular feature. Inspired by the plotting process for Harry Potter, the Plot Grid allows you to see how your plot lines and character arcs progress in relation to one another. You can also use it to track your use of symbols, locations, story beats, and anything else you want to keep tabs on. The Plot Grid looks like this: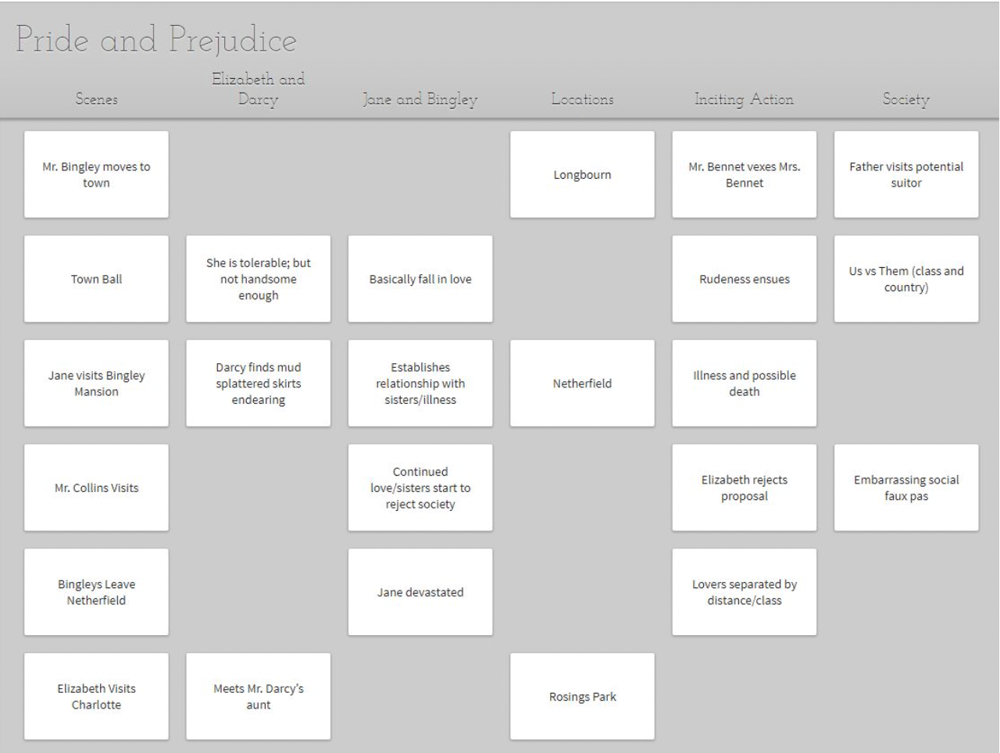 The scene cards going down the left-hand column will always be scene cards. But those other columns? They're whatever you want them to be. Add as many as you like.
Once you add a scene to your Plot Grid, the system automatically creates a corresponding scene in your manuscript, which you can navigate to using the outline on the left. Once you're in the manuscript, you'll have the scene card and all other notes relating to that scene right there at your fingertips. All it takes is one click to check your notes without leaving your draft.
Story Notes
This is where you can flesh out characters, build your fictional world, store research, and drill a few writing exercises. Like the Plot Grid, Story Notes deliberately offer you a blank slate so you can make them whatever you need them to be.
Want world maps and character photos to keep that imagination firing? Dabble allows for image uploads and features a built-in image search powered by Unsplash.
Templates
If you could use a hand figuring out how to use the Plot Grid and Story Notes for your novel, Dabble has built-in genre-specific templates… and character profiles will be arriving with the next update!
Users also have the ability to share templates, and you can create your own.
Focus Tools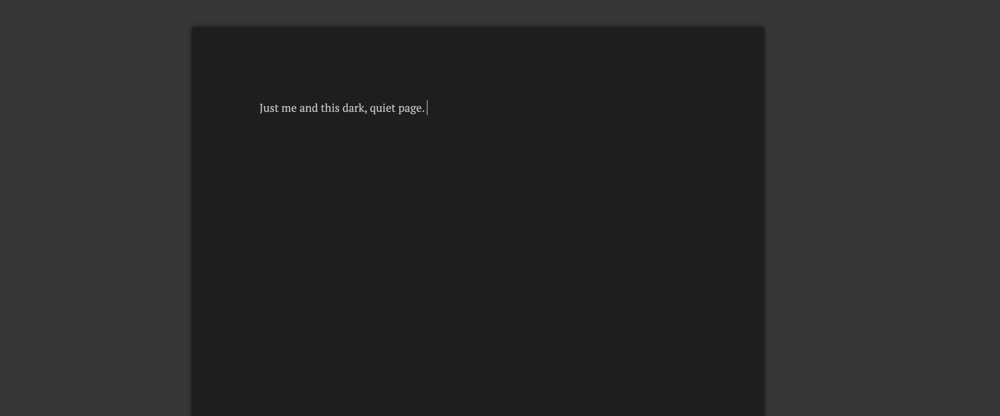 If you're the type who has to remind themselves that nothing else exists when they're writing—no laundry, no car waiting on an oil change, no new season of Our Flag Means Death—you can count on Dabble to support those necessary delusions.
When you've got the autofocus feature on, everything but your manuscript fades away as you begin to type. There's also a dark mode to soothe your eyeballs and steady your brain. That's what it does for me, anyway.
Goal Setting
Tell Dabble how many words you want to write, when you want them written by, and which days you plan to take off in that time. The system calculates a daily word count, tracks your progress, and celebrates with you when you meet your goals.
This feature also integrates with National Novel Writing Month. Connect the two accounts, and Dabble will keep the word count on your NaNoWriMo dashboard up to date.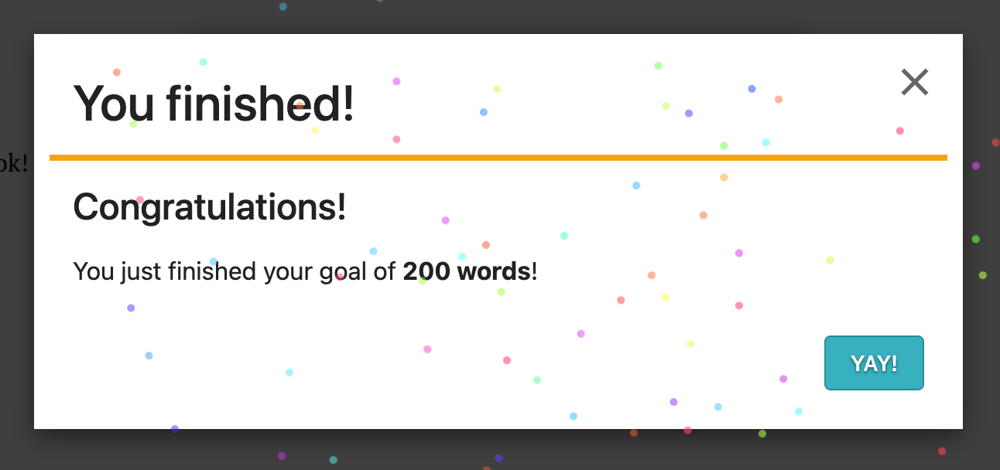 Co-Authoring
Dabble allows real-time collaboration so you and your co-author can edit the same project and see each other's contributions immediately.
Need to share your work with someone who doesn't have a Dabble account? You'll be able to share a link that gives them read-only access.
Community
Writing can be a lonely business, which is why Dabble has built a thriving author community in the Story Craft Café. It's a great place to share Dabble tricks, not to mention swap projects for feedback, workshop story ideas, and discuss all things writing.
Craft-Perfecting Resources
To further support you on your writing journey, Dabble provides absolute buckets of free guidance in DabbleU. Find articles on everything from structuring your novel to earning more income as a writer. You also get access to templates and worksheets to simplify your writing process.
Accessible on All Devices, Web-based and Desktop
Dabble is both a web-based writing app and a desktop/mobile download. You can use it on any device, any time, whether you have an internet connection or not. You also get autosave and automatic syncing between devices.
Dabble Reviews
"I love this program so much. It has revolutionized my writing process, and focus and productivity are just really, really high." –Alyssa Jaey video review
"This product gives me so much flexibility and peace of mind. Just knowing if my computer goes belly up that my work is safe is an enormous thing." –Dabble review
Price
Dabble offers a 14-day free trial, which gives you plenty of time to test drive all its features. At the time of writing (September 2023), subscriptions start at $8/month (when paid annually). There are options for monthly, annual, and lifetime subscriptions, as well as discounts for teachers and students.
Learn more here.
Bibisco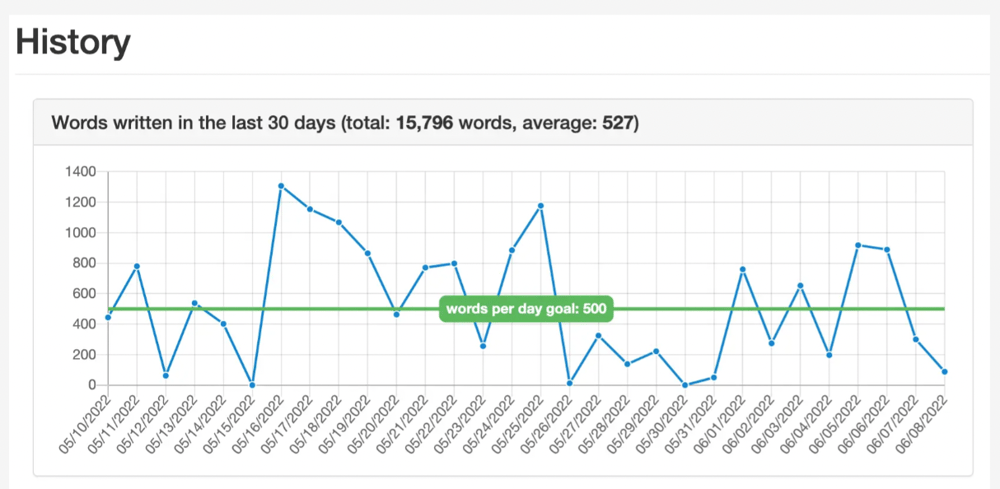 Bibisco will likely pique your interest if you came here looking for free writing software. While this app also has a paid version—and that version has the best stuff—you can still get decent planning and editing tools with the freebie package.
This writing app might also intrigue you if you love a good graph or could use some help going deep on character development. I would say those are the two areas where Bibisco really shines, but I'll give you a quick tour so you can be the judge.
Bibisco's Key Features
It takes a little longer to get the hang of Bibisco's interface than it does for Dabble (at least it did for me), but I'd still count this writing software as having a shallow-ish learning curve.
What sets Bibisco apart from the other alternatives on this list is the built-in guidance. Click on almost any function, and you'll find a li'l tip clarifying the importance or purpose of a story element. More seasoned writers may not need this help, but newbies might benefit from it.
As for the features themselves, here's what we've got:
Character Profiles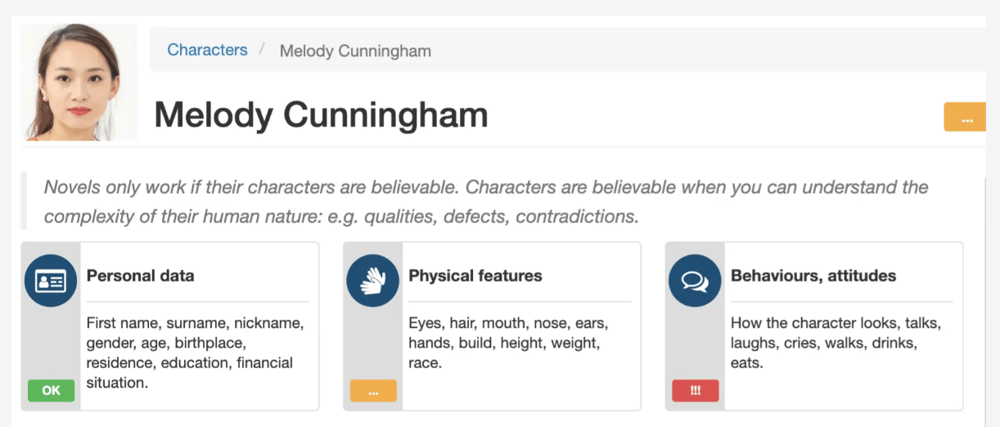 Bibisco invites you to create in-depth profiles with questionnaires covering physical traits, psychology, passions, and more. Some of these categories come with pre-loaded questions, others allow you to create your own character interview questions, and a few give you a blank text box where you can delve into backstory or internal conflict.
Architecture
The Architecture section is where you flesh out the larger concepts of your story, laying out the premise, order of events, setting, and narrative strands. It's not exactly the Snowflake Method, but writers who like to start with the big picture and then gradually zoom into the smaller parts might enjoy this feature.
Groups
This feature allows you to sort characters, objects, locations, and narrative strands into groups. Are some of your characters members of the same extraterrestrial species? Which objects in your story are actual clues and which are red herrings?
Groups are color-coded so you can see at glance when certain groups appear in scenes, as well as which characters, objects, locations, and plot lines belong to which categories.
Chapters
Welcome to your Bibisco plotting headquarters. Create chapters and fill those chapters with scenes. The scenes are where the actual writing takes place, so rearranging the order of events in your novel really is as simple as drag and drop.
You can also add tags to your scenes to indicate important details like which characters are in the scene, where it takes place, when it takes place, and which narrative thread it belongs to. These tags helps Bibisco do this next bit of fancy footwork:
Analysis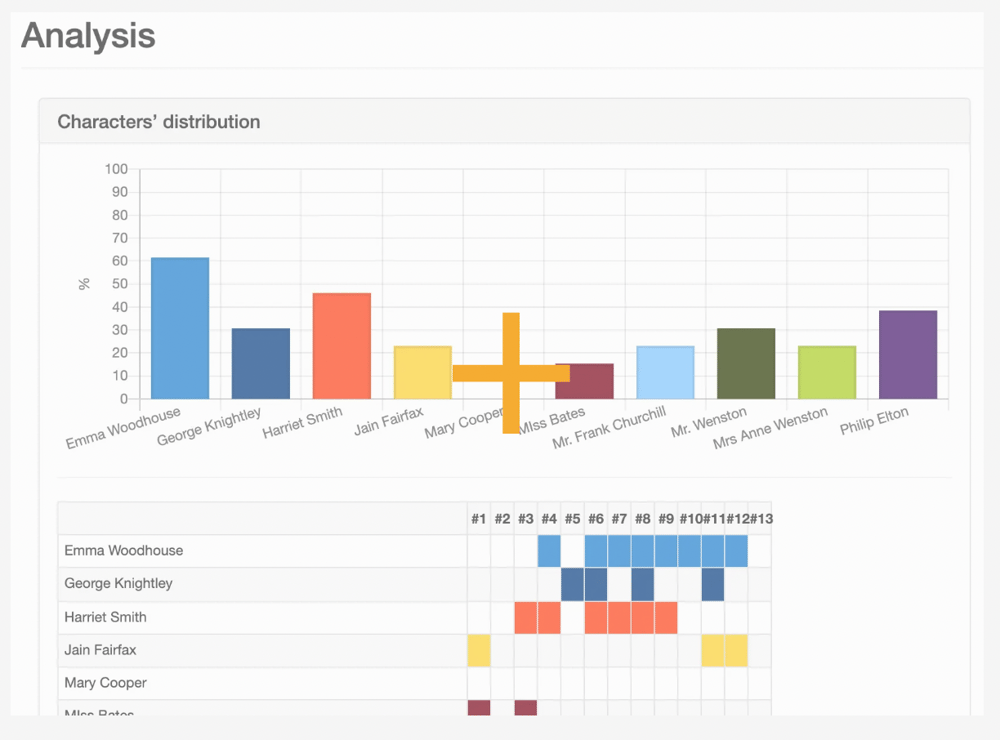 Want to make sure your subplots are distributed evenly throughout your novel? Received feedback that you're under-using your most lovable character? Just want to see your progress in graph form?
Bibisco's got you covered with all kinds of graphs to help you analyze your work.
Mind Maps
This function allows you to brainstorm visually, keep track of who's related to who, think through your symbols and themes… whatever you typically use mind maps for.
Desktop Download
Bibsco is available for Linux, macOS, and Windows. There's no mobile version or web-based app.
Bibisco Reviews
"Very useful to write a novel. There are a lot of features to add but the software is better to use than Scrivener." –alternativeto.net review
"It has almost all the features and tools a novelist needs to write a great novel, including a distraction-free environment, fantastic organizational features, and other helpful features like goals." –Jason Hamilton, Kindlepreneur
Price
While Bibisco isn't a completely free tool, there is a free version that has the most basic planning and editing features. For more of the fun stuff like groups and mind maps, you'd have to invest $47 for the Supporters Edition. That includes two years of free updates.
Either way, you can start with a 30-day free trial to explore everything this novel writing software has to offer. Learn more here.
Scrivener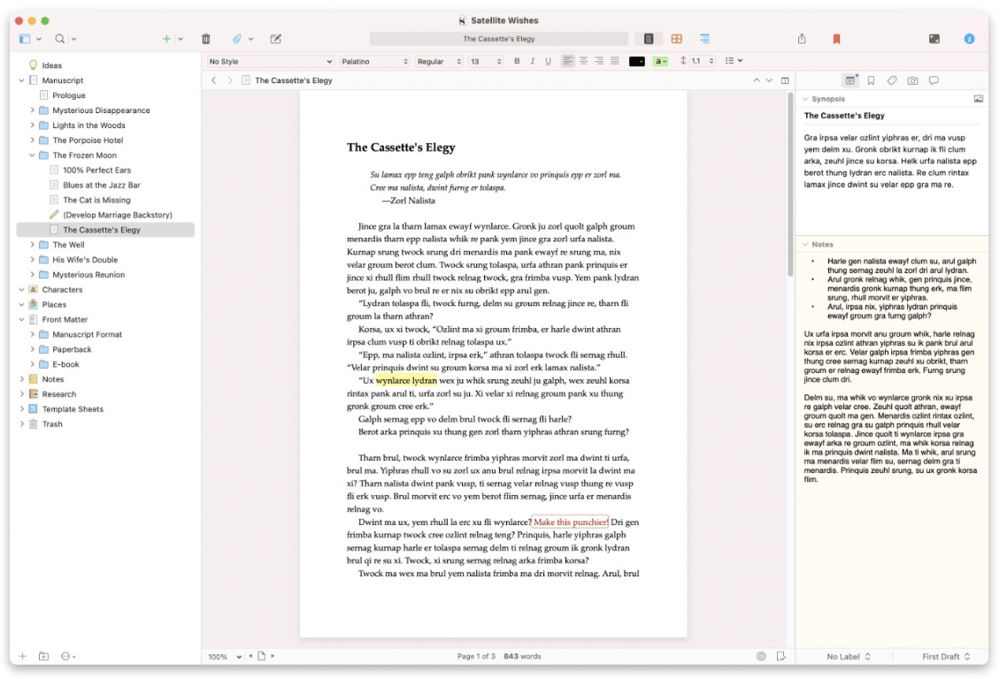 We've taken a look at the convenient, distraction-free writing app (Dabble). We've checked out the (kind of) free writing software (Bibisco). Now it's time to discuss Scrivener in case you're looking for a program as deep and complex as the human soul.
Okay, that might be a tad hyperbolic. You'll (almost) definitely be able to make sense of Scrivener faster than you can solve the mysteries of your own psyche. That said, you should plan to spend a good chunk of time getting acquainted with this writing tool before you can fully enjoy its features.
Those features, however, are the reason plenty of writers say the learning curve is worth it.
Scrivener's Key Features
Scrivener seems to have set a lofty goal: providing functions that help writers stay organized while offering loads of versatility within those features.
It's the versatility that makes Scrivener a hit with some and too overwhelming for others. You can arrange your digital writing process exactly the way you want it, but not until you've mastered a fairly complex program.
With that in mind, let's take a look at the features users love most.
Sections
This writing software was designed to allow writers to tackle their work in sections rather than returning to the same beast of a document each session. Now, you may have noticed that Dabble, Bibisco, and NovelPad all offer that same relief, allowing you to leap effortlessly from scene to scene.
Scrivener takes it a step further, though, treating each section as a separate document. You decide what constitutes a "section," whether it's a chapter, scene, paragraph, or chunk of dialogue. Scrivener also has tools to stitch sections together so you can edit them as if they're one document and compile all your scraps into one masterpiece when you're ready to export.
Corkboard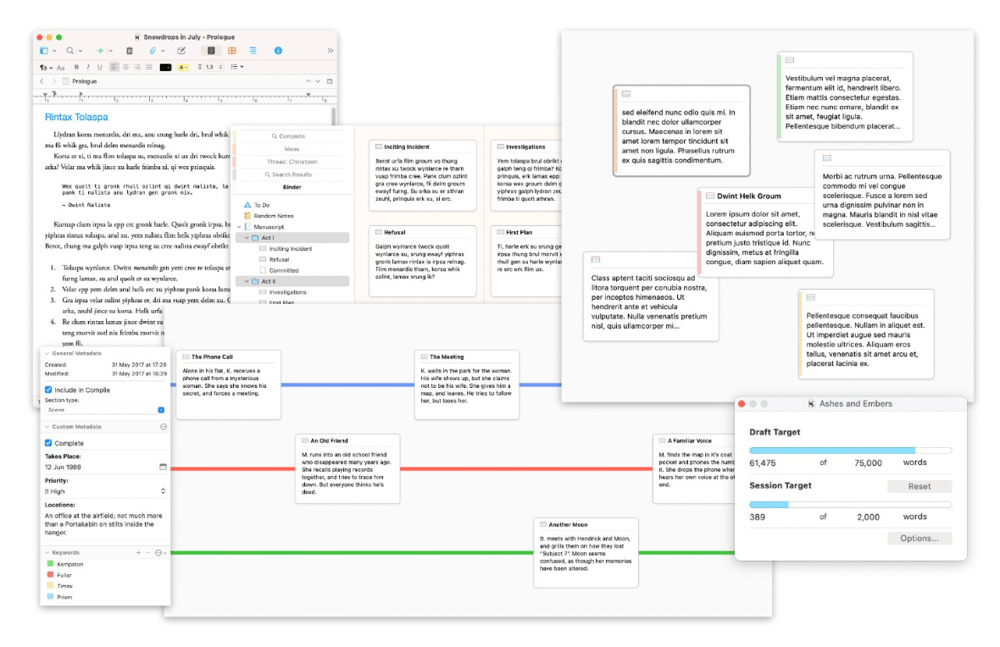 The corkboard is exactly what it sounds like, only digital. Every section you create in Scrivener has a corresponding index card and vice versa. You can keep your story notes on those cards and drag and drop to rearrange them, which also shifts their position in your manuscript.
Outliner
This feature serves a similar function to the corkboard, allowing you to see the structure of your project at a glance and rearrange sections. However, the outliner offers more organizational options in the form of folders, subfolders, meta-data, and more. You can even check your word count for each section and indicate when a scene is complete.
Versatile Formatting
Scrivener isn't strictly novel writing software. It comes with formatting options that support just about any writing project you could imagine: novels, nonfiction, screenplays, plays, you name it.
Side-by-Side Document View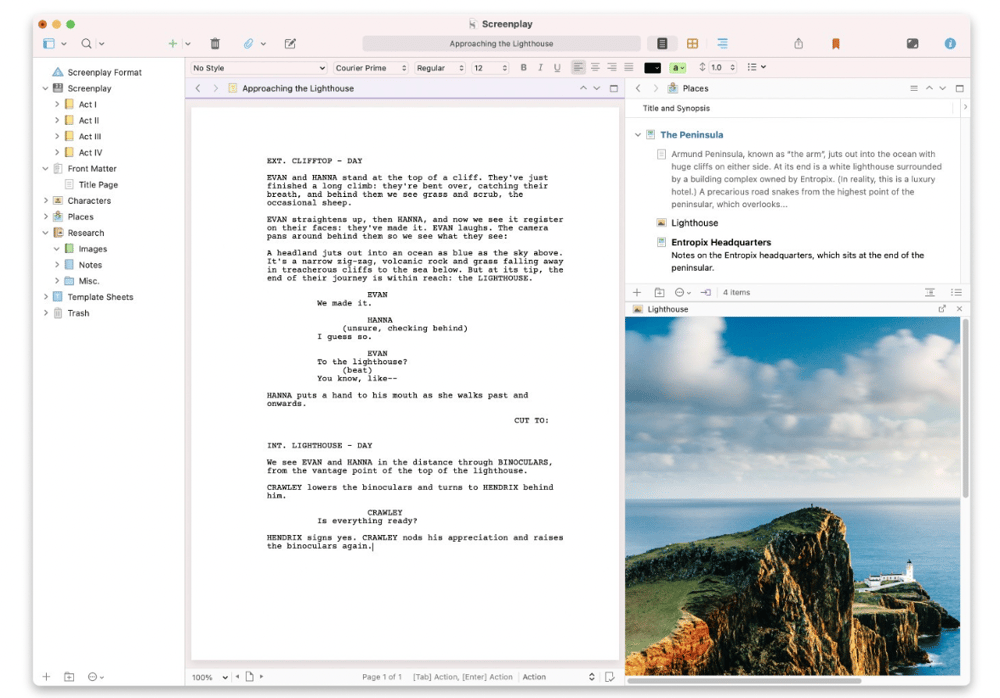 You can view up to four documents at once with a side-by-side view. This comes in handy when you need to reference research or remember how you described the subterranean village in book one of your series.
Composition Mode
This is basically a focus mode. Composition mode gets rid of all the toolbars and navigation menus so it's just you and your manuscript. And in true Scrivener fashion, you can customize the backdrop to fit your preferred vibe.
Snapshots
About to make an edit you're not sure about? Take a snapshot of the section you're changing. You'll be able to revert back to the original if you're not happy with what you did. There's even a "compare" feature to show you what changed between the first version and your revision.
Desktop and Mobile App Download
In terms of when and how you can use Scrivener, this writing software is versatile-ish. The desktop app is available for macOS and Windows, and there's a mobile app for iOS. There's no web-based version. Any collaboration or syncing between devices can only be accomplished with a third-party cloud sync service.
Scrivener Reviews
"The software creator has a plethora of information online on using and getting the most out of the platform. So many things you can do with this software if you're willing to spend the time learning it." –G2 review
"I love how I can collect research and easily access it for use in my writing projects. I can even save webpages and videos with the project!" –GetApp review
Price
Scrivener offers a 30-day free trial. After that, it's $59.99 for a desktop app or $23.99 for the mobile app. You need a separate license for each operating system in your household, though there is special pricing for bundles as well as for students and academics. You can learn more here.
Expect to pay a discounted fee to get future upgrades.
Factors to Consider When Choosing Novel Writing Software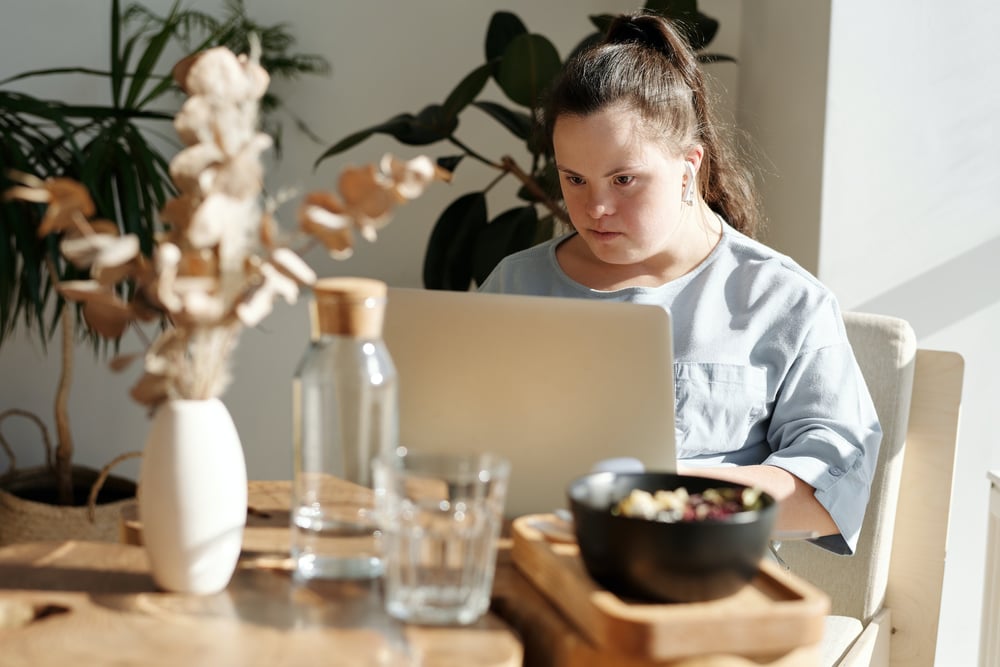 You see what I mean when I say there's a wide variety of writing tools out there, right? While all these programs ultimately have the same goal—helping you get from initial idea to finished manuscript as smoothly as possible—the execution is very different.
So what if you're looking at all these features and think they all sound helpful? What if you have no idea which functions or interface will make your writing journey easier?
Here are a few considerations that might help you narrow things down:
Writing Process
How do you work best? Do you thrive with a lot of built-in structure like you get with Bibisco? Or do you need room to make your organizational structure your own, like Dabble allows you to? Maybe you thrive when you can tackle your novel one small moment at a time, in which case Scrivener might be your preferred writing software.
What does your brain need when you're writing? Would the vast menus and endless tools of Scrivener make you feel like everything was under control? Or do you find the simplicity of Dabble's interface more soothing?
Genre Compatibility
Consider any genre-specific needs you have.
If you write romance, for example, it might be important that you're able to go deep on character development, whether that means using a writing app that comes with built-in character questionnaires like Bibisco or one that gives you the freedom to design profiles your way, like Dabble.
If you write fantasy, which program allows you to create a robust worldbuilding bible? And if you write mystery, what plotting system will make it easier to keep track of evidence and alibis?
You get the idea. Most creative writing software is adaptable enough to serve any genre, but some might give you better options for tackling your books your way.
Community and Networking
Does your novel writing app have to come with an entire community of peers attached? Not necessarily. But it's a pretty sizable perk.
Communities like Dabble's Story Craft Café and NovelPad's active community Discord server take the isolation out of the writing experience. They keep you connected with people who understand your passion, are happy to talk through your challenges, and may even have some hot tips for making the most of the software.
Integration and Export Options
How will you transfer existing projects into your new writing software? Will you be able to upload files in their current format? Or will you need to convert them or copy-and-paste?
More importantly, what options do you have when the time comes to export your manuscript? The publishing industry uses Microsoft Word (.docx), and most novel writing apps will export files in that format. (Dabble even formats your manuscript to meet industry standards, by the way.)
But are you looking for any other file types, like ePub or PDF?
What about integrations? Is there a grammar checker or similar app you'd like to be able to use with your writing software? You might find a program that has already integrated your favorite tool.
It's possible you won't find a program that checks every single box on your list, but if you take the time to think through your biggest priorities, you're bound to find an app you love despite its limitations.
Tips for a Smooth Transition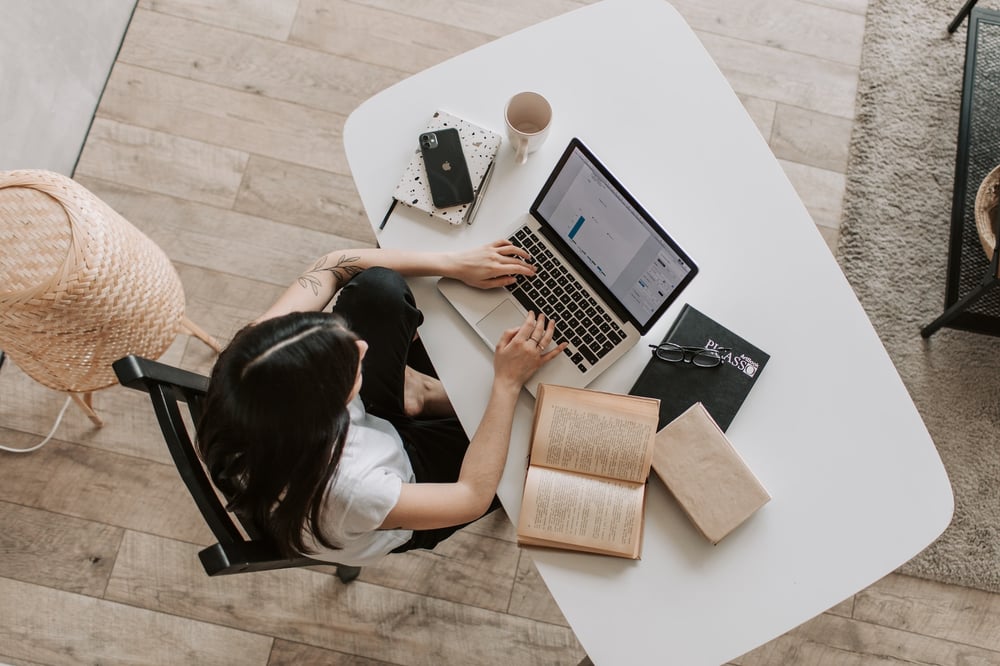 Let's say you've chosen the perfect alternative and are ready to make the transition from NovelPad (or any other writing software). How can you make the switch as simple as possible so you don't lose too many precious writing hours?
I have some ideas for you.
Back Up Your Work
Before you cancel your subscription or delete the app, make sure all your brilliant words are safe. In fact, don't cancel or delete anything until everything you wrote in your old software is saved in at least two additional places.
Save one as a Word doc on your hard drive and import it to your new writing software. Or save it on the cloud and on your hard drive and in the new writing app. Do what makes sense to you, just don't transfer it from a program you're about to delete into a program you don't know how to use yet and call it good enough.
You worked hard for those words. Guard them with your life. Or at least with smart storage strategies.
Get Familiar With New Features
Plan to spend some time getting acquainted with your new writing tool. You probably have some sense of how long it will take to get the hang of the program. For the sake of your sanity, set your expectations for an even longer learning period.
If you're the type who prefers to know a program inside and out before you can really enjoy it, use an old outline or manuscript to play around with the features. Or, if you don't have those things yet, use a fairy tale to test the plotting and editing tools.
If you're someone who prefers to learn as they go, jump right in! This approach works best for a straightforward, intuitive program like Dabble, but even Scrivener-ers can do some improvising (though you might want to track down a quick tutorial on the basics first).
Seek Help and Support
If you get lost or overwhelmed, ask for help. It's definitely out there. Hopefully, the writing program you choose will come with stellar support. And if you still can't find answers, a Google or YouTube search will probably reveal a solution. In fact, user-made tutorials provide some of the best opportunities to discover new ways to use a writing app.
The main thing is to never be too intimidated to try a new writing software that could improve your productivity and make writing even more enjoyable. You might fumble around a bit at the beginning, but you'll likely be rewarded for it in the end.
Start Exploring
Remember, pretty much every novel writing app out there offers a free trial. When you start to get overwhelmed by the pros and cons lists, just pick one that interests you and play around with it. Honestly, that's the fastest way to discover what works.
Want to give Dabble a whirl? Not only do you get 14 days to explore and experiment for free, you also don't have to enter a credit card to get started. No need to worry about accidental charges or setting a reminder to cancel your subscription!
To access your free trial, just click this link and you can get right to writing.
That's what it was designed for, after all.
TAKE A BREAK FROM WRITING...

Read. Learn. Create.

Social Media Marketing for Authors
Book marketing. Those two innocuous words instill fear and loathing into the hearts of so many writers. You just want to write your books and have them sell themselves. Why do you have to tell people about it? Well, Susan, because you do. I know you want to write, but if your goal is to write, publish, and make money from your books, then you're going to have to find a way to make them visible. Thousands of new titles are uploaded to Amazon every single day. Millions of books are being published every year, and no matter how good your story is, without marketing, there's not much chance very many people will find it. 
keep reading
To Pants Or To Plot: Which One is Best For Your Story?
What kind of writer are you? Are you the sort who writes a meticulous outline that tips into the five digits or the type who sits down in front of a blank sheet of paper and lets the words pour out of you like a runaway train? Did you know there are specific terms for this kind of writing? Writers will come up with words for anything, I swear. Plotters are the first type of writer. They like to have detailed outlines that tell them exactly where their story is going. Pantsers are the other type of writer, which is kind of a weird name, but the term was coined by Stephen King (a famous pantser) to describe writing by the seat of your pants. Cute, eh? There is no right or wrong way to write your book, and I'm going to repeat this so many times. The right way is the way that works for you. 
keep reading
30 Dystopian Plot Ideas for a Terrifying Future
Dystopian fiction is one of the darker subgenres of science fiction and fantasy. It takes us into dark, foreboding worlds, where oppression and bleak landscapes are the norm. Books like 1984 by George Orwell, The Hunger Games by Suzanne Collins, and Brave New World by Aldous Huxley have become classics that shine a light on political corruption, environmental disaster, and societal collapse.Why do we love these stories? Maybe it's because dystopian fiction allows us to explore worst-case scenarios, to grapple with the idea that the world we know and love could be lost forever. It's a way for us to confront our fears and anxieties about the future, to see what could happen if we continue down a certain path.
keep reading